This post will tell you a trick on how to copy multiple files from several folders into a single destination folder and optionally delete them from their respective sources in Windows.
The benefits
Deleting files from their source after copy helps you save disk space and avoid storing duplicate files that will not be needed later. Also, you don't have to go back to each folder separately to delete files after copying.
Let us look at how this is possible using Copywhiz, a smart file copy program for Windows.
What is Copywhiz?
Enhance your file-copy experience with Copywhiz as it lets you to have more flexibility & more control over the file copying and backup process. Here is how Copywhiz makes file copying a breeze:
Copy only new or modified files
Easily pick files by name, extension, folder etc from bunch of folders
Automatically organize files based on file attributes and metadata
Copy files to multiple folders/computers
Copy files from multiple folders and paste them at once
Sync files between source and destination
Pick files from multiple folders and compress in single .zip file
Schedule file backups
Several more hidden nuggets designed to make your file-copy task easier.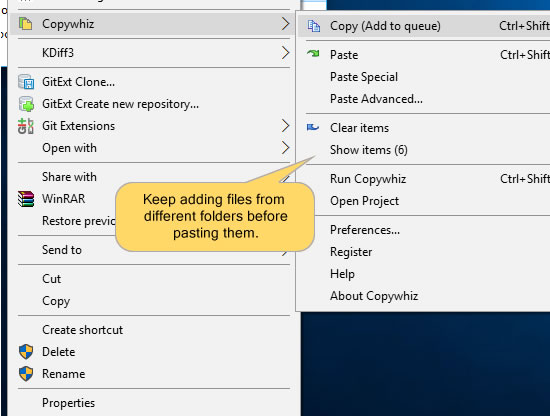 An image depicting one of the features of Copywhiz
Steps to copy from multiple folders and paste to a single destination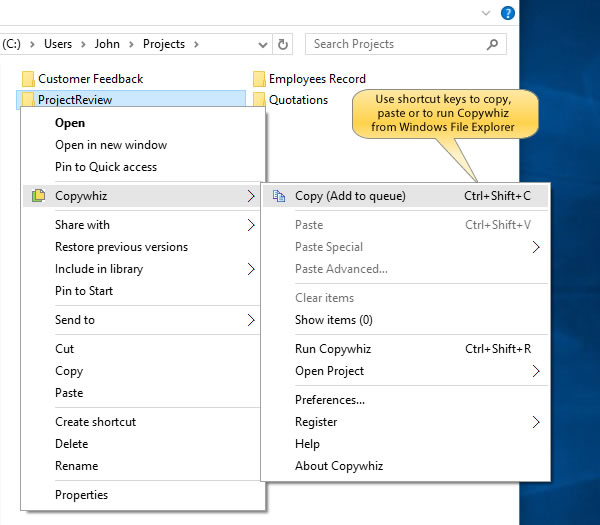 1. Go to Windows File Explorer, select the files/folders, right-click and choose Copywhiz–>Copy.
2. Keep adding files from different folders by selecting them, right-clicking, and choosing "Copy (Add to queue)" from the Copywhiz menu. You can see the total number of files copied until now in the "Show items" menu.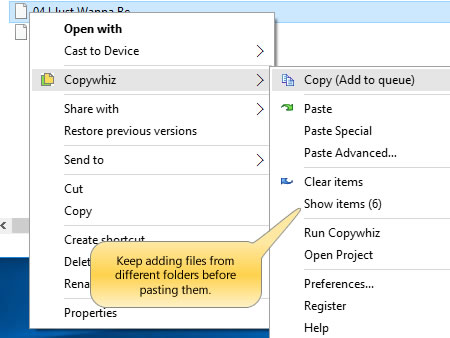 3. Right-click inside the destination folder and select Copywhiz–>Paste Advanced. The Copywhiz main window will open. Select the option "Paste and delete original (move)" and then click on the "Paste Now" button.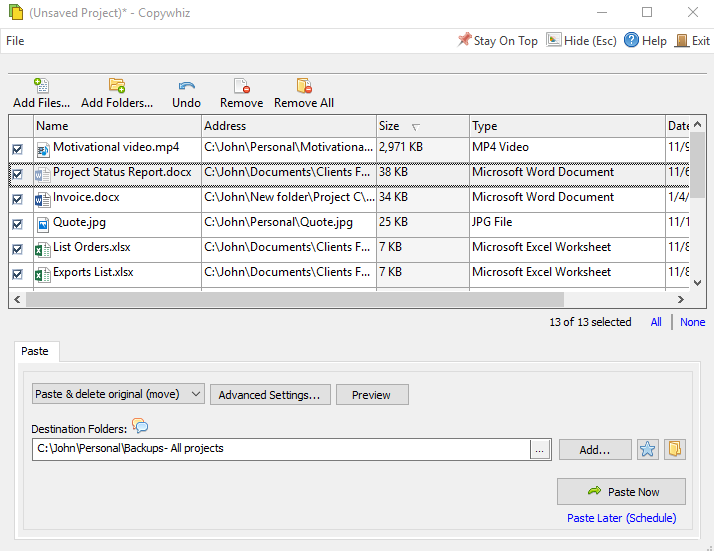 4. All the files (from multiple folders) are copied at once and also deleted from their source.
Conclusion
You just saw how Copywhiz saves your time and efforts in simple day to day operations like copying and deleting files and folders. All this is just a few clicks! This is otherwise very time-consuming in Windows.
If you want to copy these files but not delete them from their source, you can do that too. Check out our article on the same:
For tutorial videos, check out this page.
Subscribe to our YouTube channel for interesting videos.
Learn more about Copywhiz. Download the free trial from here.
Have a good day.
Thanks for visiting our blog :)