Everyone is really liking the latest updates of Windows sticky notes with new sync, dark mode and other new additions. They will surely help make things easier. But users are disappointed on not finding a very important feature: sticky notes that stay on top of other apps.
While Windows will take time to add this feature, we have an alternative software, Notezilla which will let you pin sticky notes on top in a convenient way.
What is Notezilla?
Notezilla is a professional, elegant & highly rated sticky notes app for Windows & Phones (Android, iOS, iPhone, iPad, Windows Phone etc). It can help you organize your life by keeping all the notes, tasks & reminders that you may need when-ever and where-ever you are.
With sticky notes you hardly have to put effort to take notes, set reminders, etc. Just jot down & move on with your task at hand. Notezilla allows you to create attractive and realistic sticky notes to make desktop look more colorful and attractive.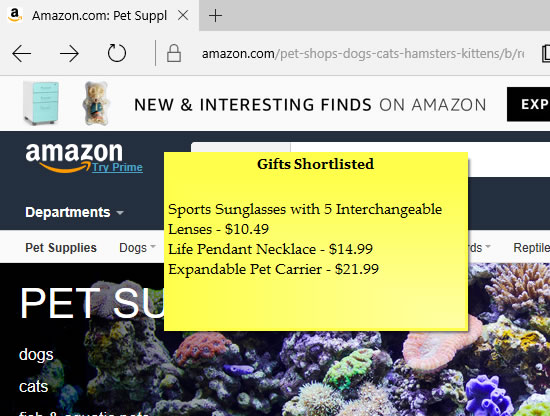 An image showing one of the features of Notezilla.
Check out the other cool features of Notezilla.
KEEPING STICKY NOTES ALWAYS ON TOP
Here is a short video perfectly depicting this feature:
In Notezilla to make a sticky note stay always on top of all other program windows, click on the Pin icon in the note toolbar. Only desktop notes can be made to stay on top. Faster way to making a note stay on top is to use the shortcut key Ctrl+Q from the sticky note.
Conclusion
Notezilla easily lets you keep sticky notes on top of other apps and programs. It is so convenient when you have to refer to related notes, collect data from other websites, documents during your research, copy paste from other places etc. Rather, not having this feature feels incomplete.
Here is a beautiful review about this feature written by one of our customers on her blog:
Pinning sticky notes on top of other windows is most important!
Notezilla thus saves a lot of your time and efforts. And guess what? Notezilla also has free apps for iPhone, iPad & Android to let you access your sticky notes anytime and anywhere! Install it on your phone from App Store or Google Play Store & sync all your sticky notes with the Windows version of Notezilla.
Learn more about Notezilla. Download the free trial from here.
For more tutorial videos, check out this page.
Subscribe to our YouTube channel for interesting videos.
Check out our other cool products.
Have a good day!
Thanks for staying till the end :)