With Notezilla, you can attach sticky notes to PDF documents. This way, you will have the right information at the right time automatically, without any effort from your side. The sticky note will pop up automatically whenever you access that particular PDF document.
This feature will help you access related information and accomplish your tasks faster and without added confusion. Moreover, you also have a wildcard (*) to support a sticky note to multiple PDF documents of a single folder.
Attaching a sticky note
To stick a note to any PDF document, right-click on the note title and choose the "Stick To Window" option from the menu, as shown in the below picture. Alternatively, press Ctrl+W from within the sticky note.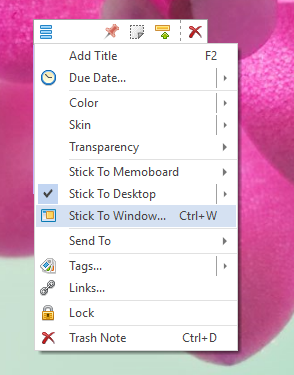 A list of all the currently opened windows will be shown which includes Websites, Programs, documents, as shown in the below image: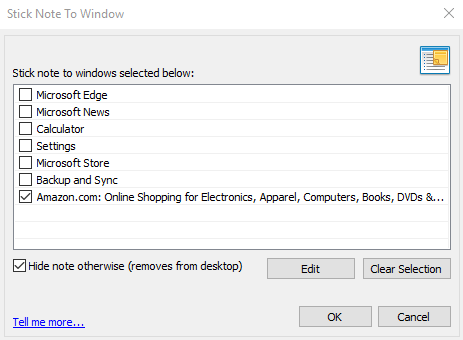 Select the PDF document to which you wish to attach the sticky note and press OK. The note will stick to that particular PDF document.
Note: To directly stick a note to the underlying PDF document, Press Ctrl+Shift+W keys from the note.
This is how it will appear on the PDF document: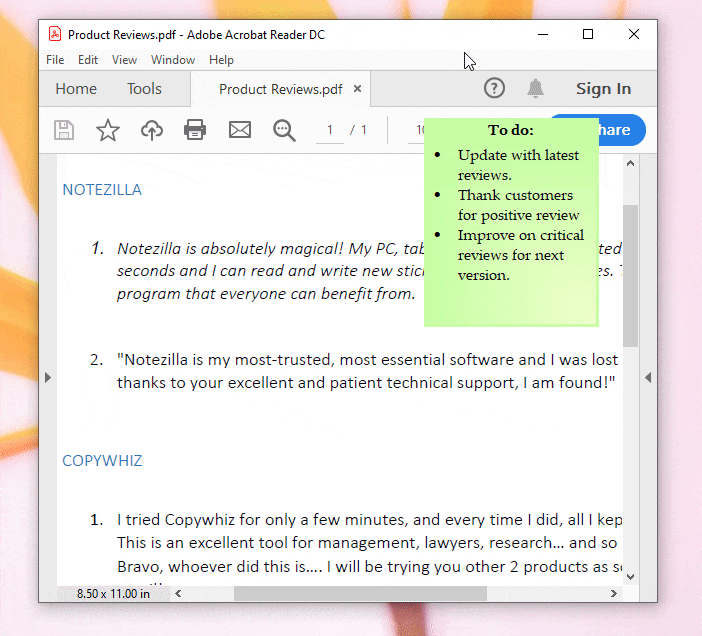 Matching only a part of the window title (Wildcards)
Notezilla uses the title of the window to show or hide a particular sticky note. Sometimes, you may want to stick a note to documents of a similar kind. In such cases, you would need to use the 'wildcard' method.
To match only a part of the window title, double click on any window title that is listed (shown in the above picture) and prefix or suffix the title with the * wildcard. As per this, the sticky note will appear on all the documents of a particular folder.
Watch this short video on how to attach notes to websites, windows, and documents:
Learn more about Notezilla sticky notes app for Windows, iPhones, Android etc. Download free trial.
Subscribe to our YouTube channel for interesting videos.
Check out our other cool products.
Have a good day
Thank you :)