Hello Friends!
This video will guide you how to instantly and effortlessly launch any folder in Windows using RecentX.
What is RecentX?
RecentX is a smart launcher for Windows designed to make your computing life joyful. Here are some of the many cool things you can do with RecentX:
Effortlessly access any file, folder or program on Windows in less than 5 seconds!
Assign tags to frequently used files/folders. Makes things even more faster.
Integrates with Windows File open/save window so that you don't have to to navigate any folder when opening or saving a document.
It has a clipboard manager too that remembers all the text & pictures copied to a clipboard so that you can pick & paste them again.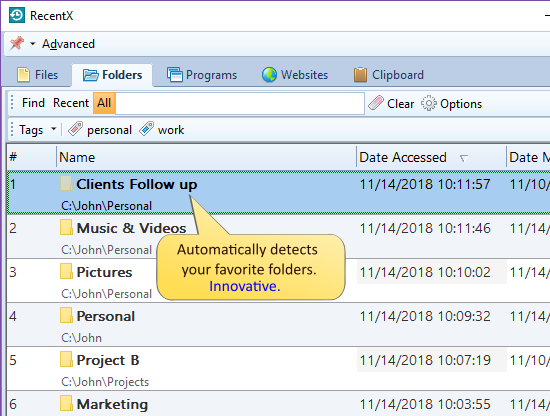 An image showing one of the features of RecentX
Check out the various features of RecentX.
One of the features of RecentX is that you can launch any Windows folder, any level deep, in a jiffy!
See how this is easily possible.
Transcription
To effortlessly launch a folder:
Select the "Folder" icon of RecentX. A list of all the folders on your system will be displayed.
Type the search keyword, and all folders having the keyword will be displayed. Ex: If you type "project," all folders having the keyword will be displayed instantly.
You can even search only the "Recent" folders since RecentX automatically remembers your frequently accessed folders. "Recent" list lets to pick you folder faster.
Not just this. You can even access network folders along with local folders. They are the folders shared with you through another network or system.
When you assign tags to folders, you can quickly open related folders without typing any keywords.
You also have other folder options like copy, paste, command prompt, copy path, etc. You don't need to open your file manager for common file operations. RecentX can help you complete these tasks faster.
That's all for the video.
For more tutorial videos, check out this page.
Check out our YouTube channel.
Have a good day.
Thanks for your time :)