Hello Friends!
This video will guide you how to tag files, folders, programs, bookmarks, websites and clipboard items in Windows using RecentX.
What is RecentX?
RecentX is a smart launcher for Windows designed to make your computing life joyful. Here are some of the many cool things you can do with RecentX:
Effortlessly access any file, folder or program on Windows in less than 5 seconds!
Assign tags to frequently used files/folders. Makes things even more faster.
Integrates with Windows File open/save window so that you don't have to to navigate any folder when opening or saving a document.
It has a clipboard manager too that remembers all the text & pictures copied to a clipboard so that you can pick & paste them again.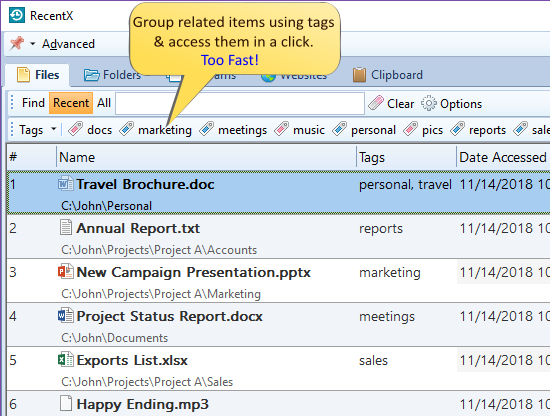 An image showing one of the features of RecentX
Check out the various features of RecentX.
Among the many useful features of RecentX, one is that you can tag items that you frequently use so that you can instantly access them without much search efforts.
See how this can be easily done:
Transcription
Open the RecentX window.
Click on the icon for files and view your recent files.
Select the file you want to add tags. Ex: If you want to add a tag to the file, "Insurance claim.txt."
Right click on the file and see the tag option. Add the tag. You can add multiple tags too.
You can thus save a lot of time in searching for files. Just search for the tag and all files having the particular tag will be listed.
Editing and deleting tags is equally simple. Right-click on the particular tag under the search box to edit or delete it.
If you use the same word repeatedly for your files, you can add smart tags to them. Smart tags are nothing but "saved keywords" so that you don't have to type the same word each time. Ex: ".PDF" can be a keyword for all your PDF files.
Right click on the "tags" option and add your smart tag. This makes accessing files a lot easier.
Editing and deleting smart tags is in the same manner as for regular tags.
Not just files. You can add tags and smart tags to folders, programs, websites, and clipboards too.
This is it in this video.
For more tutorial videos, check out this page.
Check out our YouTube channel.
Have a good day.
Thanks for staying with us :)