Hey guys!
Don't we all want more text formatting options like (font, color, size, formatting menu like bold, italics, strike through, align text, add bullets, numbering, checklist and much more) in our sticky notes? Notezilla sticky notes app has all of these text formatting capabilities. The purpose of formatted text is to enhance the presentation of information. Formatted text can draw the reader's attention to specific parts of a document and emphasize important information. We can also adjust the alignment of the text.
We have just the perfect app for you, with all these text formatting options and many more features.
Notezilla supports both standard text formatting and markdown based text formatting. This post will talk about text formatting using the 'Standard editor'.
What is Notezilla?
Notezilla is a professional, elegant & highly rated sticky notes app for Windows & Phones (Android, iOS, iPhone, iPad, Windows Phone, etc.). It can help you organize your life by keeping all the notes, tasks & reminders that you may need when-ever and where-ever you are.
With sticky notes, you hardly have to put effort to take notes, set reminders, etc. Just jot down & move on with your task at hand. Notezilla allows you to create attractive and realistic sticky notes to make the desktop look more colorful and beautiful.
It works smoothly on both phones & tablets.
Here are some features of Notezilla:
Sticky notes with reminders
Attach sticky notes to websites, documents & folders
Pin sticky notes on top of other apps
Sync sticky notes between Windows, Android, iPhone, iPad
Organize sticky notes inside memoboards (folders)
Checklist sticky notes
Lock sticky notes (password protect)
Markdown support
Send notes over local network or across the globe
Tag sticky notes
Dark mode support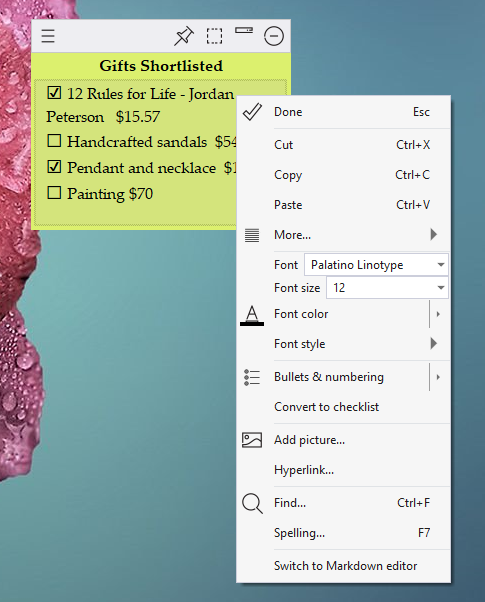 An image showing the text formatting options available on Notezilla.
We all require sticky notes to look attractive and colorful on our desktop / mobile devices. The benefits of formatting are that the sticky notes will have a clear and consistent layout, it also lets you format the text from any note, with the help of few different keyboard shortcuts. Select the text you want to format and you can change the size, font, font color, font style (to bold, italics, underline, strikethrough). You can also add hyperlinks to your sticky notes which makes it easy to access anything at your fingertips.
Video depicting text formatting in Notezilla using the Standard editor.
Notezilla provides varied options to edit a sticky note. It supports text formatting features like :
Change font (type, size, color and style)
Add bullets & numbering, outlining (multi-level bullets & numbering)
Insert pictures inside a sticky note
Insert hyperlinks
Checklist feature
Spelling
And lots more. There are also shortcut keys available for faster formatting.
Notezilla thus makes your sticky note experience really productive. And guess what? Notezilla also has free apps for iPhone, iPad & Android to let you access your sticky notes anytime and anywhere! Install it on your phone from App Store or Google Play Store & sync all your sticky notes with the Windows version of Notezilla.
Learn more about Notezilla. Download the free trial from here.
For more tutorial videos, check out this page.
Subscribe to our YouTube channel for interesting videos.
Check out our other cool products.
Have a good day!
Thanks for your time :)