Download Notezilla 9 for Windows
Notezilla is a sticky notes app for Windows. It lets you create sticky notes (like 3M Post-It® Notes) on your Windows desktop, set reminders to them, organize them in folders & also access them from any other device using our free apps ( Android app, iPhone/iPad app or the web app). Read more.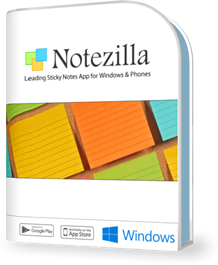 Try Notezilla for FREE without any obligations for 30 days. It is fully functional.
Notezilla runs on Windows 11, 10, 8, 7