Welcome :)

Notezilla 8 brings several exciting features that are designed to improve your everyday lifestyle.

A Couple of them are 1) You can sync your sticky notes between multiple computers 2) Access sticky notes from your iOS (iPhone/iPad), Android, Windows Phone, Tablet, or any other device. This page has more pictures & less to read so that you can save your time.

Note: If you are using an older version of Notezilla, you must know what's new in Notezilla 8. This is because, along with the inclusion of several new features, we have also removed some features. Also, learn more about upgrading.

Apart from what is listed below, we will continue to improve Notezilla with more exciting features over the next few months. We are listening. Just tell us whatever you like/dislike.


Stick notes to Windows desktop from any memoboard
The earlier version did not allow sticky notes from other memoboards to be stuck to the desktop. With the new version, you can stick note from any memoboard to the desktop. Very convenient!
Stick notes to documents/websites from any memoboard
The earlier version did not allow sticky notes from other memoboards to be stuck to documents & websites. With the new version, you can stick note from any memoboard to documents & websites. Great way to keep your desktop clean.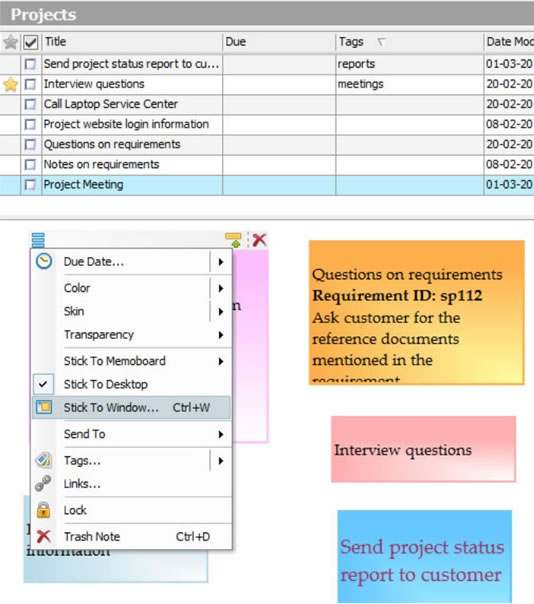 Attach sticky notes to website or document from any memoboard
New Reminder popup shows the sticky note
The reminder popup window has been redesigned. It shows the actual sticky note itself, unlike the earlier version. You can browse all active reminders using the 'Next' & 'Previous' buttons. It is also possible to 'Snooze all' or 'Dismiss all' active reminders at once.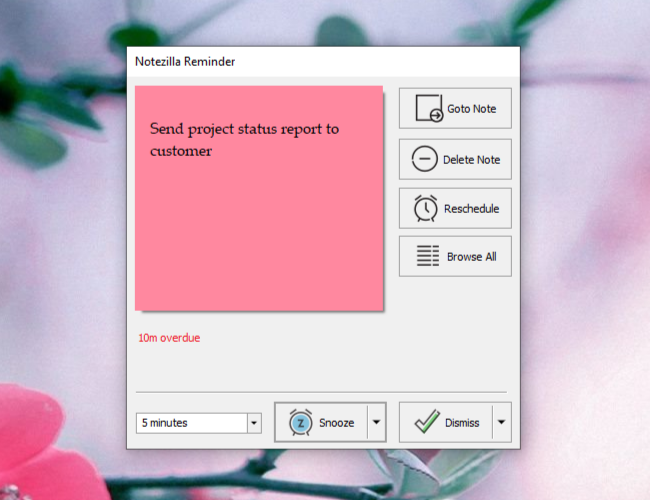 Sticky note inside reminder popup window
Outlining. Multi-level bullets & numbering
Getting-things-done gets easier with this version. You can have multi-level bullets & numbering inside a sticky note.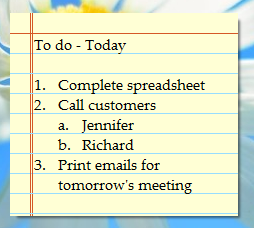 Sticky note with outlining support (Multi-level bullets & numbering)
Finding text inside a single sticky note
It is now possible to find text within a single sticky note.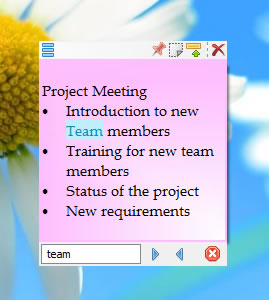 Find text inside a sticky note
Tags are much easier to work with
Assigning tags to a sticky note is much easier with the new version.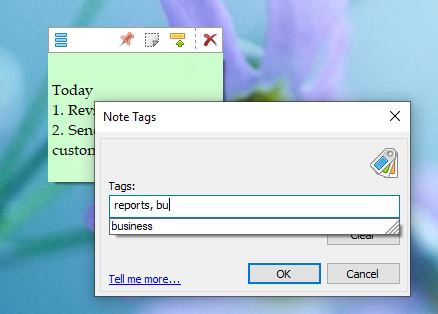 Assigning tags to a sticky note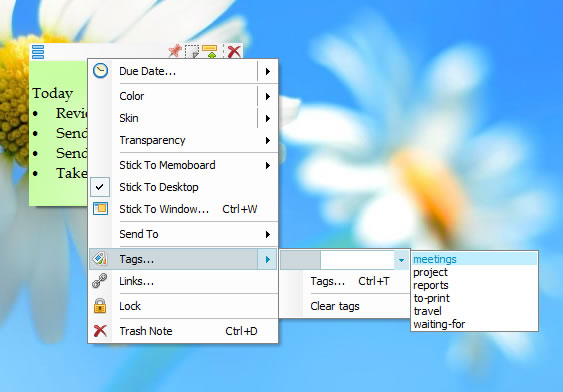 Quick way to assign tags
Sticky notes remember their position on each display monitor
Customize the position of your desktop sticky notes as per the display resolution you are working with. Eg. Laptop, Widescreen, Multiple monitors etc. The sticky notes will remember their position on each of them.
Automatic sizing of sticky note
Based on the note text, the sticky note is automatically expanded & contracted. Optionally, you can disable this feature.
Auto spell-check sticky notes
Once you enable automatic spell check in the new version, misspelt words are automatically highlighted.
Auto spell-check a sticky note
Separate modified-date shown over the sticky note
We have added an option to show the modified date on top of the sticky note, in the title area.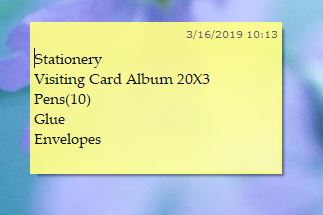 Showing modified-date on a sticky note
Notes can be written in any language
With the new unicode support, you can write into sticky notes in any language.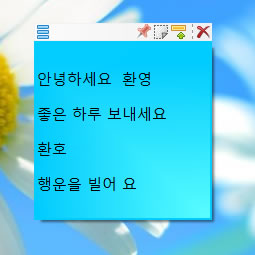 Sticky note with asian-language support
Locked notes are encrypted
When you lock a note, the content is completely encrypted. No one can read it without the master password.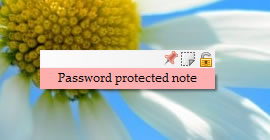 Locked & encrypted sticky note
Quickly set reminder
Directly choose the duration after which you need to be reminded.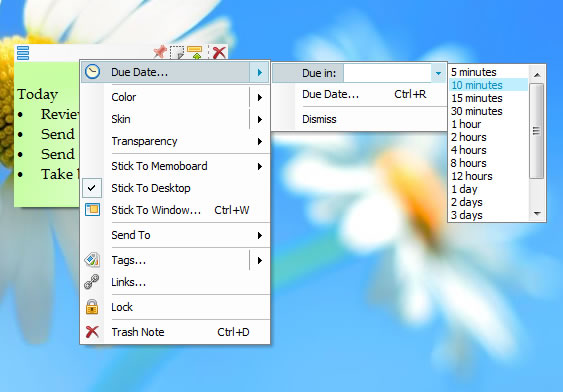 Fewer steps to setting reminder
Search notes directly from the popup menu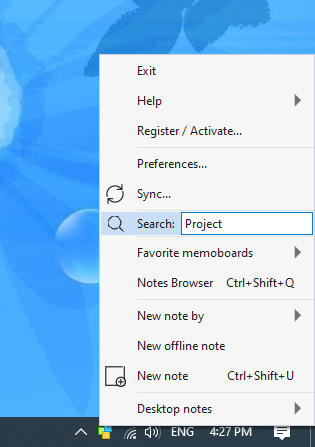 Fewer steps to search notes
Sync your sticky notes with Notezilla.Net cloud service
Notezilla.Net
is the new cloud service introduced along with Notezilla 8. You can safely sync your notes with the secured cloud service - Notezilla.Net. Once you install Notezilla 8, you can create a Notezilla.Net account from within the app and sync your notes right away.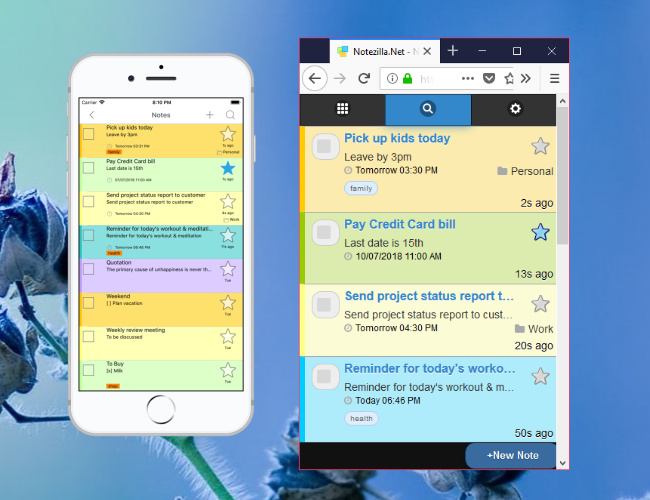 Sync sticky notes with Notezilla.Net
Access your notes from anywhere
You can access all your notes from any device using our
Android app
,
iPhone/iPad app
or the
web app
.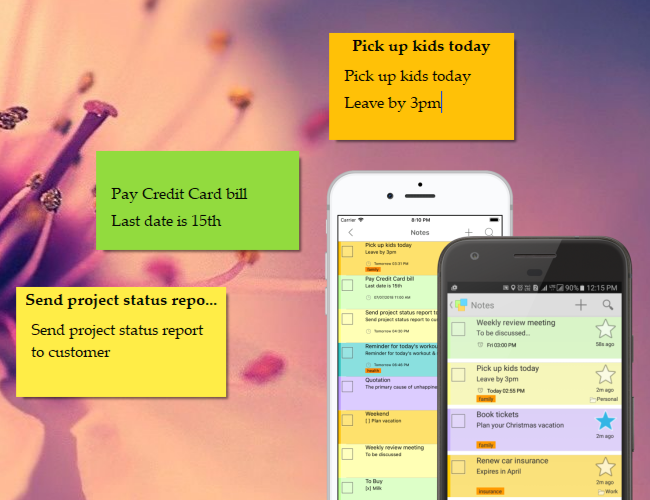 Access your notes from anywhere using our apps
Sync sticky notes between computers
Now, you don't have to worry about carrying your notes data or manually backing up and restoring your notes data between computers. Notezilla 8 supports real-time syncing of notes between computers.
With Notezilla you can send any sticky note instantly to another computer across the local network (LAN) using the computer name or IP address.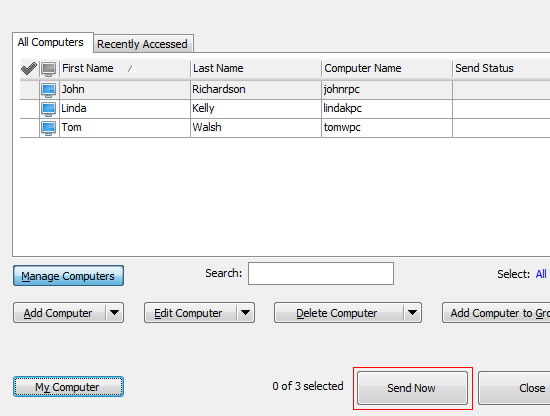 Send sticky notes to another computer on LAN
If your contact is already using Notezilla, then she will receive the sticky note right on her desktop. Or else she will receive the sticky note as an email. Advantages of the new method of sending notes are:
Your contact need not be within your local network. You both just need to be connected over the Internet.
You can send the sticky note even if your contact is offline. She will receive the sticky note automatically when she logs on to her computer next time.
Your contact can access notes from her smartphone too (iPhone, Android, Windows Phone etc) using the Notezilla.Net web-app.
You can send notes to your contact or a group of contacts, right from your smartphone.
The note is also sent as email. Contacts not using Notezilla can also receive your notes.
Security:
Notezilla.Net automatically encrypts your confidential information in transit from your computer to ours using the Secure Sockets Layer protocol (SSL) with an encryption key length of 128-bits (the highest level commercially available).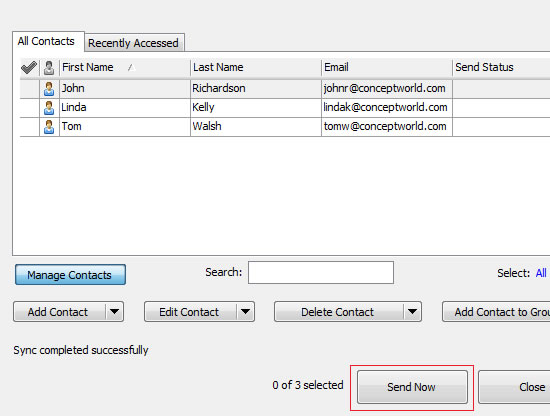 Send sticky notes to your contacts
Modern looks & better usability
The design of the new version is more intuitive and the looks are modern.
Performance improvements
Notezilla 8 has been redesigned from the ground up. It starts up very fast. Takes less memory and responds quickly.
The new version encrypts all locked notes. To enable this feature, the new version will reset your master password and unlock all previously locked notes. So you would need to lock them again using a newly created master password. The master password cannot be recovered, if lost.
Ctrl+L shortcut key for deleting notes has been changed to Ctrl+D.
Ctrl+D to insert the date has been changed to Ctrl+Alt+D.
Manual size to content option from the menu has been removed. However, you can press Ctrl+E to manually size the note to content.
The skin file format has changed. So you will need to re-download them from the skins page.
Some of the settings such as hotkeys, note properties have been reset. You can set them back using Notezilla Preferences.
MS Outlook sync has been replaced by Notezilla.Net cloud sync.
Locking the whole memoboard is not possible in the new version. You can, however, lock individual notes.
In order to simplify the product a bit, the new version will not allow the setting of priorities to a note. Instead, one can use the 'Star' feature to indicate the priority. We will add more icons to the 'Star' feature so that it can be used to represent 'High', 'Urgent' priorities.
Cascade, Playing Cards & Tiles layouts have been removed.
You can
download Notezilla 8 from here
. The new version will automatically uninstall the old version and transfer/migrate your old notes to the new version. It will also take a backup of your old notes so that you can revert back to the old version if needed.
Customer Reviews
I have tested dozens (at least 20, possibly 30) note applications from EverNote and OneNote, to Note Everything, SimpleNote, ColorNote, Zoho Notebook, etc. And of all these, NoteZilla is the ONLY program that was able to accomplish the simple task I was seeking.
Great piece of software (Notezilla) replacing the way too heavy Evernote. The latest update is a major improvement and makes this the perfect companion to the desktop solution. Look and feel now very practical, synching works now without glitches. And fast and great support, the folks react fast to questions and suggestions.
Awesome. I love and use Notezilla on a daily basis. Best post-it note software I've come across. I love the note boards so I don't have to clutter up my desk top unless I want to!
So far Im in love with Notezilla. I started with evernotes, but neither those nor windows notes could not keep sticky notes always on top - and Notezilla delivered!!.
This is the Best Product Ever!!! Saves me $20 bucks a week easily by not having to buy Post it notes. Works great on my network with zero errors.
Notezilla – the Rolls Royce of sticky note programs, I literally tested EVERY competing product. Thank you very much, for giving the world this truly amazing program.
Awesome product, Simply awesome. Post-IT, can't touch it. My personal productivity is soaring. There's nothing else like it. And I know, because I've done my "homework".
I have found Notezilla to be brilliant – I think the best value for money programme going around! I love it - the best programme I ever downloaded from the net!
Great product and Great people to work with!! Could not ask for anything more.
I purchased notezilla a while back and I use it just about everyday. It's by far the most outstanding "post it" notes EVER made.
Without a doubt, out of everything out there for desktop notes, you're product is perfection. Perfect in every way that a desktop note should help and support a busy person being more productive.
NoteZilla is the Rolls Royce of electronic sticky notes
I had used Post Its electronic notes for years and had tested other shareware and freeware but NoteZilla appears to be the best choice for a 64 bit Vista system
I used 3M's notes for many years, until NoteZilla came along. NoteZilla is definitely better and I have never had a problem with it
I cannot live without water, chocolate, and Notezilla ... you can't possibly be sufficiently proud of your achievement........
What a great product! I've tried about 10 of your sticky note rivals -- far and away the leader of the pack!
By the way, when my wife saw the post-its on my laptop desktop, she went wild for it and wanted it on our home computer (it's already there). Thanks again!
This program deserves tons of awards. It works so well and is really excellent and perfectly done. I wish all programmers made their programs as good as this
This is without doubt the best 'sticky note' software (I've tried both freeware and the Post-it Notes original) - and it's better than that.
Thanks for your program it's very important. Now you don't have to fill up your monitor edges with the square yellow stickies!! Thank you very much!!!!!!