Welcome :o)
Notezilla 9 comes with several features that our customers have been requesting for quite some time. We thank all our customers for taking time to send their feedback and suggestions to us.
Here is a list of 30 major features and improvements made in Notezilla 9.
1) Android and iPhone apps now support formatted text
Notezilla apps for Android and iPhone/iPad now support text formatting such as bold, italics, highlighting, bullets, numbering etc. Earlier versions supported only plain text.
2) Create offline sticky notes
Many users wanted "selective" syncing in the Windows version of Notezilla. Meaning, they didn't want all the sticky notes to sync with the cloud as some notes may contain sensitive information.

We have added the feature to create "Offline sticky notes" in this version. When you create an offline sticky note, it is never synced with other devices.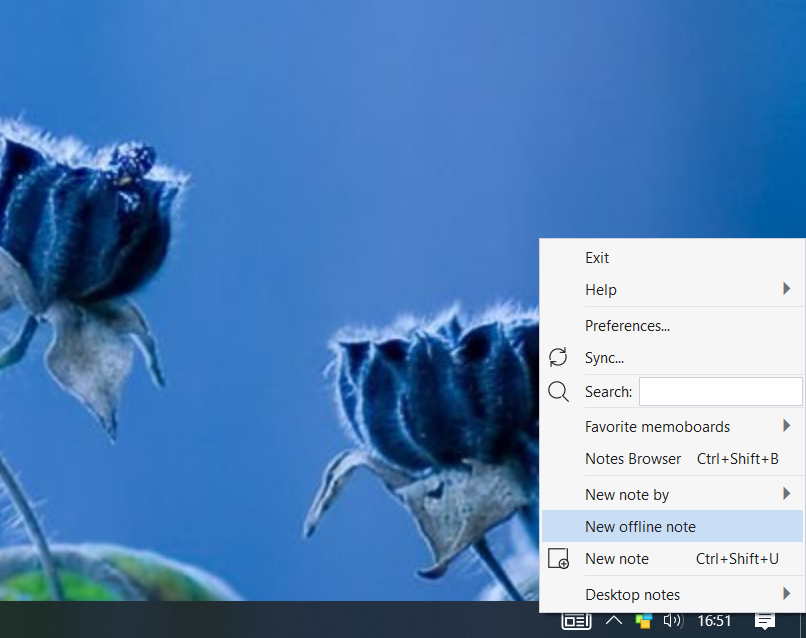 3) Snap sticky notes to grid on Windows desktop
This is yet another feature that many customers requested. They wanted to tidy their Windows desktop by having the sticky notes arrange automatically when moving them close to each other. We can also call it "Snap to grid".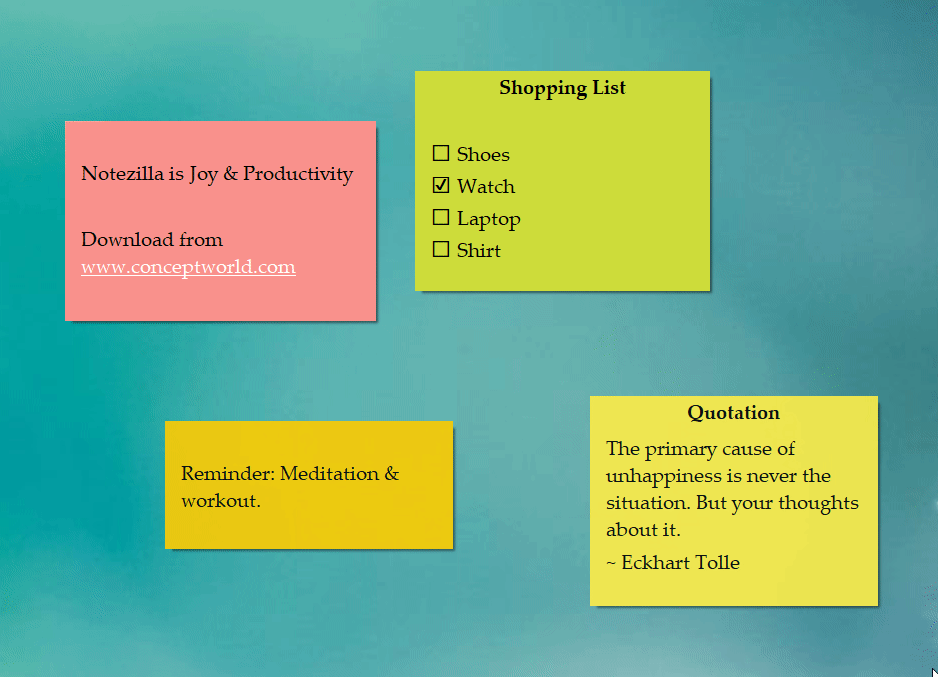 4) Duplicate a sticky note quickly
Now it is very easy to create a copy of a sticky note. This is useful when working with standard templated note content such as checklists etc.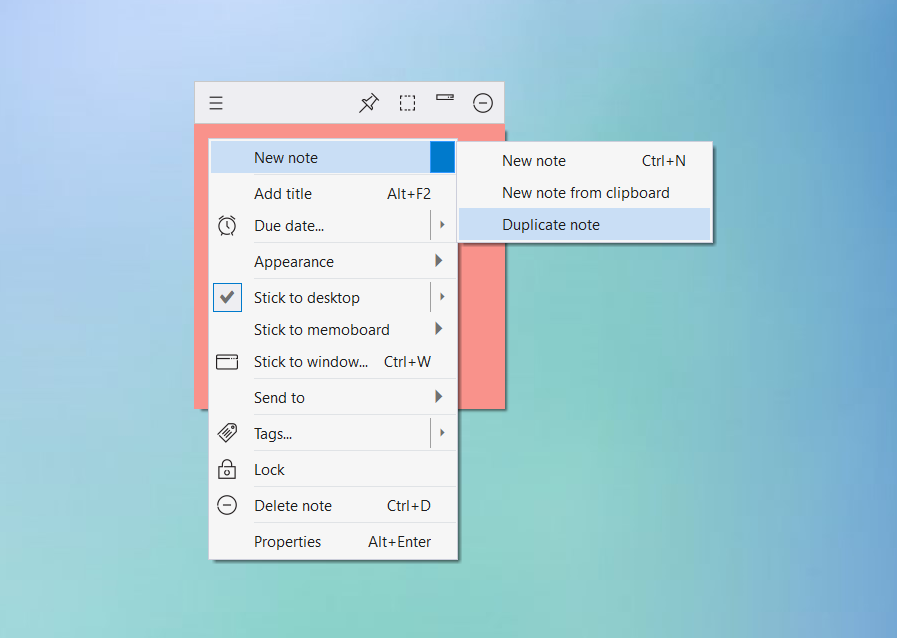 5) Markdown support adds several benefits
Notezilla 9 defaults to 'Markdown' way of formatting text. Eg. When you type **Beautiful world**, it will show as Beautiful world.
Markdown will also allow you to add inline checklists, inline hyperlinks, tables, highlighted text, dark mode compatibility, cross-platform compatibility and lot more. The phone apps also will use markdown to format the text.
You can switch to the standard editor anytime that the previous versions supported.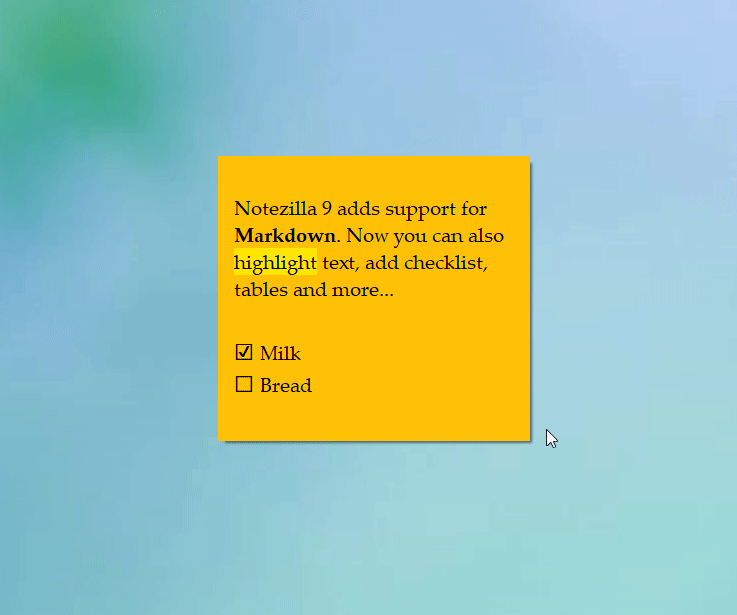 6) Dark mode
The new version supports dark mode. If you are using the markdown editor then Notezilla will automatically used lighter text color on dark backgrounds.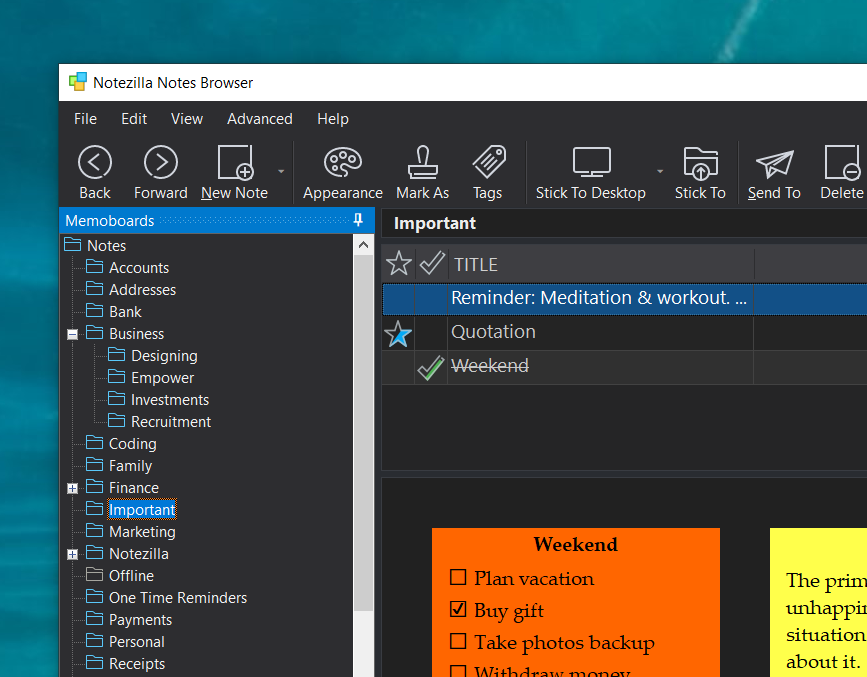 7) Auto-arrange sticky notes in Notes Browser
Neatly arranged sticky notes will allow you to be more productive. The new version arranges the sticky notes automatically when ever you resize a sticky note or the Notes Browser. This avoids overlapping and cluttered sticky notes.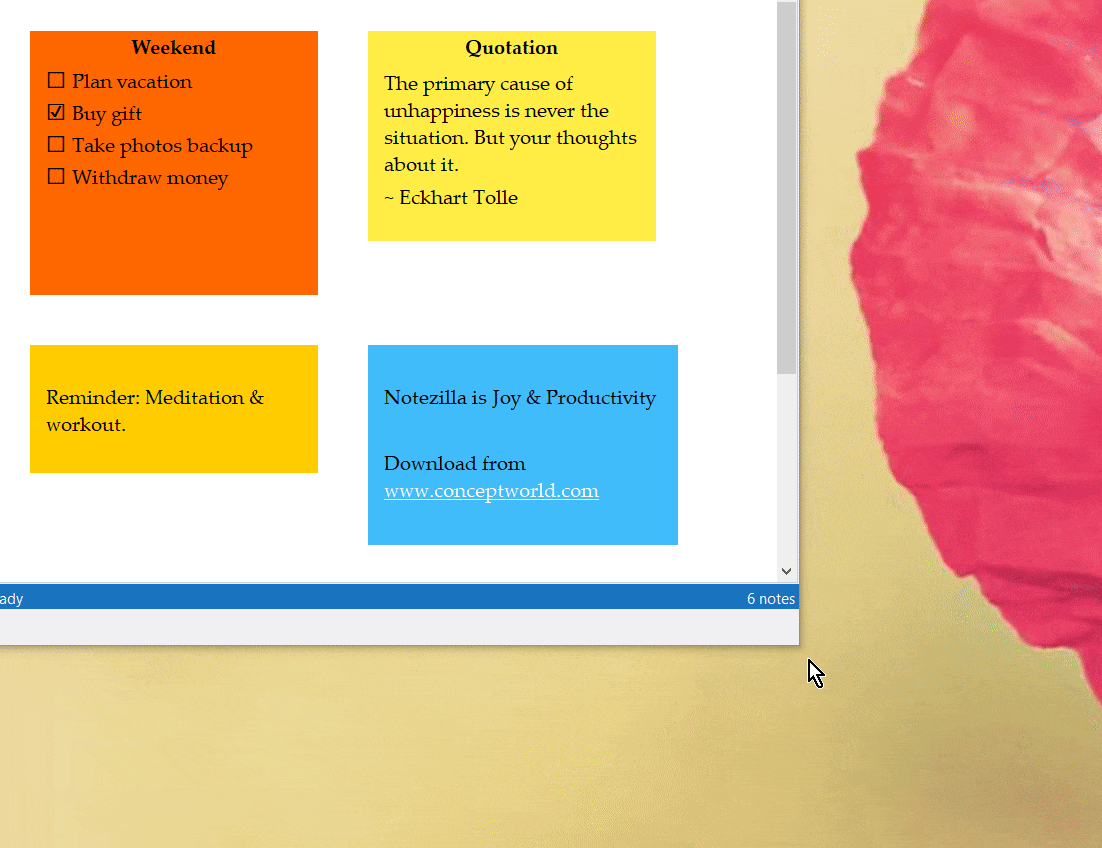 8) Show sticky notes on desktop by memoboard or tag
Notezilla 9 adds the ability to quickly bring all sticky notes belonging to a memoboard (or tag) to the Windows desktop. You may be grouping various sticky notes by tag or memoboards (folders). With just 2 clicks you can instantly show all those sticky notes on the Windows desktop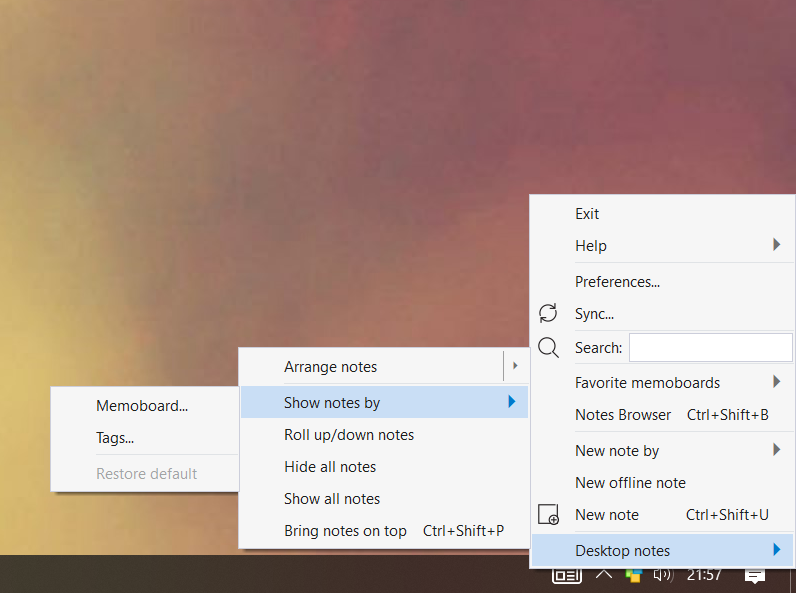 9) Multi-select sticky notes and move around to organize/group them
We have added the ability to multi-select desktop sticky notes and move them around so that you can tidy your Windows desktop. You can also multi-select sticky notes inside the Notes Browser. Hold Ctrl key to multi-select.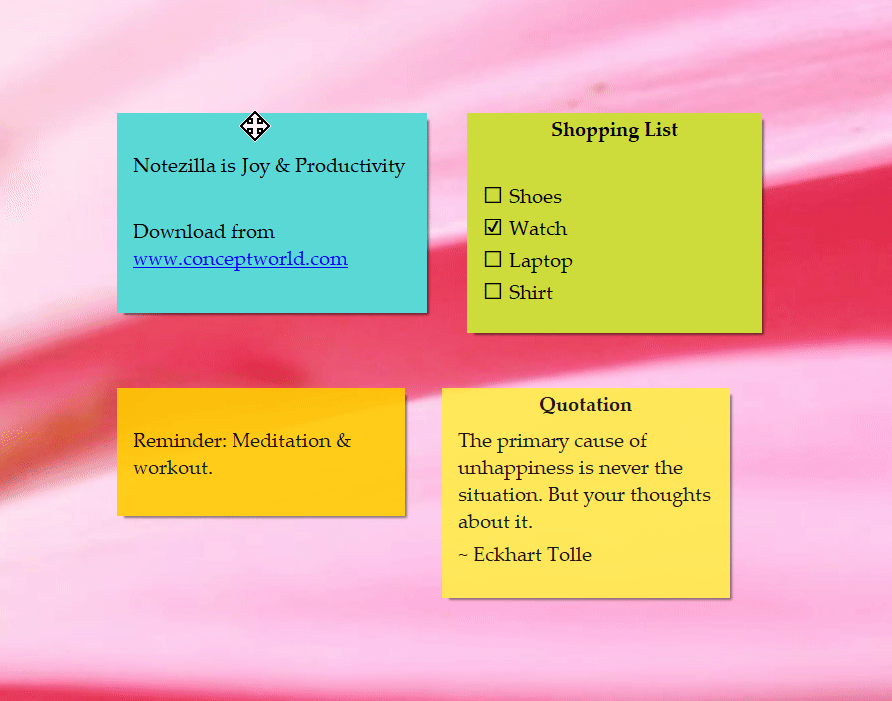 10) Charming new sticky note colors
The new sticky note colors in Notezilla 9 for Windows are beautiful! The more you will see them, the more you fall in love with them :o). You will see these colors in the phone apps too (Notezilla for Android, iPhone/iPad).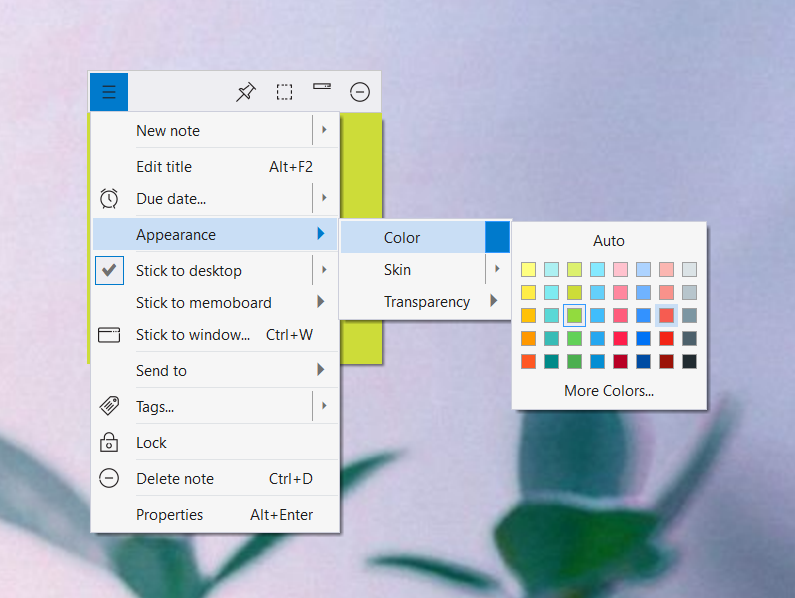 11) Access sticky notes from the new taskbar button
The new version brings quick way to access the desktop sticky notes in Windows. You will see a new Taskbar button when Notezilla is running in the background.
Clicking on this taskbar button will give you instant access to the desktop sticky notes. You can also access the desktop notes using the Alt+Tab keys. Right clicking will let you create a new sticky note from the taskbar's jump list.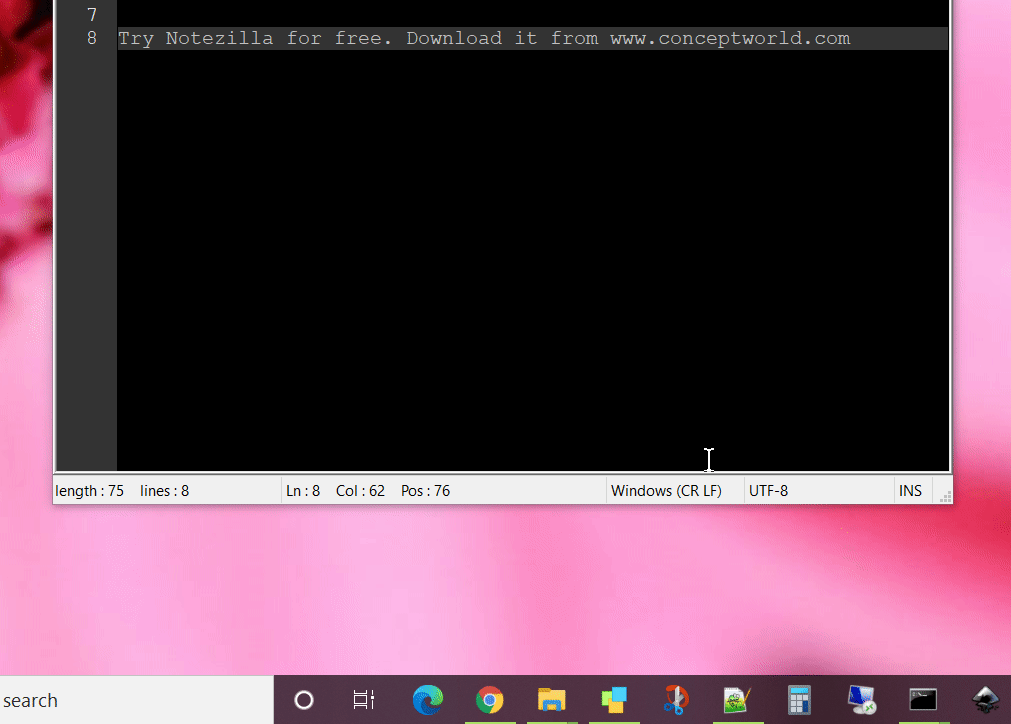 12) Temporarily disable sticky note reminders using 'Do Not Disturb'
You can now temporarily disable the reminder pop up messages using the "Do not disturb" feature. The reminders that you set on sticky notes will not show up for the duration you set. This feature is useful especially when you are in a meeting or presenting something from your PC/laptop.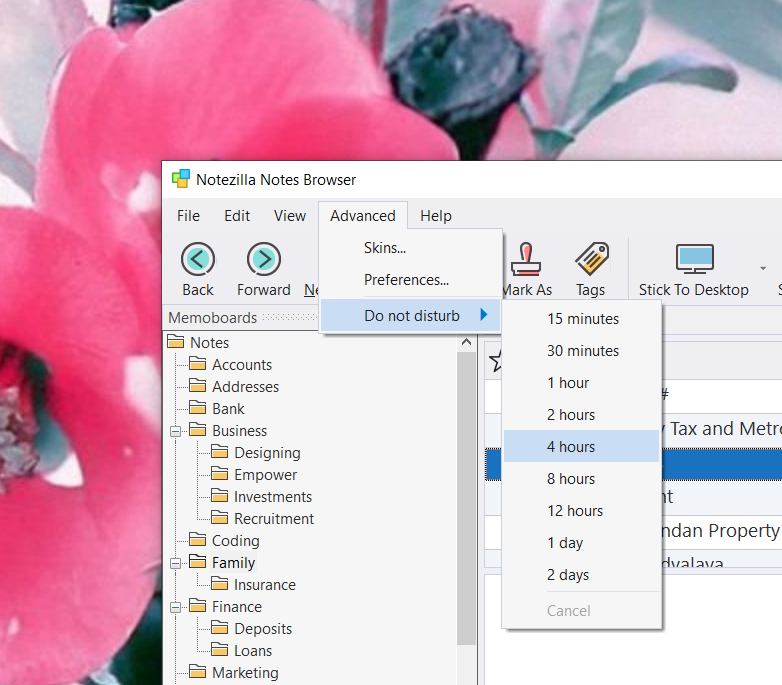 13) Flicker-free typing and resizing of sticky notes
You will be surprised at the richness and smoothness of the user-interface (UI) in the new version when using pictures, typing text inside a sticky note or auto-arranging sticky notes.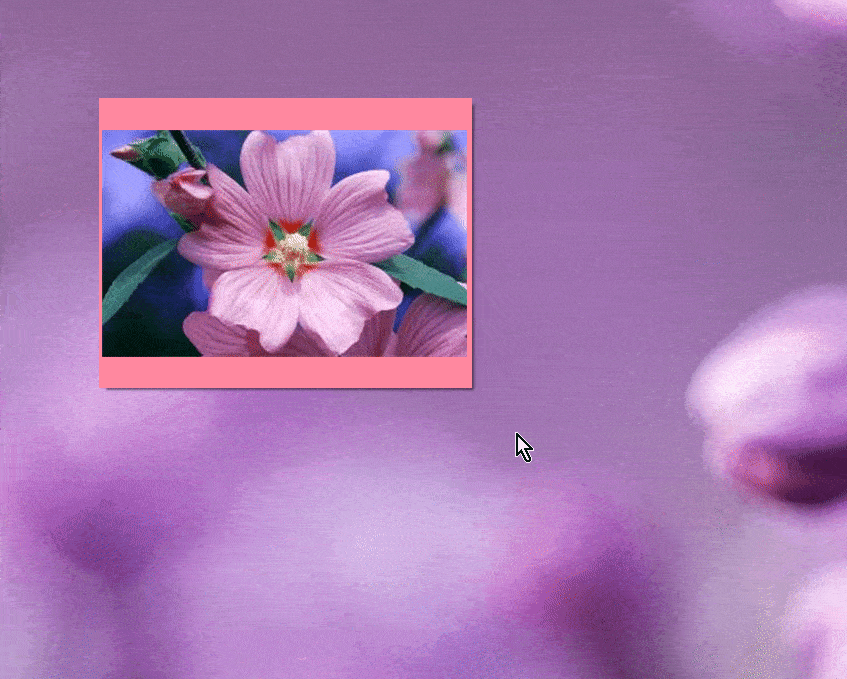 14) Sort lines and checklists
When you have ticked off few checklist items, you can send them to the bottom of the list by sorting the checklist. Or you can individually move a line up or down (even using the keyboard).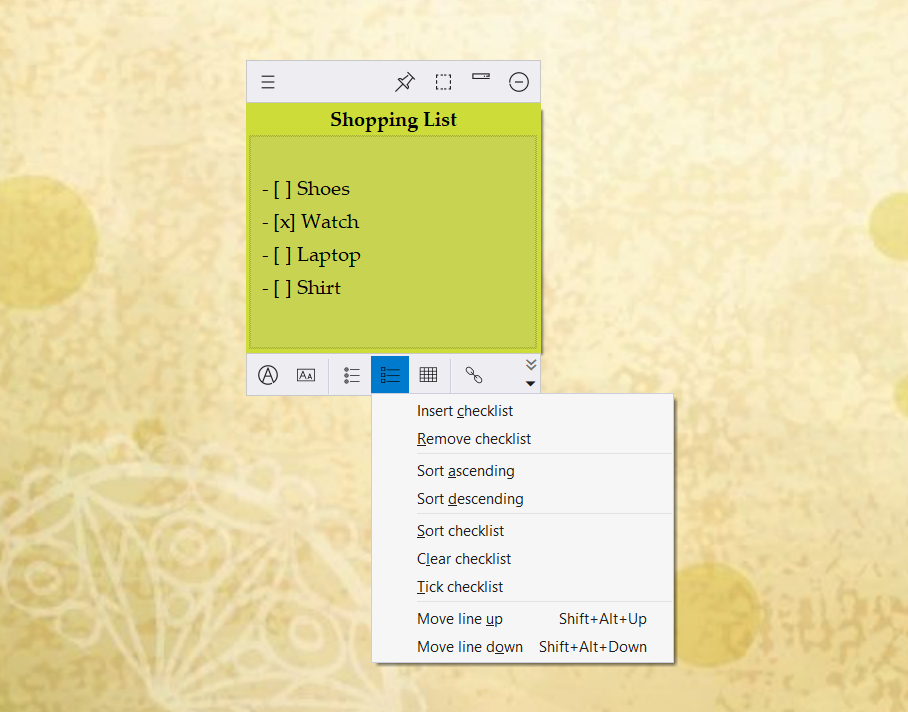 15) Insert tables inside a sticky note
Notezilla now allows light-weight tables inside sticky notes using markdown on Windows. You can represent a table as plain text and it automatically renders as a table inside the sticky note. Notezilla phone apps for Android/iPhone/iPad also has support for tables.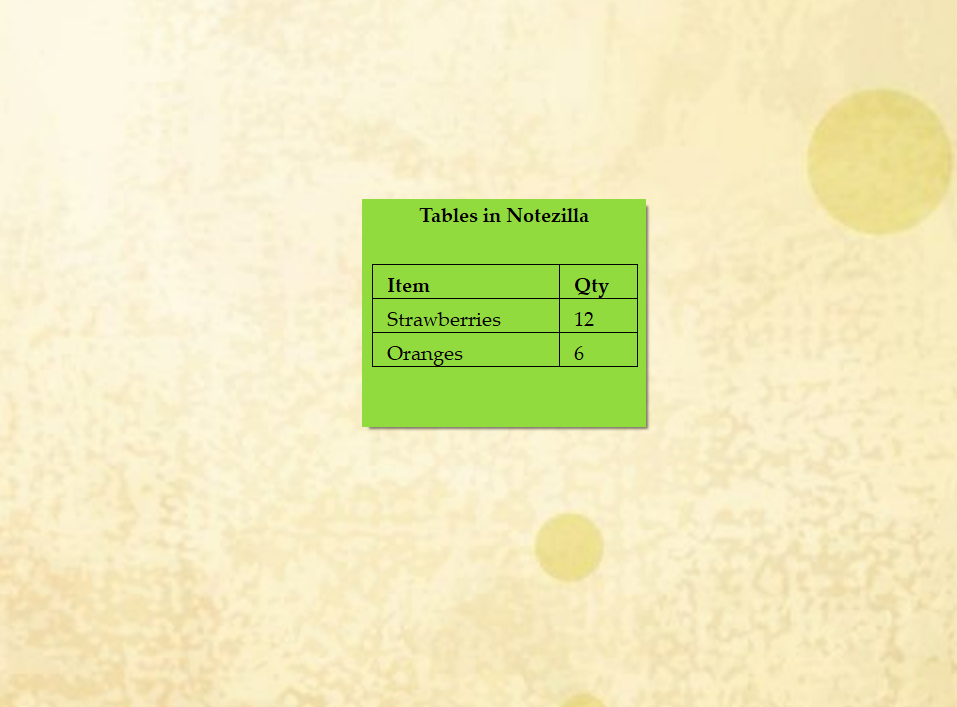 16) Inline hyperlinking
The new version supports inline hyperlinking that many customers requested. You don't have to paste long clumsy URL links now inside sticky notes in the new version. Supported in all platforms - Windows, Android, iPhone, iPad.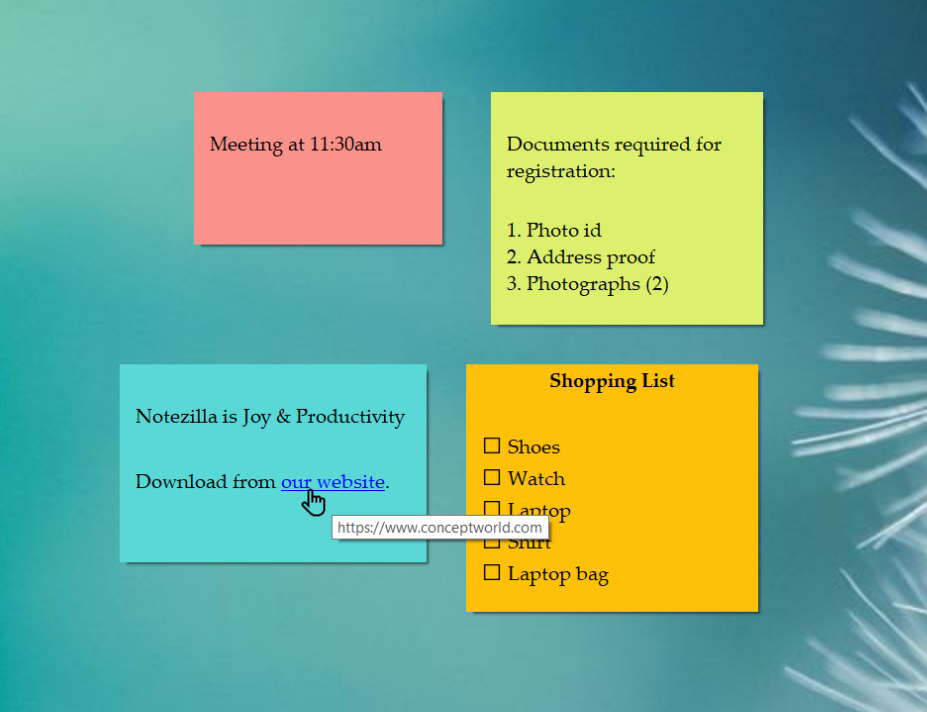 17) Add hyperlinks pointing to other sticky notes
Yes, this one is interesting. You can link one note to another. You may have some sticky notes with standard content that you wish to refer from another sticky note. With this feature you can add hyperlinks to other sticky notes.
Before setting a hyperlink, go to the sticky note which needs to be linked, right click on the sticky note, go to Properties and set a note id.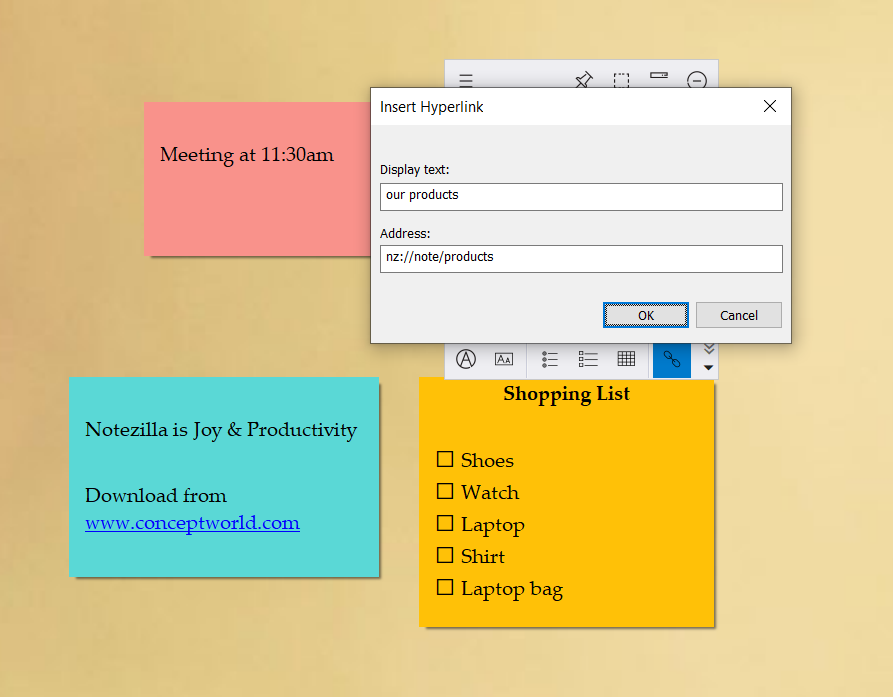 18) Improved tagging of sticky notes and searching them by tags
Quickly search for sticky notes using keyword like #tagname. Earlier version required more steps.
Also, setting new tags to a sticky note is lot easier in this version.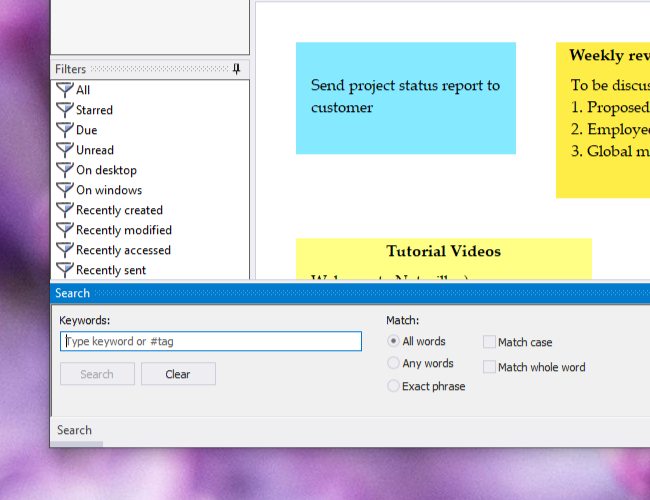 19) All matches are highlighted inside found sticky notes
When you search for sticky notes by a keyword, Notezilla now highlights all the matching keywords inside a sticky note. In the earlier version it highlighted only the first match and the user had to press F3 to go to the next match.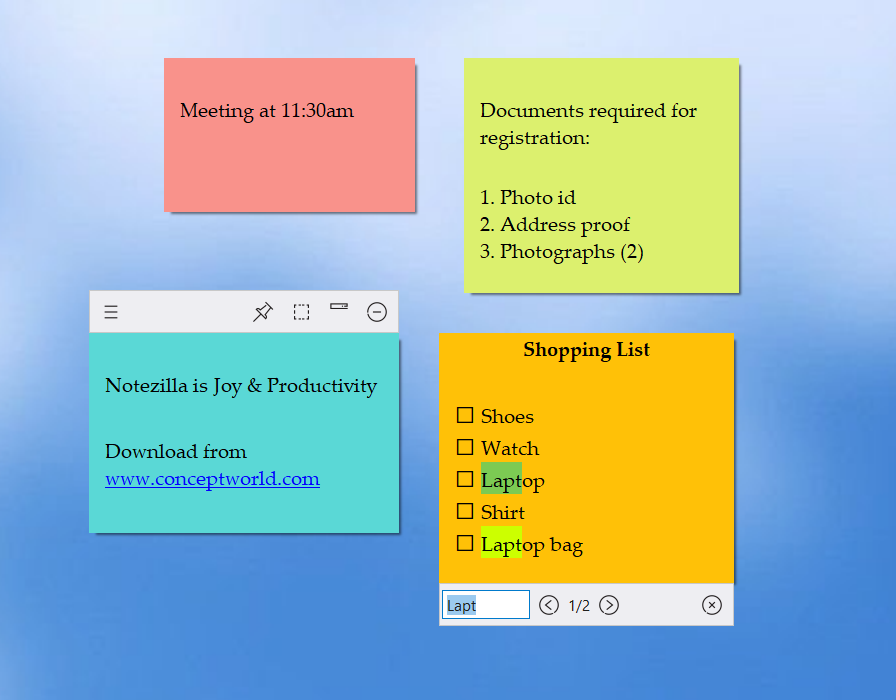 20) One-click button arrange sticky notes inside a memoboard
In the new version Notezilla auto-arranges notes when the Notes Browser is resized. Or when a sticky note is resized. This is very convenient compared to the behavior in the previous version.
However, if you disable the 'auto-arrange' setting or if you move sticky notes around, just single clicking on the 'Arrange Notes' button will set all sticky notes in the right place, neatly.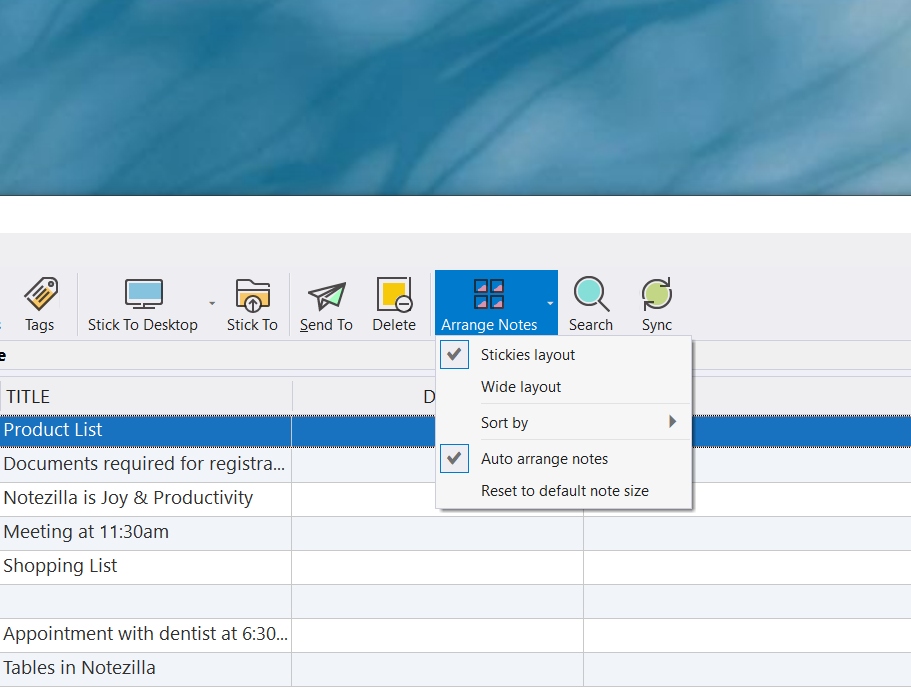 21) One-click button to restore sticky note from the Trash memoboard
Restoring a sticky note back from the Trash memoboard is now one-click away.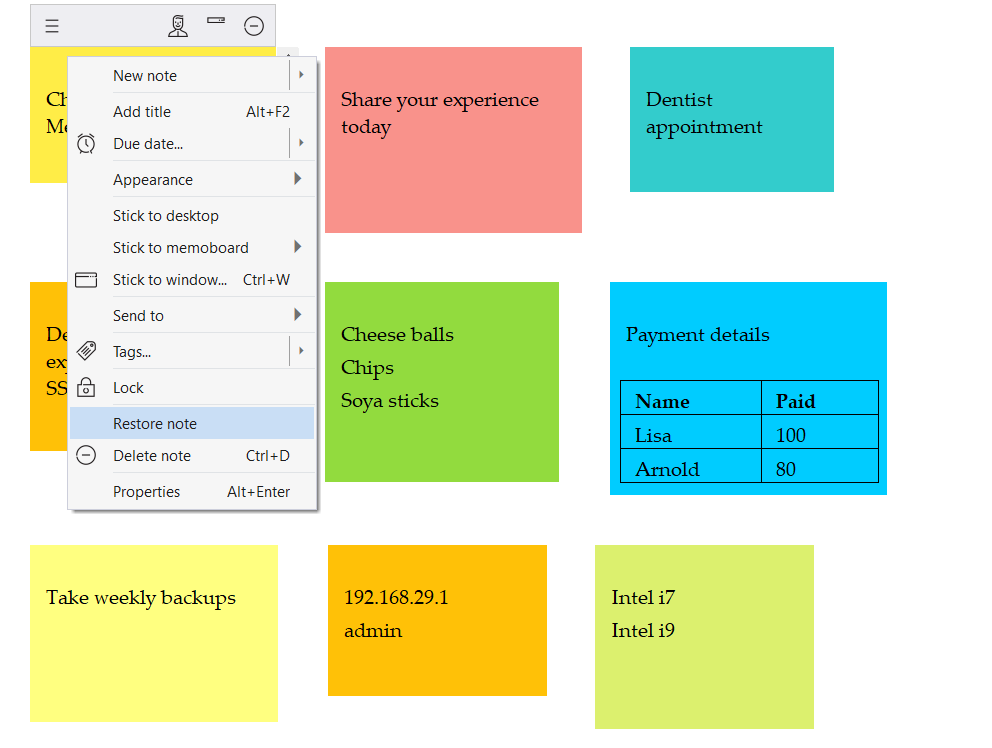 23) Back and forward buttons in Notes Browser to navigate between recent sticky notes
Quickly browse through recently accessed sticky notes using the Back and Forward buttons in the Notes Browser.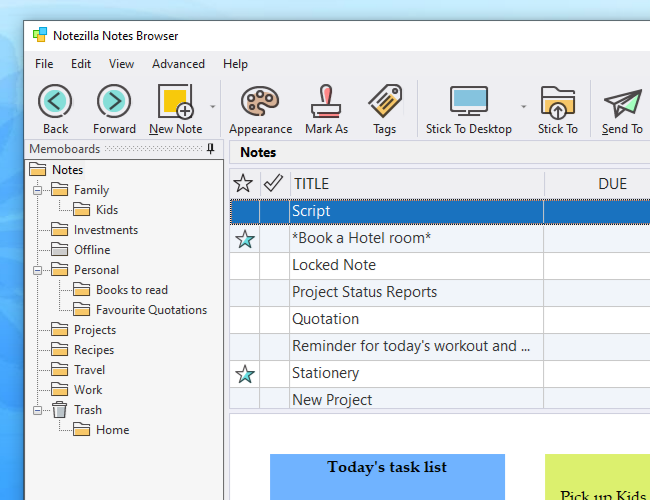 24) Directly edit a sticky note from the reminder popup window
Very often when a reminder sticky note pops up, we wish to update some value in the sticky note. Now, you can directly edit the sticky note from the reminder window before dismissing the reminder alarm. Just double click inside the sticky note to edit.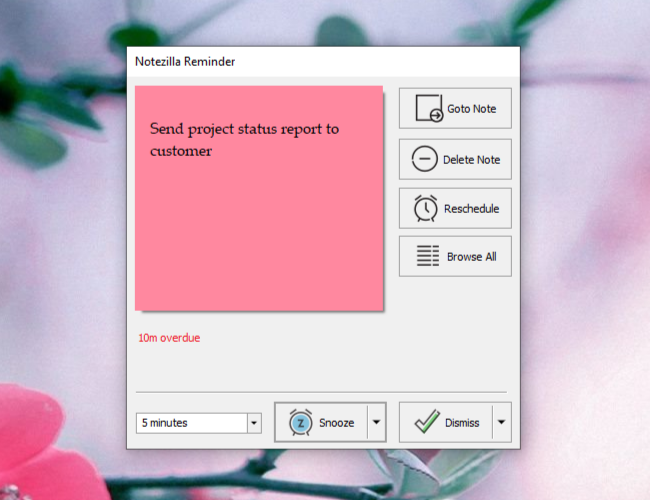 25) Sender's name shown on sticky note's title
This version shows the sender's name directly in the sticky note's title, right aligned. Earlier version showed the name only on hovering the mouse pointer over the toolbar icon.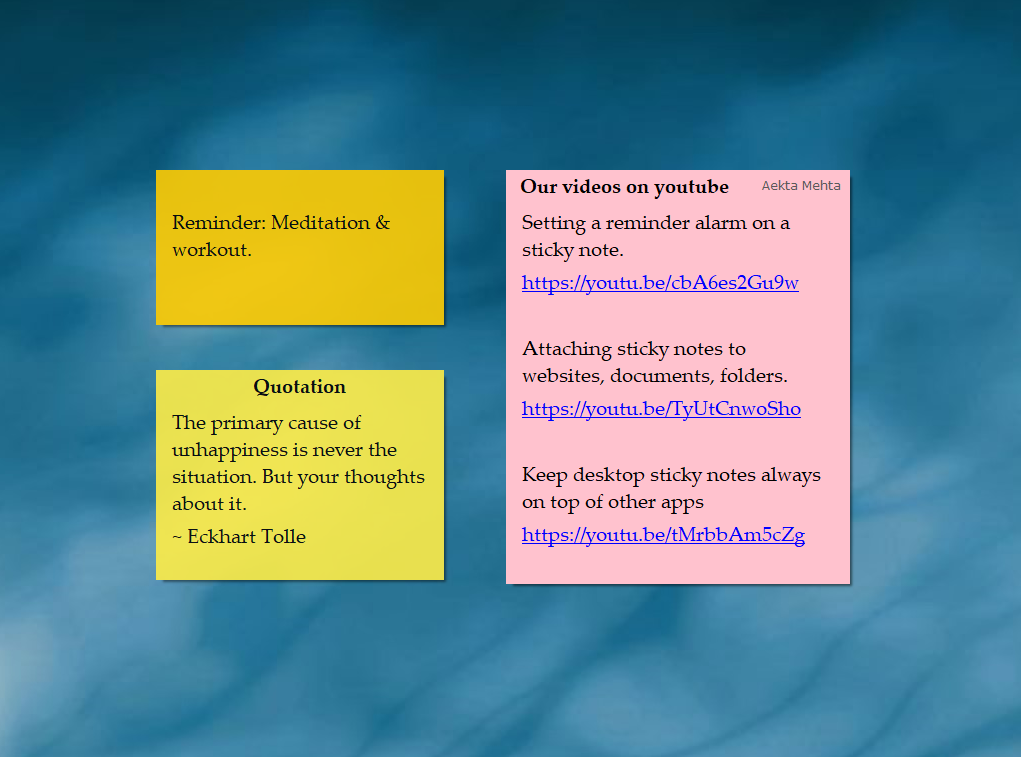 26) Create new sticky note from within a sticky note
Like Windows Sticky Notes, you can now create a sticky note from within a sticky note right from the note's menu.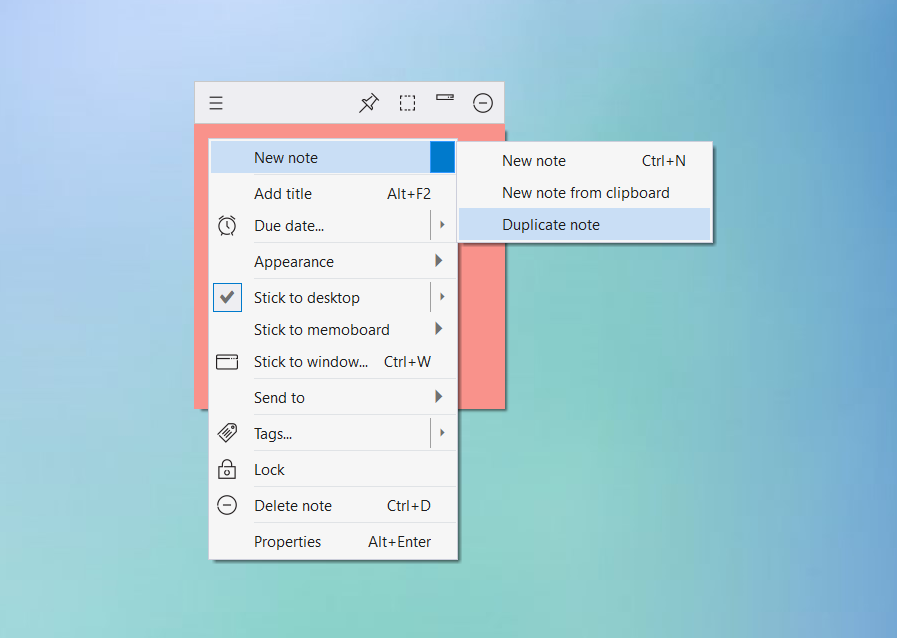 27) Create new sticky note from Windows desktop
Directly create new sticky notes by right clicking on the Windows desktop background.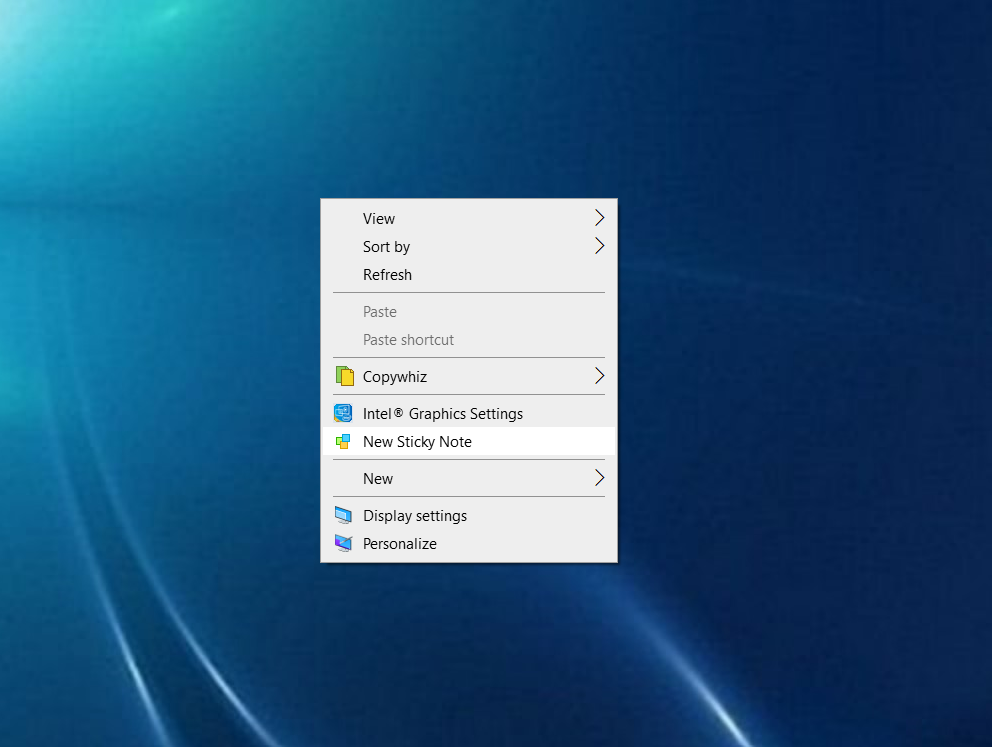 28) Create new sticky note from clipboard content
Avoid multiple clicks and create a sticky note directly from what's in the clipboard.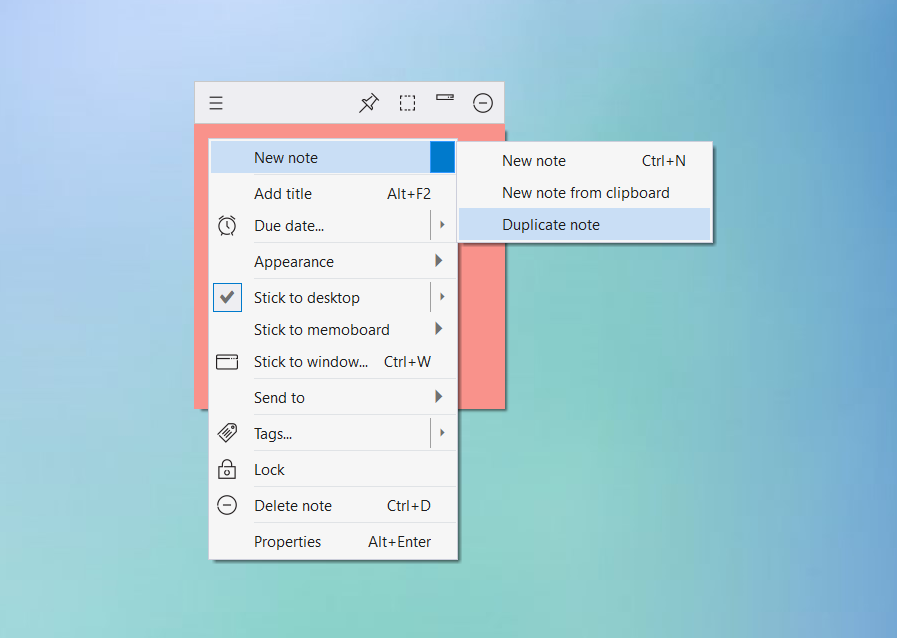 #29) Other Improvements
The list is long. Some of the most important improvements are:
Default alarm sound replaced.
Margins inside a sticky note are better.
Mouse wheel works on desktop sticky notes without a sticky note being selected.
Dragging a sticky note in the Notes Browser automatically increases the total view area.
It is possible to jump to a sticky note's memoboard from any filter.
Vertical scrollbar inside a sticky note made wider.
Command line allows a new sticky note to be created with note content
(Several more will be added soon)
#30) Bug fixes
Can now recognize computer names across router boundaries (subnets)
When signing into an existing sync account, in rare occasions pictures were deleted. This is fixed.
You can
download Notezilla 9 from here
. The new version will automatically uninstall the old version and transfer/migrate your old notes to the new version. It will also take a backup of your old notes so that you can revert back to the old version if needed.
If you have already purchased Notezilla 8, the new version is
available to you at a discounted price
. Remember that this discount is offered for a short time only.
Visit the upgrade page for instructions
.
Customer Reviews
I have tested dozens (at least 20, possibly 30) note applications from EverNote and OneNote, to Note Everything, SimpleNote, ColorNote, Zoho Notebook, etc. And of all these, NoteZilla is the ONLY program that was able to accomplish the simple task I was seeking.
Great piece of software (Notezilla) replacing the way too heavy Evernote. The latest update is a major improvement and makes this the perfect companion to the desktop solution. Look and feel now very practical, synching works now without glitches. And fast and great support, the folks react fast to questions and suggestions.
Awesome. I love and use Notezilla on a daily basis. Best post-it note software I've come across. I love the note boards so I don't have to clutter up my desk top unless I want to!
So far Im in love with Notezilla. I started with evernotes, but neither those nor windows notes could not keep sticky notes always on top - and Notezilla delivered!!.
This is the Best Product Ever!!! Saves me $20 bucks a week easily by not having to buy Post it notes. Works great on my network with zero errors.
Notezilla – the Rolls Royce of sticky note programs, I literally tested EVERY competing product. Thank you very much, for giving the world this truly amazing program.
Awesome product, Simply awesome. Post-IT, can't touch it. My personal productivity is soaring. There's nothing else like it. And I know, because I've done my "homework".
I have found Notezilla to be brilliant – I think the best value for money programme going around! I love it - the best programme I ever downloaded from the net!
Great product and Great people to work with!! Could not ask for anything more.
I purchased notezilla a while back and I use it just about everyday. It's by far the most outstanding "post it" notes EVER made.
Without a doubt, out of everything out there for desktop notes, you're product is perfection. Perfect in every way that a desktop note should help and support a busy person being more productive.
NoteZilla is the Rolls Royce of electronic sticky notes
I had used Post Its electronic notes for years and had tested other shareware and freeware but NoteZilla appears to be the best choice for a 64 bit Vista system
I used 3M's notes for many years, until NoteZilla came along. NoteZilla is definitely better and I have never had a problem with it
I cannot live without water, chocolate, and Notezilla ... you can't possibly be sufficiently proud of your achievement........
What a great product! I've tried about 10 of your sticky note rivals -- far and away the leader of the pack!
By the way, when my wife saw the post-its on my laptop desktop, she went wild for it and wanted it on our home computer (it's already there). Thanks again!
This program deserves tons of awards. It works so well and is really excellent and perfectly done. I wish all programmers made their programs as good as this
This is without doubt the best 'sticky note' software (I've tried both freeware and the Post-it Notes original) - and it's better than that.
Thanks for your program it's very important. Now you don't have to fill up your monitor edges with the square yellow stickies!! Thank you very much!!!!!!