Notezilla has a cool ability to represent a sticky note as a checklist. Each line in a sticky note begins with a checkbox that you can tick off.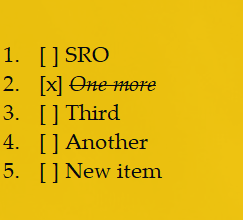 Watch a short video describing this feature:
For more tutorial videos, check out this page.
To enable this feature just right click inside a sticky note and choose Bullets & Numbering->Checklist from the menu.
Learn more about Notezilla
Subscribe to our YouTube channel for interesting videos.
Thanks for your time :)