We are happy to announce that we have released a new update for Notezilla for Windows.
Presenting to you, Notezilla 8.0.32!
You can read the revision history here.
This article will cover details of all the changes we made in the new update.
What's New?
Faster sync of sticky notes across all devices: Yes, you read that right! Notezilla on Windows now syncs every minute. This improved frequency gives the advantage of faster updates on all the other devices too. Receiving sticky notes from your contacts is also faster now. It will help improve productivity and efficiency of tasks.
Hide notes on Show Desktop (Win+D): Your desktop sticky notes will no longer disappear when using the "Show Desktop" (Win+D) feature of Windows. Using the newly added "Hide notes on Show Desktop" (Win+D) feature, if you disable this particular option, then the sticky notes will always remain visible on your desktop when using the "Show Desktop" (Win+D) feature. A small yet convenient feature.
Blank sticky notes deleted permanently: Unlike the earlier version where a blank note deleted was sent to the trash folder/memo board, the new version permanently deletes blank notes. The trash memoboard doesn't fill up unnecessarily.
Default Hotkeys now modified: The default hotkeys of Notezilla have been modified as they were conflicting with shortcut keys of other popular apps like Windows. You can now use the Hotkeys along with other apps, without any disturbance.
Product Notifications: Product news, updates and offers will be shown from within the app, automatically when needed.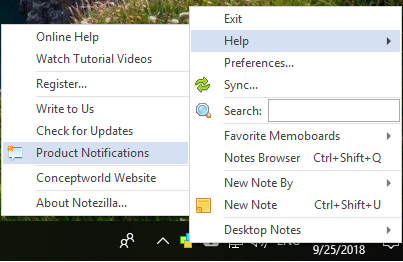 Sticky note skins with better gradient: The "Classic Gradient" skin has better gradient now. It improves the look of your sticky note making it more attractive.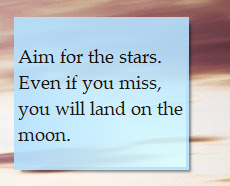 We have improved
We have fixed many bugs since our previous version based on suggestions and feedback from users because we believe in consistently improving over time.
Updated app skin for "Due Date Window": The overall look of the app has improved to make it more comfortable to read the dates inside the 'Set Due Date' window and making it easier to set reminders to your Notezilla sticky notes.
Easier formatting of checklist sticky notes: Earlier' when a checklist note was updated from the phone, the format (strike-through) of that note on Windows desktop was frequently lost after sync. This problem will no longer occur. We have also improved the checklist feature in our mobile apps.
Other bugs fixed:

Day light saving issue fixed.
The first 2 columns of a memoboard sometimes lost the icons after sync. This is fixed.
The trash prompt message did not appear on top of the sticky note when trashed from reminder window in the earlier version. This is fixed.
Improved usability and User Interface in many prominent areas.

You can check out the latest update by downloading and installing it from here.

Also, this new update is free for all our existing customers.

We hope you love Notezilla even more after trying out the update. Feedback and suggestions invited.

Have a good day!

Thanks for your time :)