We are very happy & excited to launched the new version of our Launcher program for Windows called RecentX 4.
This version has been revamped inside out. We have added exciting features, plus you will see a magical difference in performance, speed & its overall quality.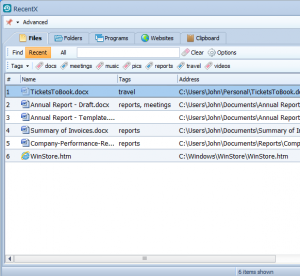 Here are the highlights of the new version:
Access your files, folders, programs, Internet history, bookmarks on your Windows computer within 2-7 seconds.
Remembers recent & favorite items for faster access. Saves a lot of time.
Tags files, folders, programs, websites, bookmarks in Windows.
Integrates with Windows file open/save dialog window to directly jump to your favorite folder.
Remembers all the text & images that you copy to clipboard so that you can directly pick them up when you require them later – Clipboard extender & history manager.
Gives you access to Internet history & bookmarks from Google Chrome, Mozilla Firefox & Internet Explorer.
Quickly perform file operations (copy, rename etc) without using a file manager like Windows Explorer.
And there is lot more. Learn what's new in RecentX 4. You can also try RecentX for free.
Thank you all for your support. :)