Welcome :)

What's common amongst RecentX customers? They totally love RecentX & they can't live without it. We thank all customers for choosing RecentX.

RecentX 5 is here! The new version brings new exciting features, intuitive looks with robust engineering.

Here's what the new version brings:
Search is atleast 3x times faster
New in Version 5
Try it to believe it! The search is lot faster than the previous version.
Recently downloaded files are automatically detected
New in Version 5
Added more intelligence to the new version. Automatically detects files downloaded using any of the major browsers (Chrome, Firefox, Edge & Internet Explorer).
Added support for Hi-DPI display resolution (4k monitors)
New in Version 5
You can use RecentX conveniently on Hi-DPI display monitors.
Added option to list all matching files & folders
New in Version 5
In this version, RecentX allows you to list all matching files & folders. Earlier version listed only 250 items.
Find-as-you-type can be disabled
New in Version 5
If you want RecentX to search only when you hit Enter key, then this is possible in the new version. You can disable Find-as-you-type option. Once disabled, RecentX will not search while you are typing the keywords. This way, you can avoid the delay due to wrong spellings etc.
Preview picture files (.jpg, .png, .gif, .bmp etc) directly from files list
New in Version 5
Preview thumbnails of pictures directly from RecentX files list. No need to open each picture to view it.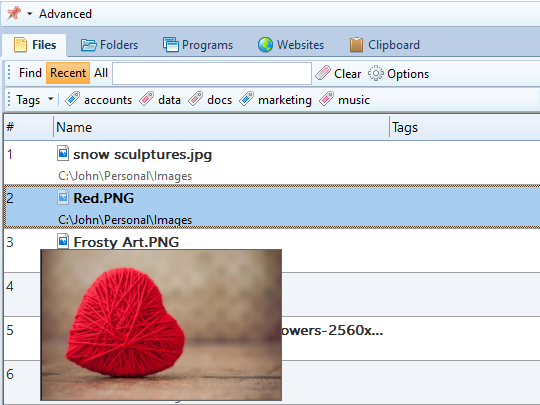 Preview picture files directly from files list
Disable clipboard monitoring on specific apps
New in Version 5
RecentX automatically maintains history of all the items that you copy to clipboard in Windows. Sometimes, you may want to disable clipboard monitoring for specific apps. This is now possible in the new version.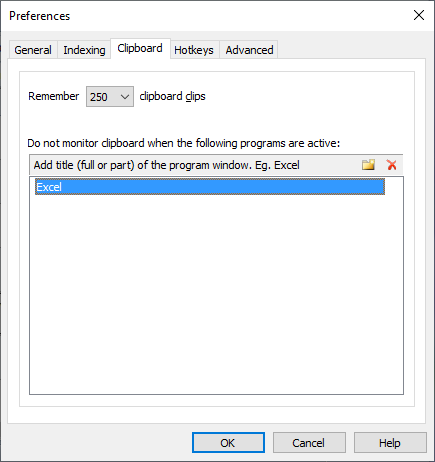 Open a website in any installed browser
New in Version 5 - Added Microsoft Edge support
The websites list will allow you to open a particular website in any browser - Google Chrome, Mozilla Firefox, Microsoft Edge or Internet Explorer. Convenient when some websites work only in specific browser. Useful when testing a web page in multiple browsers.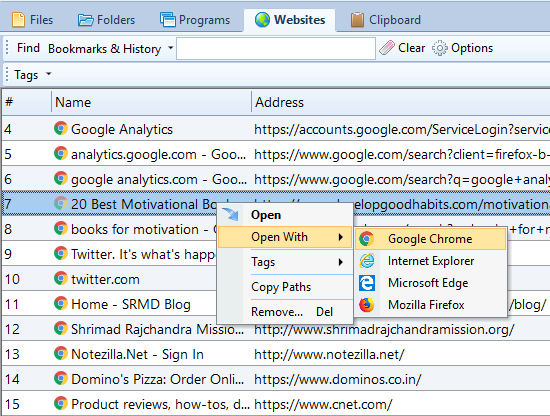 Open a website in any browser
Launch Windows Universal Apps from RecentX
New in Version 5
The new version lists all the Windows Universal apps (UAP) installed on your PC.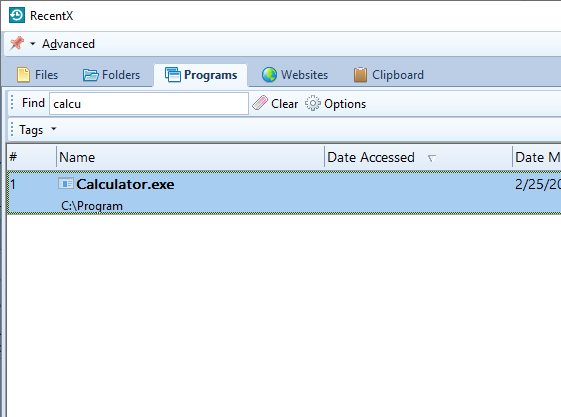 Launch Universal Apps from RecentX
Several other usability improvements and bug fixes
New in Version 5
We have improved the usability and also fixed many annoying bugs.
Introducing "Clipboard History"
In all Windows programs, we copy text/images using Ctrl+C keys or by choosing "Copy" option from the right-click menu. But, when we copy another text, the system forgets the previously copied text. We need to switch between several apps to copy, paste, copy paste and so on. This is quite hectic.
Instead, RecentX monitors everything that you copy so that you can directly pick copied items from RecentX. You don't have to go back to original program to copy the same item. Instead use RecentX to pick your items. It will save a lot of time.
Quickly pick text/images that you had copied yesterday, last week or even last month from RecentX. You don't have to re-open the source program or document to get it.
You can also assign tags to frequently used text & re-use them in your emails, documents etc. Think boilerplate text.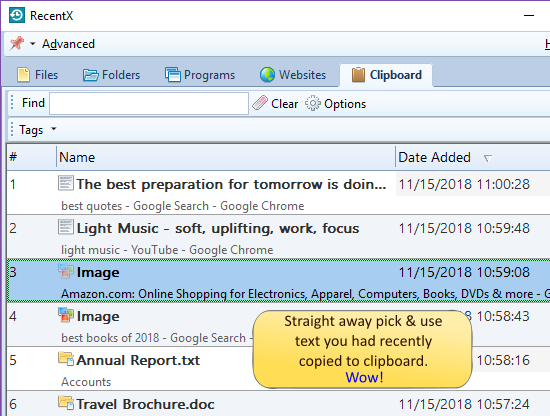 The Clipboard Manager
Integration with File Open/Save Window
It has always been tedious to select files from the Windows File Open/Save window. RecentX makes this lot, lot easier. When opening or saving a file, directly select the file from RecentX. See below animation.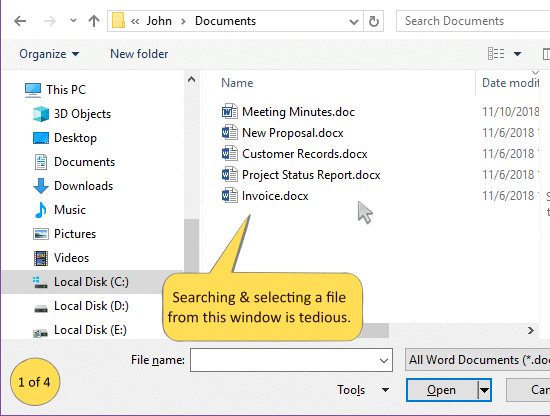 Integration with File Open/Save Dialog
Shift in performance
In RecentX's new version, you can easily notice the drastic change in performance. We have changed its architecture. So everything related to performance has changed. The launch time, search time, indexing time, memory usage, CPU usage, disk access & also exit time. Specially for this reason, we recommend that you upgrade to the new version. You will surely be surprised :)
Note:Although we have changed the architecture, you will not lose the files & folders history from your old version. RecentX will re-index all of them again. If you don't find your file in 'Recent' list, you will surely find it in 'All' list.
Enjoyable experience
You can see in the below picture how the list is less cluttered, features are easily understandable and accessible. We have fixed several bugs and glitches to make the experience more enjoyable.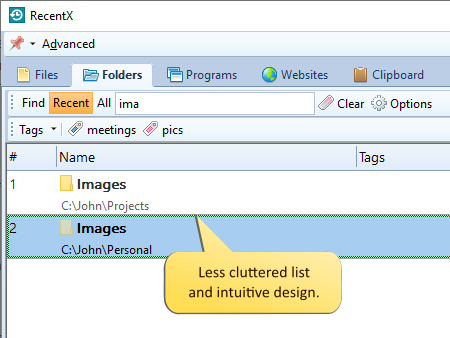 Improved looks & intuitive design
Tags are now 'very' practical
Previous version also allowed tagging of files, folders etc. But the feature was not robust & easy to use. Tags have been re-visited in the new version. You will naturally tend to use them more in this version.
Note: Since we have changed the architecture, you will need to re-create all tags again in the new version of RecentX.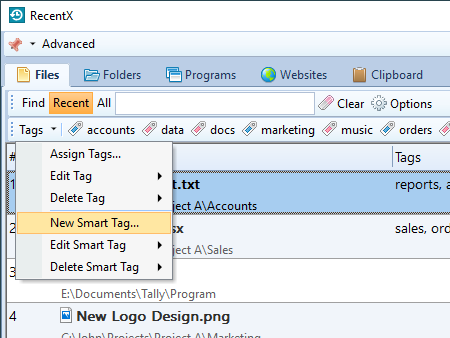 Tag Files, Folders, Programs, Websites & Clipboard Items
Locates programs contained in any folder
Earlier version allowed you to search only installed programs. The new version will list programs found even inside other folders of your hard drive such as portable apps etc.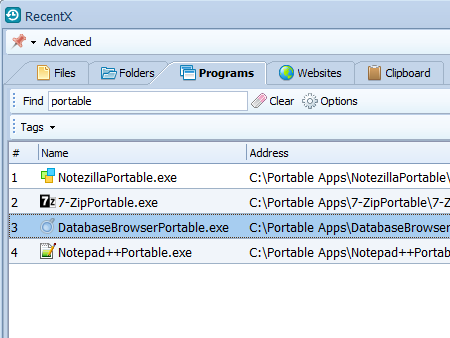 Find programs contained in any folder
Searches anywhere in the name
The new version searches keyword occurring anywhere in the name. See below picture. It also finds "Women" when "men" is typed.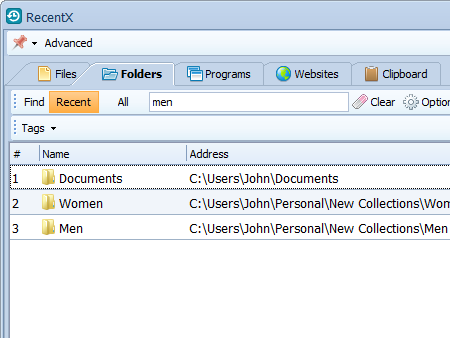 Accurate keyword match
Access Windows Explorer menu from RecentX, faster
RecentX can show the standard Windows Explorer context menu inside its files and folders list. This way you get access to other software's shell extensions (zip, preview, send to, anti-virus etc). In the new version, you can use the Shift+Right Click shortcut for faster access.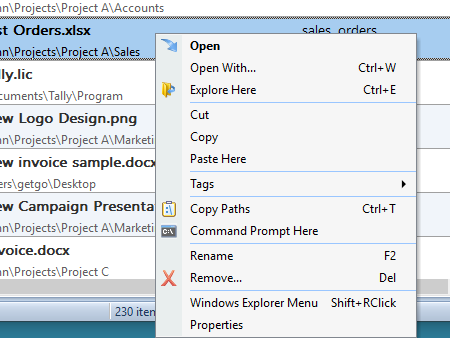 Faster access to Windows Explorer context menu
Bigger text, better readability
If you have had difficulty reading lists with smaller text, you can now make the text larger in the new version of RecentX.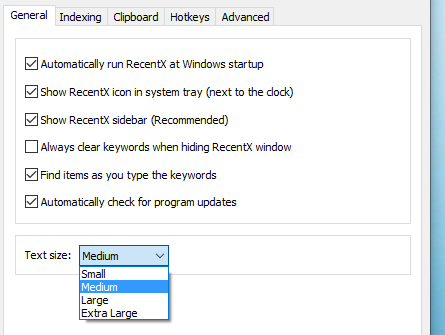 Make text bigger
Customer Reviews
Know that I can't live without this application! (RecentX). As a Product Manager, I wish that users could have affinity for my product the way I have for your product. Great job!
This is an exceptionally useful little application. A "must have" application
Just installed latest RecentX and it blew me through the ceiling!! You guys really maxed out on this. It is amazing.
It really is addictive, and a great timesaver as well!
I consider RecentX to be one of the top ten applications I have used in 25 years of computing
Worth every penny! Online demos sold me--and I'm still a believer
I have both NoteZilla and RecentX. Nothing but classy programs from this company
I can't imagine working without it. It saves me several minutes every workday, and FAR MORE in LOWERED FRUSTRATION - I can find WHAT I NEED WHEN I NEED IT! RecentX ROCKS!!!
It is quickly becoming one of my favorite programs, right up there with Clipmate and Treepad!
Excellent design, stable, professionally executed
I grow to use and love this program more and more! You guys are awesome!