Hello Friends!
This video will guide you how to copy, rename and delete files in a really innovative way in Windows using RecentX.
What is RecentX?
RecentX is a smart launcher for Windows designed to make your computing life joyful. Here are some of the many cool things you can do with RecentX:
Effortlessly access any file, folder or program on Windows in less than 5 seconds!
Assign tags to frequently used files/folders. Makes things even more faster.
Integrates with Windows File open/save window so that you don't have to to navigate any folder when opening or saving a document.
It has a clipboard manager too that remembers all the text & pictures copied to a clipboard so that you can pick & paste them again.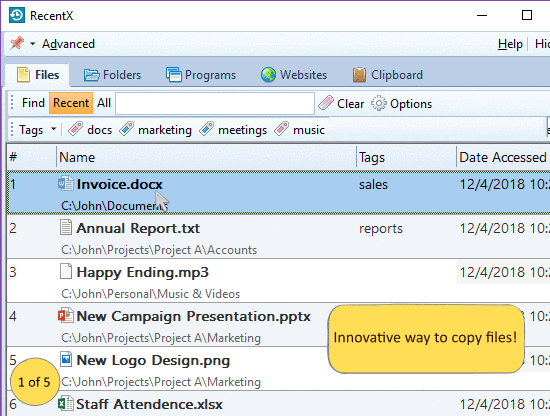 An animation showing one of the features of RecentX
Check out the various features of RecentX.
Using RecentX, you can easily perform frequent file operations such as copy, move, delete and rename without launching a file manager such a Windows Explorer.
Here is how you can do this:
Transcription
Open the RecentX window and search for the file(s) you want to copy. It will be easier to search if you have added tags to them since you can search faster by tags than file name.
Copy the required files all at once.
Select the destination folder from the folders list.
Right click on the desired folder and select "Paste here." The files will be instantly copied there which you can verify.
To rename a file, right-click on the particular file among the list and select "Rename" or press "F2". It will be instantly renamed wherever it is located.
If you want to delete a file, right-click on it and select "Remove." The file will be deleted automatically from the place it is located.
One more thing you can do is access the Windows Explorer menu right from the RecentX menu.
Right click and select "Windows Explorer menu" and it will be displayed immediately.
Thus RecentX proves to be more efficient and convenient than Windows.
This is it for the video.
For more tutorial videos, check out this page.
Check out our YouTube channel.
Have a good day.
Thanks for your time :)