The sticky note world has changed a lot with the development of digital sticky notes that appear on your desktop. Instantly type what's on your mind on desktop sticky notes without changing your task in hand. It provides a lot of ease.
For this reason, sticky notes are better than other types of note programs. And many sticky note software offer other important features. Like recently, Windows added new updates to its sticky notes software with features like sync, pen support, new and improved design, etc.
But one essential feature Windows skipped to add was the ability to hide sticky notes from the desktop and make them visible anytime at your convenience. You can therefore use an alternative software, Notezilla that lets you do exactly this.
What is Notezilla?
Notezilla is a professional, elegant & highly rated sticky notes app for Windows & Phones (Android, iOS, iPhone, iPad, Windows Phone, etc.). It can help you organize your life by keeping all the notes, tasks & reminders that you may need when-ever and where-ever you are.
With sticky notes, you hardly have to put effort to take notes, set reminders, etc. Just jot down & move on with your task at hand. Notezilla allows you to create attractive and realistic sticky notes to make the desktop look more colorful and beautiful.
It works smoothly on both phones & tablets.
Check out the cool features of Notezilla.
Why hide sticky notes from desktop?
Having the sticky note on the desktop right in front of your eyes is good but, it gets annoying at times when there are a lot of notes on the desktop. It looks very cluttered and unprofessional. Also, they may come in the way of using other programs or might prove a problem when you don't want someone else to see a particular note of yours. Hiding notes from your desktop is thus an important feature.
Hiding sticky notes in Notezilla
Here is a short video perfectly depicting this feature:
Hiding a particular note
To hide a sticky note, click on the 'Hide Note' icon in the Note Toolbar. Double click on the note in the Notes List of the Notes Browser to view the hidden sticky note. To view it on your desktop, from the Notes Browser, select the sticky note stuck to the Windows desktop. Then click on the 'Stick to Desktop' toolbar button and choose 'Show the desktop note.'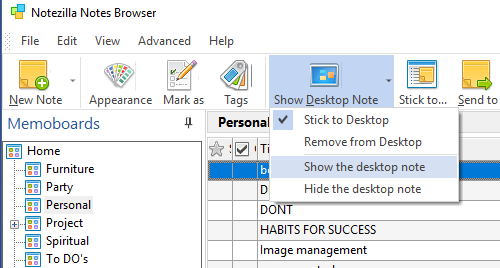 Note: Hiding sticky notes only make them invisible from your desktop even though they are still there. They are not deleted. Also, only desktop notes can be hidden.
Hiding all desktop sticky notes
To hide all desktop notes, left-click on the Notezilla icon and choose 'Hide all desktop notes' from the menu. You can also right-click on the Notezilla icon and choose 'Desktop Notes//Hide all notes' from the menu.
The faster and recommended way of hiding all desktop notes is to use a hotkey. You can set a hotkey for hiding all desktop notes using Preferences.
Showing all hidden notes
To show all desktop notes (including hidden notes), left-click on the Notezilla icon and choose 'Show all desktop notes' from the menu. You can also right-click on the Notezilla icon and choose 'Desktop Notes/Show all notes' from the menu. You have hotkeys for this too.
Notezilla thus makes your sticky note experience really worth the time. And guess what? Notezilla also has free apps for iPhone, iPad & Android to let you access your sticky notes anytime and anywhere! Install it on your phone from App Store or Google Play Store & sync all your sticky notes with the Windows version of Notezilla.
Learn more about Notezilla. Download the free trial from here.
For more tutorial videos, check out this page.
Subscribe to our YouTube channel for interesting videos.
Check out our other cool products.
Have a good day!
Thanks for visiting our blog :)