Virtual sticky notes let you instantly type what's on your mind without changing your task in hand. It provides a lot of ease, and they stay there right in front of you when you are working. For this reason, sticky notes are better than other types of note programs.
An essential thing when working on projects would be the ability to Tag your Sticky Notes. Tags are labels or categories that you can assign to notes to group them and locate them quickly.
This feature is not offered by most of the digital sticky note software. But you can do that using an alternative software, Notezilla, where tagging is one of it's most useful feature.
What is Notezilla?
Notezilla is a professional, elegant & highly rated sticky notes app for Windows & Phones (Android, iOS, iPhone, iPad, Windows Phone etc). It can help you organize your life by keeping all the notes, tasks & reminders that you may need when-ever and where-ever you are.
With sticky notes, you hardly have to put effort to take notes, set reminders, etc. Just jot down & move on with your task at hand. Notezilla allows you to create attractive and realistic sticky notes to make the desktop look more colorful and attractive.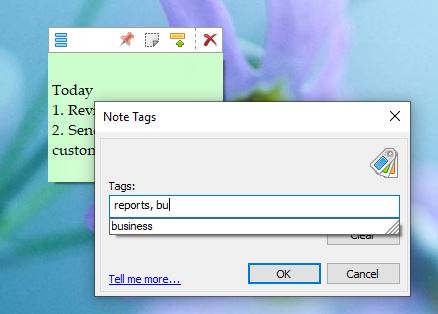 An image showing one of the features of Notezilla.
Check out the other cool features of Notezilla.
Tags in Notezilla sticky notes
Here is a short video depicting this feature:
By adding tags, you can group your sticky notes by topics, projects, contexts, or anything else that is important to you.
Example: supermarket, meetings, bills, bank, project-XYZ, to-call, to-repair, to-clean, weekends, travel, hotels, internet, school, assignment.
A single note may have multiple tags.
Example: You may tag a sticky note 'project1, supermarket', and tag another note 'project2, supermarket'. Now you can easily find and group all the items to purchase from the Supermarket for all the projects.
Assigning Tags
To assign tags to a sticky note, choose Tags from the Note Menu or press Ctrl+T. The Note Tags window will appear (as shown above). Just type the tags separated by comma and press OK. The Note menu will also allow you to directly assign/remove the tag from the Tags popup menu.
Faster way to assign tags
To quickly assign tags, hover the mouse on tags from the Note menu and click on the drop-down from sub-menu. A list of already existing tags will be displayed. Directly assign tags to the note from that popup.
Conclusion
Notezilla is really helpful to increase your work productivity. You can efficiently work on the tasks at hand and stay organized.
It thus saves a lot of your time and effort. Notezilla also has free apps for iPhone, iPad & Android to let you access your sticky notes anytime and anywhere! Install it on your phone from App Store or Google Play Store & sync all your sticky notes with the Windows version of Notezilla.
Learn more about Notezilla. Download the free trial from here.
For more tutorial videos, check out this page.
Subscribe to our YouTube channel for interesting videos.
Check out our other cool products.
Have a good day!
Thanks :)