We are all aware of the latest updates in Windows sticky notes. While they are handy and will help make our work smoother, we haven't yet found a much-needed feature: Multi-level bulleting and indentation. We can add bullets in Windows Sticky notes, but only of one type and only one level, while what we need the most are multiple level bullets and indentation, also called outlining.
It is a helpful feature when working on various projects.
Not many of the sticky notes programs offer this function. We, therefore, bring to you, an alternative software, Notezilla which will let you perform outlining (multiple level bullets and numbering) in your sticky notes.
What is Notezilla?
Notezilla is a professional, elegant & highly rated sticky notes app for Windows & Phones (Android, iOS, iPhone, iPad, Windows Phone, etc.). It can help you organize your life by keeping all the notes, tasks & reminders that you may need when-ever and where-ever you are.
With sticky notes, you hardly have to put effort to take notes, set reminders, etc. Just jot down & move on with your task at hand. Notezilla allows you to create attractive and realistic sticky notes to make the desktop look more colorful and beautiful.
It works smoothly on both phones & tablets.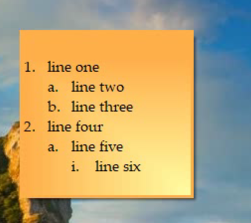 An image showing one of the features of Notezilla.
Check out the other cool features of Notezilla.
Outlining (multi-level bullets & numbering) in sticky notes on Windows using Notezilla
Here is a short video easily depicting this feature:
In Notezilla, you can press Shift+Tab to go back to one level down. To add bullets without using the menu, you can use Ctrl+Shift+L. Then use Tab and Shift-Tab to indent & unindent.
Why Notezilla?
Notezilla helps you mind map your tasks, goals and even the simplest thoughts. You do not need a separate planning tool for your tasks. Your list grows in a structured fashion, and it ensures that your tasks do not get mixed up. Assigning tasks and tracking them becomes easy and fast too.
It can tremendously boost your productivity.
Notezilla thus saves a lot of your time and efforts. And guess what? Notezilla also has free apps for iPhone, iPad & Android to let you access your sticky notes anytime and anywhere! Install it on your phone from App Store or Google Play Store & sync all your sticky notes with the Windows version of Notezilla.
Learn more about Notezilla. Download the free trial from here.
For more tutorial videos, check out this page.
Subscribe to our YouTube channel for interesting videos.
Check out our other cool products.
Have a good day!
Thanks for reading :)