Missing deadlines and schedules is something every person dreads. One missed deadline can cause serious loss. Therefore it is really important to set reminders so as not to miss any deadline.
Today's post will tell you how you can set reminder messages to pop-up on your PC at the scheduled time. Not just that, the reminders will also repeat at specific intervals if you set it up to.
We will see how to do that using the Task Scheduler and an alternative app- Notezilla sticky notes for Windows.
What is Notezilla?
Notezilla is a professional, elegant & highly rated sticky notes app for Windows & Phones (Android, iOS, iPhone, iPad, Windows Phone, etc.). It can help you organize your life by keeping all the notes, tasks & reminders that you may need when-ever and where-ever you are.
With sticky notes, you hardly have to put effort to take notes, set reminders, etc. Just jot down & move on with your task at hand. Notezilla allows you to create attractive and realistic sticky notes to make the desktop look more colorful and beautiful.
It works smoothly on both phones & tablets.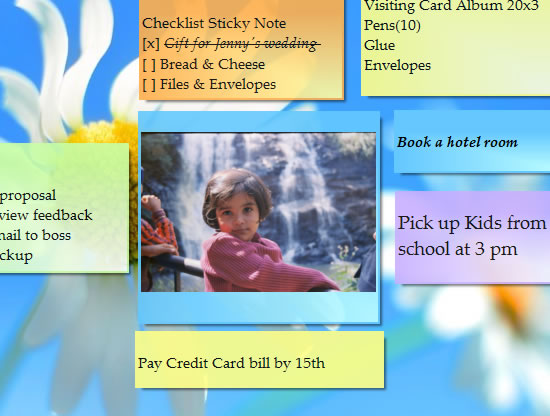 Windows Task Scheduler
Windows task scheduler is a free tool to create and run tasks and is inbuilt in your Windows PC. With this, you can start a program, run commands and execute scripts at a specific time.
Reminder message at specific intervals using Notezilla
Create a Notezilla sticky note.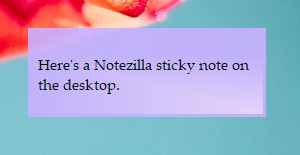 2. To set a reminder, right-click on the note title or note toolbar and choose Due Date from the menu. For faster access, press the shortcut key Ctrl+R. Add a reminder to this sticky note.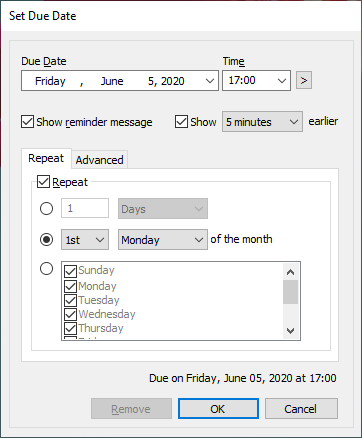 3. Click OK. The reminder alarm will pop-up at the specified time . You can also set the reminder to repeat at your desired time.
We also have a short video regarding this feature:
Reminder message at specific intervals using Notezilla
1.Search for 'Task Scheduler' in the Windows search bar and open it.
2. Under the 'Actions' section, choose ' Create Basic Task'.
3. Give your task a name and a description(optional) and click Next.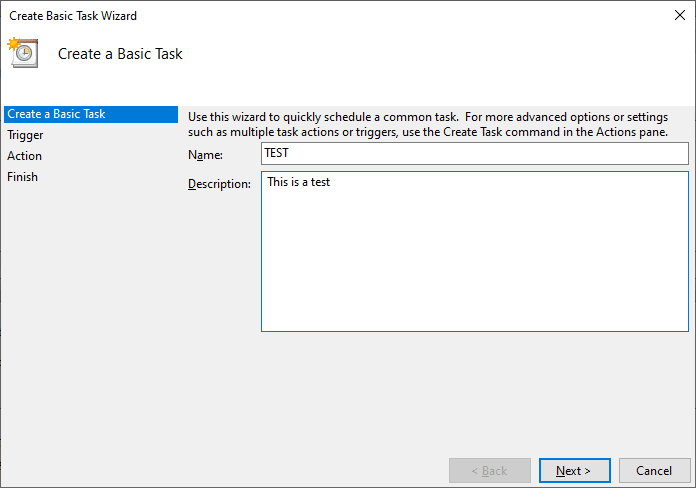 4. Choose the Trigger frequency. This basically means choosing when you want to start the task. Here, you can also choose to set repeat trigger. Click Next.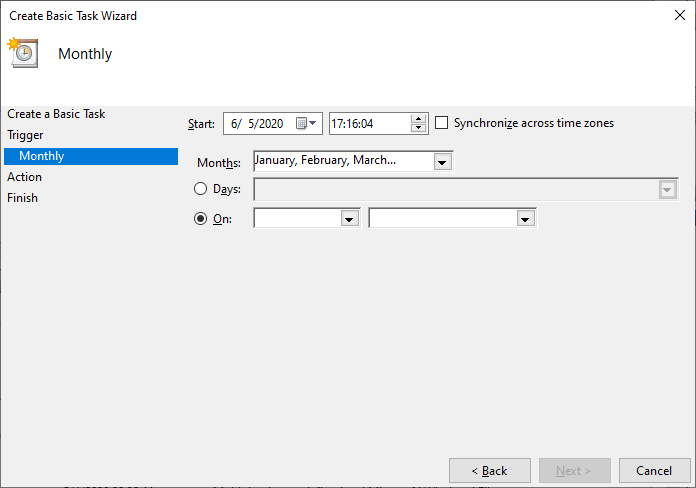 5. Choose the action you wish to perform. In this case, it is 'Display a message (deprecated)'.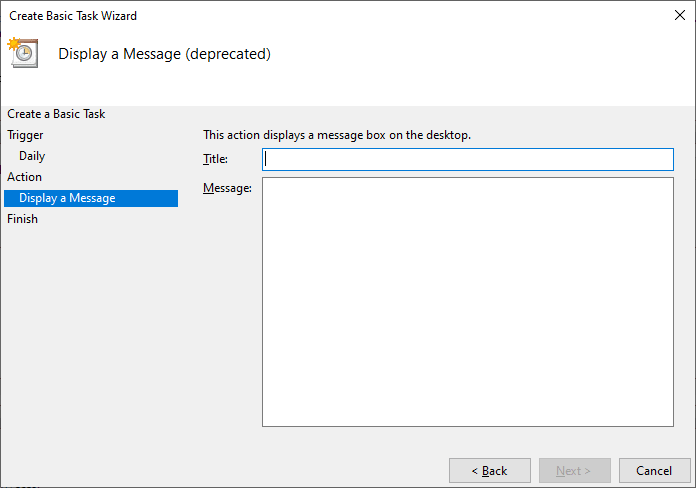 6. Click on Finish and you are all set.
To Conclude
The Task Scheduler is free and inbuilt in your system. But not many people are even aware of its existence. It actually takes a lot of time and effort to configure for the simple reason that it has multiple windows you need to go through.
Also, it is a deprecated feature. So it may or may not function because it is no longer supported by Microsoft.
Notezilla is simple and quick to configure. You can set reminders and move on with your work. No worries, no errors.
So how about giving it a try today. It's free and also perfectly boosts your productivity by saving your time and efforts!
The best part of Notezilla is that it can sync notes between your mobile and PC or laptop! Therefore, you have reminders even on your phone.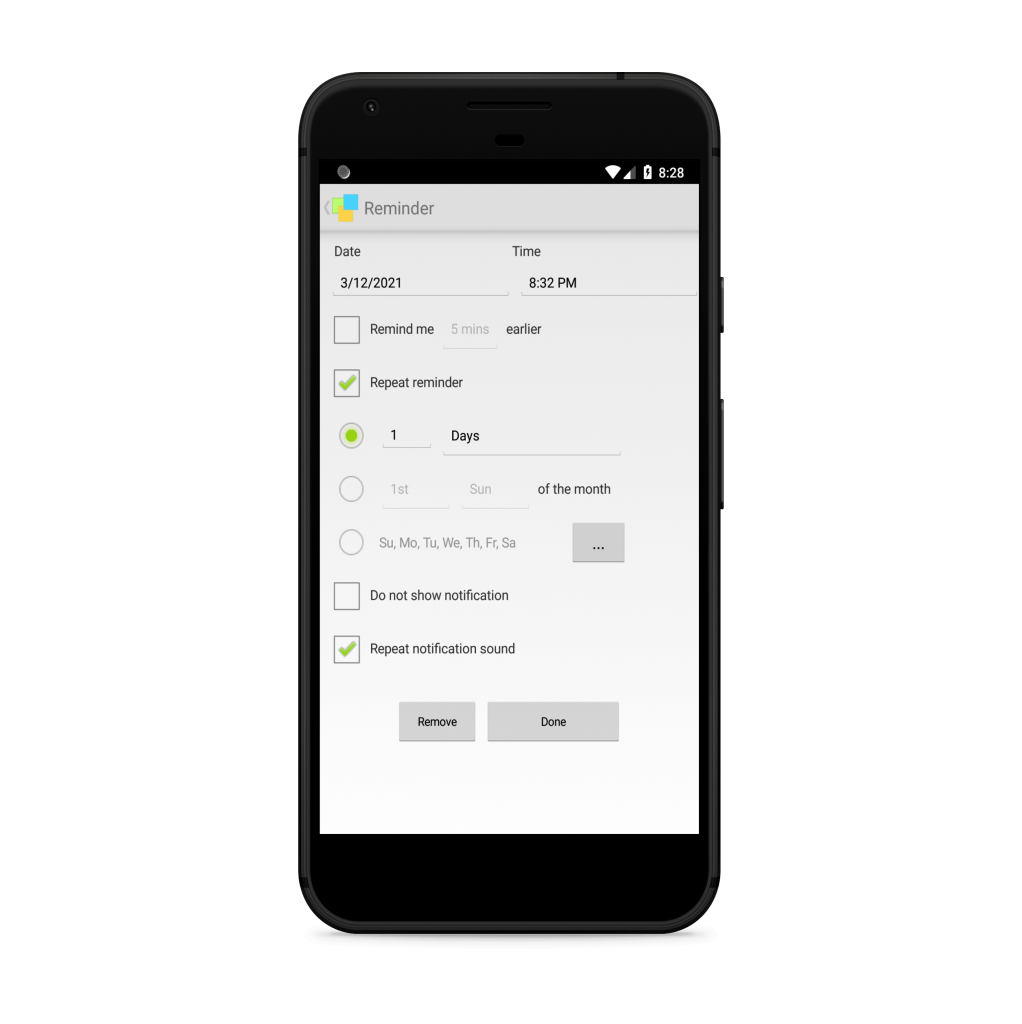 Go download it from the Play store or app store today and sync all your sticky notes with the Windows version of Notezilla.
Learn more about Notezilla.
Subscribe to our YouTube channel for interesting videos.
Check out our other cool products.
Have a good day!
Thanks :)