People working with digital sticky notes know how useful and fun it is. You can quickly jot down your thoughts and store them for a long, long time. But we want to do more with them like sharing them with other people.
Rarely does any sticky notes software offer an option to share your notes with your friends or co-workers or other people. Even the cool Windows sticky note software does not have such a feature even though it has many useful features like sync and pen support.
This article is, therefore, for all those looking for this much-needed feature. It will tell you about an alternative software, Notezilla which lets you share your sticky notes to others via local network (LAN) or an email.
What is Notezilla?
Notezilla is a professional, elegant & highly rated sticky notes app for Windows & Phones (Android, iOS, iPhone, iPad, Windows Phone, etc.). It can help you organize your life by keeping all the notes, tasks & reminders that you may need when-ever and where-ever you are.
With sticky notes, you hardly have to put effort to take notes, set reminders, etc. Just jot down & move on with your task at hand. Notezilla allows you to create attractive and realistic sticky notes to make the desktop look more colorful and beautiful.
It works smoothly on both phones & tablets.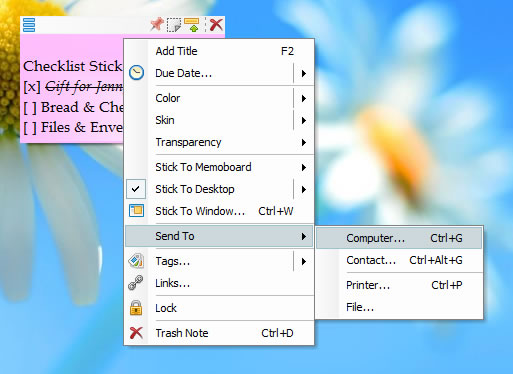 An image showing one of the features of Notezilla.
Check out the other cool features of Notezilla.
Send Sticky Notes To Another Computer
Here is a short video perfectly depicting this feature:
Using Notezilla, instantly send sticky notes to another computer across local network (LAN). To learn about sending sticky notes to any contact across the globe, visit this page.
Many times, sending an instant popup message (using sticky notes) right on another desktop works faster and better than email communication. It ensures quick action and response from your co-worker. Works better than a network chat software since sticky notes are saved for task-tracking.
To maintain privacy & security, sticky notes are sent internally over the local network using the recipient's computer name or IP address. Groups are also supported. You can send a note to a group of computers at once.
Send sticky notes to any contact over the Internet
Here is a short video perfectly depicting this feature:
With Notezilla you can send sticky notes to any contact across the globe over the Internet. To learn about sending sticky notes over local network using computer name or IP address, visit this page.
Your contact will receive the sticky note right on his/her desktop, phone, or tablet if they are a Notezilla user. If not, they will receive the sticky note as an email.
It sends sticky notes via the cloud. The advantage here is that your contact need not have his/her computer ON to receive the sticky note. You can send the sticky note even when the contact is offline.
Receiving sticky notes
The sticky note will pop up directly on the receiving desktop, phone, or other devices.
You can reply to the contact directly from the sticky note itself by clicking on the "Contact" icon, which is the very first icon on the top of the note.
Read our blog post on the same for more details:
New Notezilla feature : Quickly reply to the sender of sticky note from within the note in Windows
Conclusion
Notezilla is thus professionally designed, simple and elegant. Over the last 15 years, it has gained a great response from all over the world.
It also has free apps for iPhone, iPad & Android to let you access your sticky notes anytime and anywhere! Install it on your phone from App Store or Google Play Store & sync all your sticky notes with the Windows version of Notezilla.
Learn more about Notezilla. Download the free trial from here.
For more tutorial videos, check out this page.
Subscribe to our YouTube channel for interesting videos.
Check out our other cool products.
Have a joyful day!
Thanks for your time :)