Our sticky notes have lots of useful data stored in them. We would often like to share (export) them to other places for backups or simply storing them. Also, you might have certain notes from other places or specific CSV files that you would like to bring in (import) at one single place to stay organized.
While this is not possible with Windows sticky notes, you can try out an alternative software, Notezilla that will let you import/export files and sticky notes.
What is Notezilla?
Notezilla is a professional, elegant & highly rated sticky notes app for Windows & Phones (Android, iOS, iPhone, iPad, Windows Phone, etc.). It can help you organize your life by keeping all the notes, tasks & reminders that you may need when-ever and where-ever you are.
With sticky notes, you hardly have to put effort to take notes, set reminders, etc. Just jot down & move on with your task at hand. Notezilla allows you to create attractive and realistic sticky notes to make the desktop look more colorful and beautiful.
It works smoothly on both phones & tablets.
Check out the cool features of Notezilla.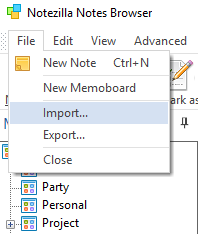 Import/export using Notezilla
Notezilla can conveniently import tab-delimited or CSV files. Just go to the Notes Browser and choose File -> Import option from the menu.
If you don't know the format of a particular file, you can find it by choosing File -> Export option and export the existing sticky notes to a sample file.
To transfer Windows sticky notes from old PC or laptop to new one, you can go to Notezilla's Notes Browser on the old system, choose File -> Export option to export the notes to a file. Then go to your new machine and select File -> Import from Notezilla 's Notes Browser.
To send multiple sticky notes as comma/tab-separated or HTML files using Notezilla, you only need to choose File -> Export option from Notes Browser and choose the HTML option.
This is an often neglected but handy feature.
Notezilla thus thinks about every small detail to help you save time and efforts. This is how carefully the software has been designed.
And what more? Notezilla also has free apps for iPhone, iPad & Android to let you access your sticky notes anytime and anywhere! Install it on your phone from App Store or Google Play Store & sync all your sticky notes with the Windows version of Notezilla.
Learn more about Notezilla. Download the free trial from here.
For Notezilla tutorial videos, check out this page.
Subscribe to our YouTube channel for interesting videos.
Check out our other cool products.
Have a good day!
Thanks for your time :)