Hi!
Hope you all are enjoying using Notezilla sticky notes on your PCs and Phones.
Thank you for all the positive responses and good ratings of the app.
Sometime back, we added a new feature to Notezilla. You can now reply to the sender of a sticky note directly from the sticky note.
After receiving a Notezilla sticky note from your contacts, reply to them directly from the note instead of postponing it for later through the mail, call or other sources.
How to get this feature?
Update your Notezilla on Windows to our latest version.
When someone sends you a sticky note, press on the 'contact icon,' the very first icon on the top of the note.
Reply to the note easier and faster from within the sticky note itself.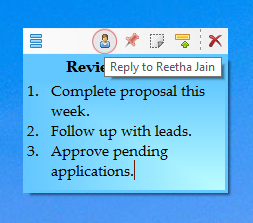 I hope you all like this new feature. Try it out today, and do feel free to give your reviews and suggestions.
For tutorial videos, check out this page.
Subscribe to our YouTube channel for interesting videos.
Have a good day!
Thanks for your time :)