Having access to your sticky notes, anytime, is very important. As you all know that sticky notes created in Notezilla can be synced with the cloud so that you can access them from any device (iOS – iPhone/iPad, Android, Windows Phone, Mac, Tablets, Blackberry) using our Android app, iPhone/iPad app or the web app for free.
We are constantly working to make your sticky note experience with Notezilla better. As a result, we have improved the checklist feature in Notezilla's Android & iPhone app.
The sticky checklist note is more user-friendly now. Editing the checklist note is also smoother & faster.
Writing checklist sticky notes:
Just type what is in your mind and click on 'Done' or the 'tick-mark' icon at the right corner below. The item will be instantly added. You can check your writing for edits before adding the item to your list.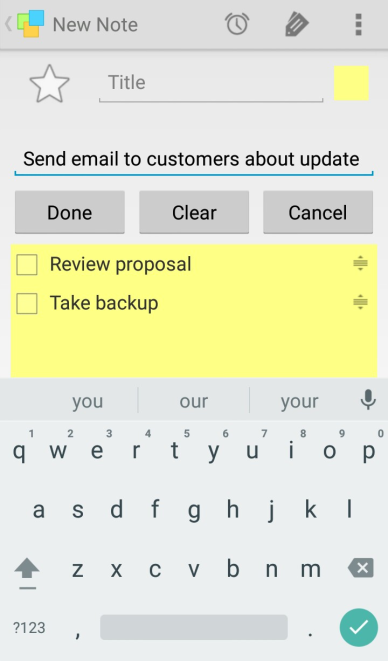 Editing sticky note:
Editing your checklist sticky note is very easy now. Just click on the item you wish to edit and edit it from the text box on top. Unlike earlier, you don't have to spend much effort on editing.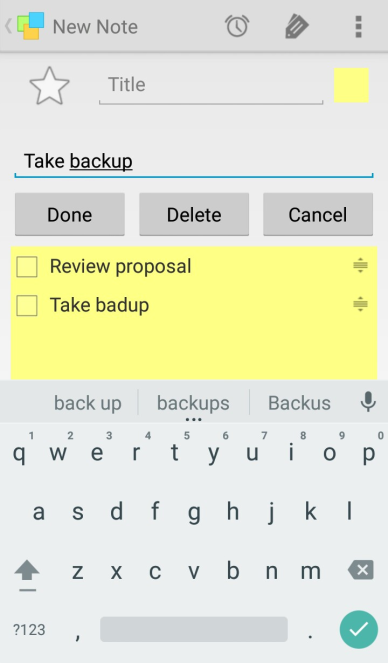 Now here comes the fun part.
You can rearrange the order of the checklist items. Just press on the icon on the right to move the item to the top or bottom. This option is useful when you have completed a task and checked it off. Just move it to the bottom of the list to focus on the tasks pending. Very helpful to refocus your priorities.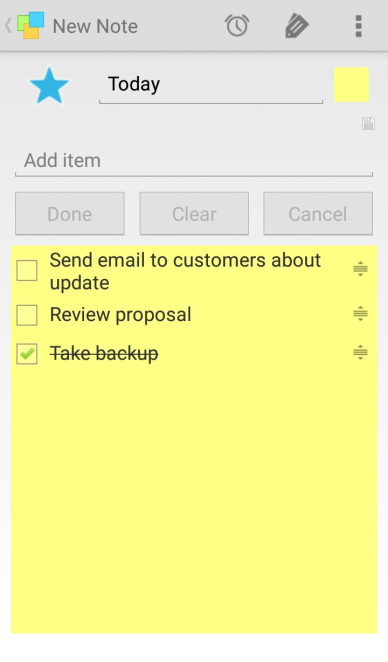 The space inside the sticky note area has been kept untouched by allowing you to make edits from the text box on top. This ensures that you can work on your notes faster, smoother, and stay clutter-free.
Tip: You can stick notes to your phone's home screen to have important notes right in front of you. Read this post for more details:
Sticky notes widget on Android phone's home screen now possible with Notezilla!
We hope you all enjoy this small yet beneficial update. We are sure it will help increase your work productivity. So why wait? Update the app today from Play Store and app store.
Do send in your thoughts and feedback. We are listening.
Other changes in the phone app:
Note font size can be configured from settings now.
Syncing improved.
Fixed DST bug.
Other bug fixes.
Learn more about Notezilla. Download the free trial from here.
For short tutorial videos, check out this page.
Subscribe to our YouTube channel for interesting videos.
Check out our other cool products.
Have a good day!
Thanks for your time :)