Are you looking for a sticky notes app with little advanced text formatting abilities and many more useful features?
Let me introduce you to Notezilla.
What is Notezilla?
Notezilla is a professional, elegant & highly rated sticky notes app for Windows & Phones (Android, iOS, iPhone, iPad, Windows Phone, etc.). It can help you organize your life by keeping all the notes, tasks & reminders that you may need when-ever and where-ever you are.
With sticky notes, you hardly have to put effort to take notes, set reminders, etc. Just jot down & move on with your task at hand. Notezilla allows you to create attractive and realistic sticky notes to make the desktop look more colorful and beautiful.
It works smoothly on both phones & tablets.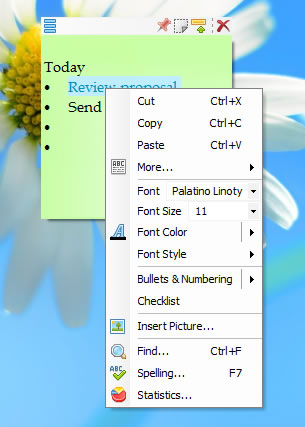 An image showing one of the features of Notezilla.
Check out the other cool features of Notezilla.
Change Windows Sticky Notes Font
Windows uses the Segoe Print font. Changing the default font is currently not supported in Sticky Notes. You will have to type your text in the desired font in a text editor like Word, and copy-paste it in your sticky note. This might help you get the font you want.
But this is an unneeded task. Why waste time doing this when you can directly format text from within the note itself in Notezilla.
Text formatting in Notezilla
Here is a short video perfectly depicting this feature:
Notezilla provides varied options to edit a sticky note. It supports text formatting features like :
Change font (type, size,color and style)
Add bullets & numbering, outlining (multi-level bullets & numbering)
Count words and characters
Insert current date & time inside a sticky note
Insert pictures inside a sticky note
Paste as plain unformatted text
Automatic spell-check
Checklist feature
Find text inside a sticky note
Undo-redo
Cut, Copy, Paste
and lots more. There are also shortcut keys available for faster formatting.
Notezilla thus makes your sticky note experience really productive. And guess what? Notezilla also has free apps for iPhone, iPad & Android to let you access your sticky notes anytime and anywhere! Install it on your phone from App Store or Google Play Store & sync all your sticky notes with the Windows version of Notezilla.
Learn more about Notezilla. Download the free trial from here.
For more tutorial videos, check out this page.
Subscribe to our YouTube channel for interesting videos.
Check out our other cool products.
Have a good day!
Thanks for your time :)