This post will tell you how to send a sticky note to other PC (computers) in Windows using it's IP address. We will be using Notezilla for this purpose.
What is Notezilla?
Notezilla is a professional, elegant & highly rated sticky notes app for Windows & Phones (Android, iOS, iPhone, iPad, Windows Phone etc). It can help you organize your life by keeping all the notes, tasks & reminders that you may need when-ever and where-ever you are.
With sticky notes you hardly have to put effort to take notes, set reminders, etc. Just jot down & move on with your task at hand. Notezilla allows you to create attractive and realistic sticky notes to make desktop look more colorful and attractive.
It works smoothly on both phones & tablets.
Send sticky notes through LAN
One really helpful feature of Notezilla is that you can send sticky notes to any contact across the globe. Your contact may be in the same network (LAN) or over the Internet. You can also send sticky notes to a group of contacts at once.
This is easier and faster than communication through the mail. Also, to maintain privacy & security, the sticky notes will be sent internally over the local network using the recipient's computer name or IP address.
Sending notes through the computer name is a good option when you have a lot of computers to send notes. But what if you don't know the names of all the computers? Just specify the IP address. You may even want to send the note to a particular computer rather than one specific person. You are thereby ensuring that the note reaches the computer regardless of who is using it.
Watch a short video that shows how you can do this:
To send a Notezilla sticky note using the IP address:
Select a sticky note in Notezilla, right click on its title/toolbar and choose 'Send To->Computer' from the menu.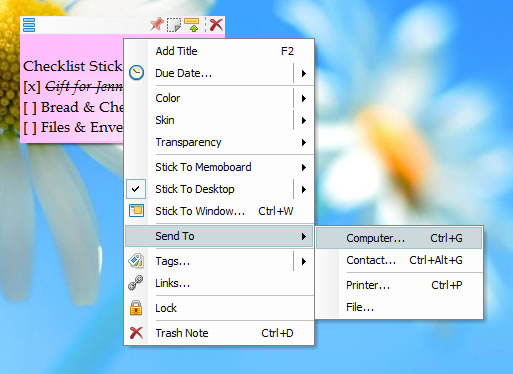 A 'Computers' window will be displayed. Click on the 'Manage Computers' button to add a new computer or edit the existing ones.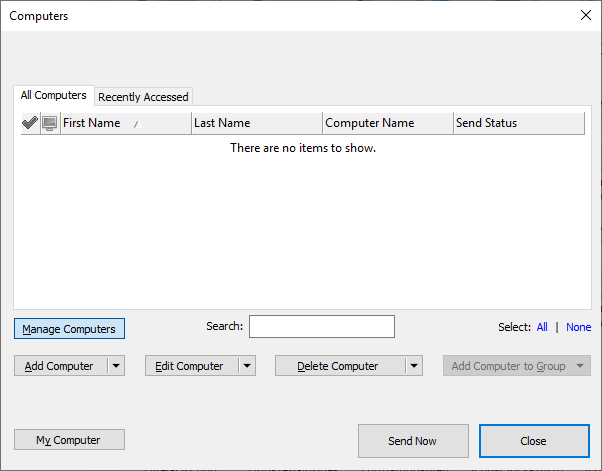 Click on the 'Add Computer' button and add computer details in the text box. The format will be – First name, Last name, computer name. Here, instead of the computer name, you can specify IP address also.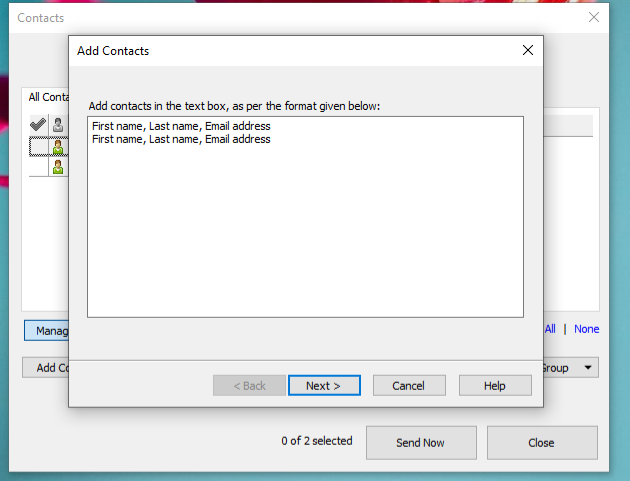 Click on 'Next -> Finish' and finally select the 'Send Now' option.
Your sticky notes will be instantly sent to the computer(s).
Allow Notezilla through Windows Firewall
Here are some points to ensure that the sticky note reaches successfully on another PC.
Notezilla should be installed on another PC also to receive the sticky note.
If you are sending a note from Computer A to Computer B. Then Computer A should have Computer B in its computers list. It ensures that the firewall is configured correctly. On Computer B, go to a sticky note and select "Send To Computers" and ensure that you have added Computer A. Only then you must attempt to send the note from Computer A to Computer B.
To troubleshoot further, make sure to configure your PC firewall to allow the running of Notezilla. The firewall on the PC might sometimes not allow to send or receive notes.
You can search 'firewall' in the Windows search box, and you will see "Allow an app through Windows Firewall." Choose this option and enable Notezilla. If Notezilla is not listed, then click on 'Allow another app' and add Notezilla.
If you are using any other Firewall tool (usually included with Anti-Virus software), then you will have to configure that firewall.
Make sure you do this on both sending and receiving computer.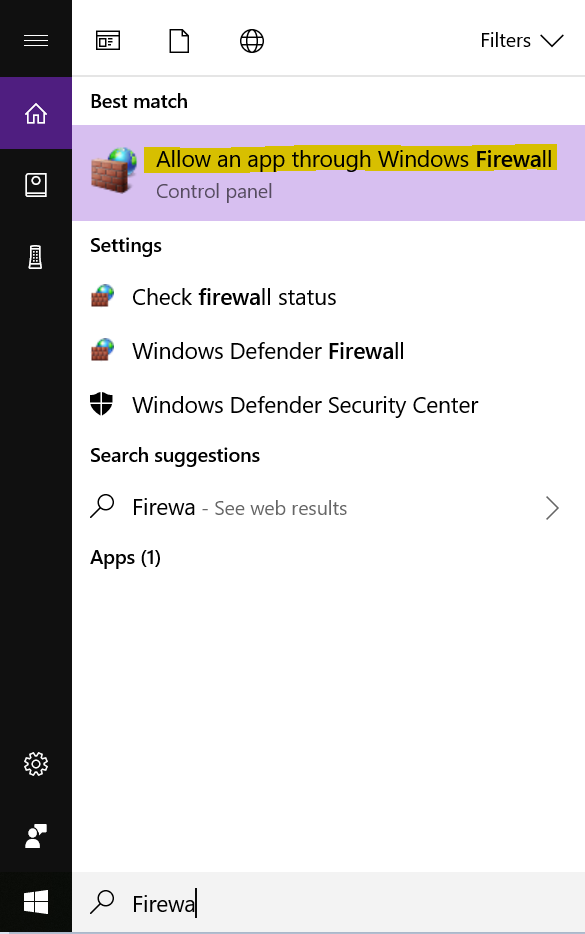 This way your contacts will receive the sticky note right on their desktop if they are a Notezilla user. If not, they will receive the note as an email. The note will reach safely even if the receiving computer is turned off.
For more tutorial videos, check out this page.
Subscribe to our YouTube channel for interesting videos.
Check out our other cool products.
Have a good day!
Thanks for your time :)