Hello Friends!
This video will tell you how to sync and access Internet bookmarks and history from all the major browsers like Google Chrome, Mozilla Firefox, Opera, and Internet Explorer all in a single place using RecentX.
What is RecentX?
RecentX is a smart launcher for Windows designed to make your computing life joyful. Here are some of the many cool things you can do with RecentX:
Effortlessly access any file, folder or program on Windows in less than 5 seconds!
Assign tags to frequently used files/folders. Makes things even faster.
Integrates with Windows File open/save window so that you don't have to navigate any folder when opening or saving a document.
It has a clipboard manager too that remembers all the text & pictures copied to a clipboard so that you can quickly pick & paste them again.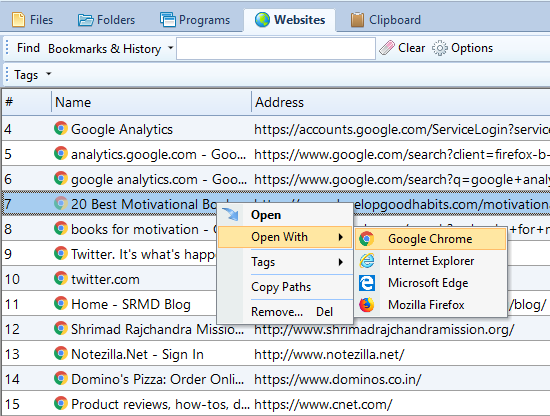 An image showing one of the features of RecentX
Check out the various features of RecentX.
RecentX keeps a record of your browser bookmarks and history and lists them out for you. You can also open a bookmark/website in any browser of your choice.
This is how you can do it:
Transcription
Open the "Websites" window of RecentX. All your website history and bookmarks will be listed there.
You can even toggle between bookmarks and history by using the F7 button.
To understand how this works, let's first check the bookmarks in your browser(s).
Now let's launch these bookmarks directly from RecentX. Just type a few keywords in the search box, and the bookmarks will be listed. They will be filtered as you keep typing them.
To open a website in any browser, right-click on it from the list and select "Open With" and choose the desired browser.
To further enhance your browsing experience, you can add tags to websites you frequently visit. This way you can access them easily using the tags assigned.
You no longer need to access your Internet browser's cluttered bookmarks and history menus.
For more tutorial videos, check out this page.
Check out our YouTube channel.
Have a good day.
Thanks for reading till the end :)