Hello!
This video will guide you to sync sticky notes between computers on Windows 10/8/7 PC using Notezilla.
What is Notezilla?
Notezilla is a professional, elegant & highly rated sticky notes app for Windows & Phones (Android, iOS, iPhone, iPad, Windows Phone, etc.). It can help you organize your life by keeping all the notes, tasks & reminders that you may need when-ever and where-ever you are.
With sticky notes, you hardly have to put effort to take notes, set reminders, etc. Just jot down & move on with your task at hand. Notezilla allows you to create attractive and realistic sticky notes to make the desktop look more colorful and beautiful.
It works smoothly on both phones & tablets.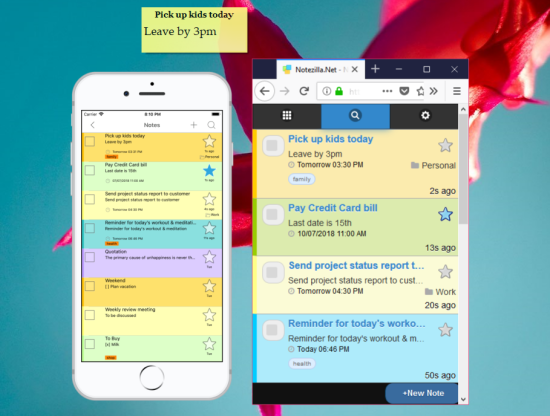 An image depicting one of the features of Notezilla.
Check out Notezilla's homepage.
Sync
Just imagine if you could access all sticky notes from any device that is accessible to you at any particular point of time. Notezilla allows you to sync notes between multiple Windows PCs or any other device like smartphones/tablets using the Notezilla.Net account. Once the Notezilla.net account is created, you can sync and also send sticky notes to other contacts.
Good news! Notezilla now also syncs pictures with mobile apps. Insert and sync pictures in the Notezilla apps for Android and iOS and see them on your desktop!
For more tutorial videos, check out this page.
Transcription:
To sync sticky notes,
Right-click on the Notezilla icon and select Sync.
If syncing with cloud for the first time, then you have to click on Create a Notezilla.Net account button.
Create your Notezilla.Net account by keying in the necessary details asked.
Activate the account using the link emailed to you. After activating, Enable Yes, I have activated my account and click on Finish.
A new Sync with Notezilla.Net dialog box will appear which will show the list of Items synced, their statuses and last successful sync time.
Sync automatically will sync all your notes every 5 minutes.
Sync manually by clicking on Sync Now button.
Go to any browser and type Notezilla.Net in the address bar. Sign in with the correct email address and password. All your desktop notes will be shown which signifies that Notezilla has synced successfully.
The best part of Notezilla is that it can sync sticky notes between your mobile and PC or laptop! Therefore, you have the exact notes at both places!
Learn more about Notezilla.
Subscribe to our YouTube channel for interesting videos.
Check out our other cool products.
Have a good day!
Thanks :)