We often forget to appreciate the good things we have once we get used to them. That's when someone reminds you of them, and you realize how special they are.
This post is a reminder of the awesome and unique features of RecentX.
What is RecentX?
RecentX is a smart launcher for Windows designed to make your computing life joyful. Here are some of the many cool things you can do with RecentX:
Effortlessly access any file, folder or program on Windows in less than 5 seconds!
Assign tags to frequently used files/folders. Makes things even faster.
Integrates with Windows File open/save window so that you don't have to navigate any folder when opening or saving a document.
It has a clipboard manager too that remembers all the text & pictures copied to a clipboard so that you can quickly pick & paste them again.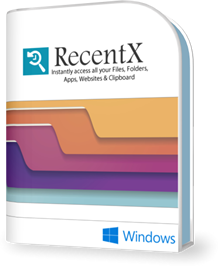 Let us look at some of the unique features of RecentX
Tag files and folders in Windows: None or rarely any file launching program would provide this feature. But RecentX lets you tag any file or folder in Windows. These tags let you categorize files, folders, apps & websites based on categories, file types, projects, etc. This feature comes very handy if you often find yourself opening the same set of folders each day for a particular project.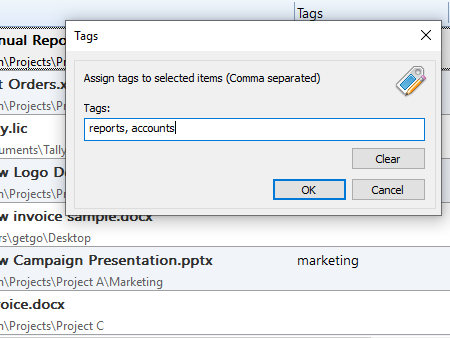 Say, you have a file, "Orders", which you update every day. You don't have to go to the file location repeatedly to access it. Tag the file as anything you want. Ex: docs, important, or just anything of your choice. So the next time you want to open it, type the tag in the RecentX search window, and a list of all files with the mentioned tag will appear. Only a single click, and your file will open instantly.
In addition to these regular tags, we even have smart tags. Smart Tags in RecentX let you save keywords that you frequently use to search your files. Ex: ".pdf" for your PDF files.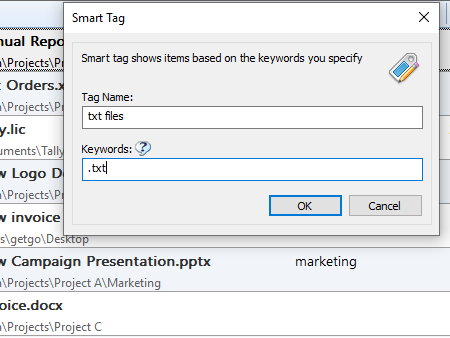 It, therefore, helps you avoid multiple folder navigation.
This short video will give you more clarity:
Learn more about tags from here.
Index files, folders, programs, and website history: You would have heard of indexing files and folders. RecentX, by default, also indexes Internet bookmarks and history along with files, folders and, programs from all your local drives. You can add or remove any other drive from a remote location too. Now quickly search and effortlessly launch any file or folder.

What is unique about RecentX is that it indexes programs (.exe) from your complete hard drive. This means you can find and launch any application (.exe) such as portable apps and utilities that don't even have shortcuts inside the Windows start menu.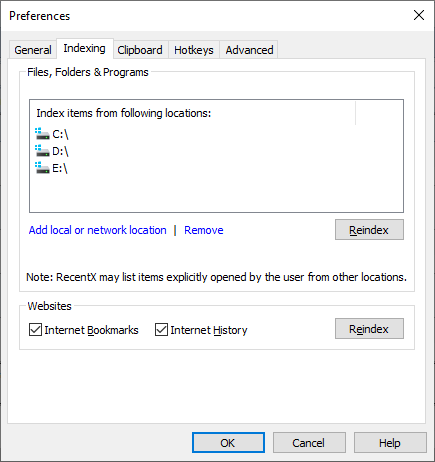 Search and access website history & bookmarks of all major browsers: Normally we don't remember the particular website we browsed to find specific content. RecentX serves as a log that you can access to check which websites you browsed so that you can re-visit them quickly. It doesn't matter how long it's been since you accessed the site. You can find it even after 1 month or 3 months or 6 months using RecentX.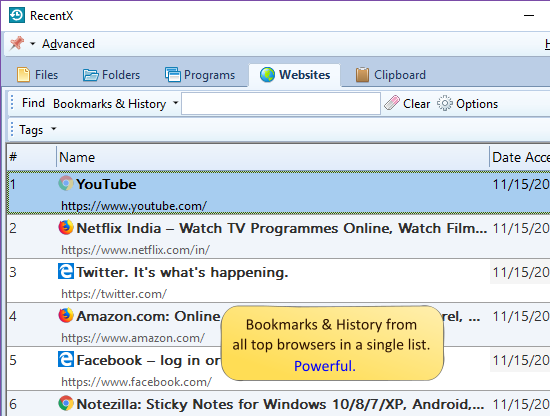 RecentX lets you access website history & bookmarks from major browsers- Google Chrome, Mozilla Firefox, Microsoft Edge, Vivaldi Browser, and Internet Explorer on Windows.
Tip: To find and launch a website faster, you can even create and use tags.
This short video will give you more clarity on this:
Open a website in any browser: Since RecentX shows websites & bookmarks from all major browsers, you can also open them in any browser of your choice – Google Chrome, Mozilla Firefox, Microsoft Edge, Microsoft Internet Explorer and Vivaldi browser. The "Open With" option lets you open any web page in any installed browser.

Useful for testing the same website in multiple Internet browsers. It comes handy when some sites work only in a particular Internet browser.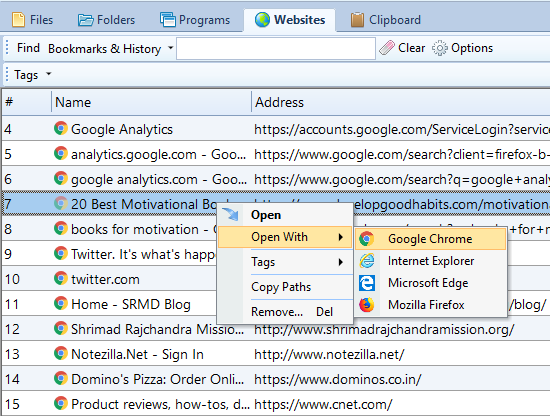 Quickly attach files to email: With RecentX, you can attach any file to email within few seconds. The file may be anywhere on your hard drive. Just drag and drop the file from RecentX on to your email client window such as Gmail, Outlook, etc.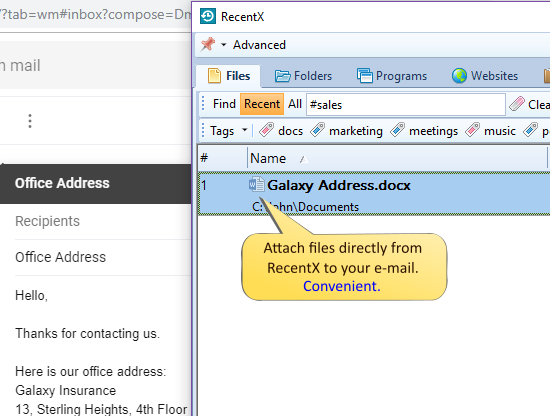 You can, therefore, compose emails with standard replies or those which you regularly send, like daily.
Here's a short video to understand this better:
Select a file faster in the file open/save window: The file open/save dialog window that is shown by all Windows applications is very tedious to use. RecentX makes it very easy to select any file in this window. When the 'File open/save' window opens, find & select the file using RecentX. The file name will be automatically displayed in the File Open/Save window, after which you just need to click on "Open." That's it.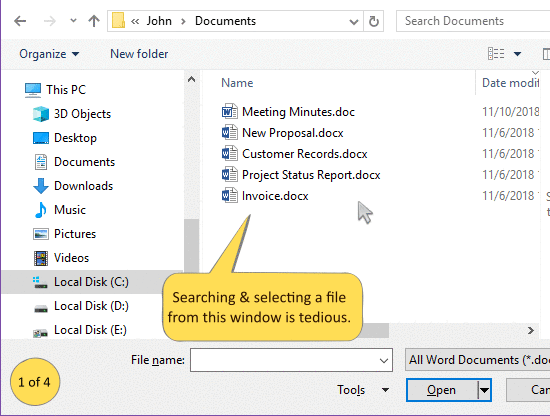 Other handy features of RecentX
RecentX does many other small yet very helpful things for you.
Quick access using the sidebar: RecentX file launcher can be easily accessed using a convenient desktop sidebar. You don't have to search for it when you want to search for anything on your system urgently. With a single click, you can go to any category (Files, Folders, Programs, or Websites). RecentX Launcher can also be accessed using hotkeys.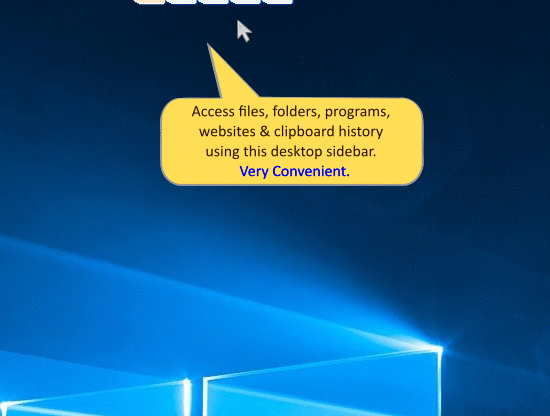 Finds in recent items first: Most often we open the same files & folders again and again. For this very reason, RecentX Launcher, instead of listing down all the files and folders on your system, lists down just the recently accessed files and folders. This saves a lot of time compared to searching the complete hard drive. This makes launching easier now that important items are shown before other trivial items.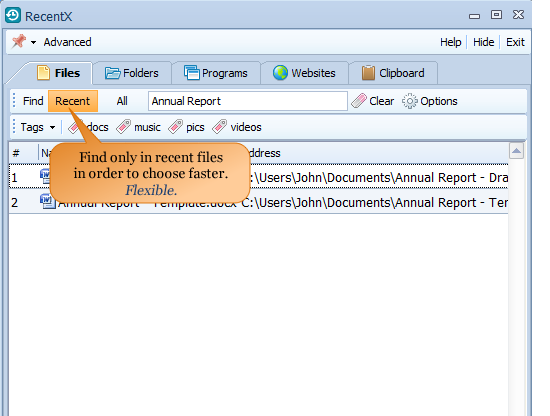 Note: Alternatively, you can even search in all items instead of the recent ones.
Conveniently access clipboard history: RecentX remembers all the text & images that you copy to the clipboard. It keeps track of items as old as 6 months to a year and as new as something copied an hour back or a day back. Just pick them directly from RecentX when needed, instead of copy-pasting the same things repeatedly. This is simple and a real time saver. What more? You can even tag the clipboard history items to access them faster the next time.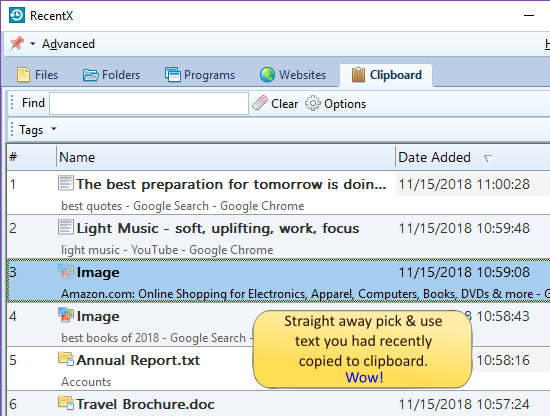 Watch this short video to find out what more you can do with the Clipboard History Manager:
RecentX window always on top: You can also enable your RecentX window to always stay on top of your desktop when using it. Just click on the "Stay on Top icon" located next to the Advanced Tab.
Wow. This was a really long list. You would be surprised to know that there is more.
Learn more about RecentX from here.
Have a good day!
Thanks for reading till the end :)