When you try to copy file shortcuts in Copywhiz, instead of the shortcut, the specific destination file appears in the queue. Even if you try filtering the files to only copy files of a particular type or extension(of the shortcut), this does not change. This is a small limitation when you choose Shortcut files directly from the Copywhiz menu.
We have a quick workaround for this, which is explained in the post.
What is Copywhiz?
Enhance your file-copy experience with Copywhiz as it lets you to have more flexibility & more control over the file copying and backup process. Here is how Copywhiz makes file copying a breeze:
Copy only new or modified files
Easily pick files by name, extension, folder etc from bunch of folders
Automatically organize files based on file attributes and metadata
Copy files to multiple folders/computers
Copy files from multiple folders and paste them at once
Sync files between source and destination
Pick files from multiple folders and compress in single .zip file
Schedule file backups
Several more hidden nuggets designed to make your file-copy task easier.
Copying file shortcuts
For shortcuts, you can open Copywhiz main window and add shortcut files using the "Add Files" button, or you can drag and drop the files inside Copywhiz main window.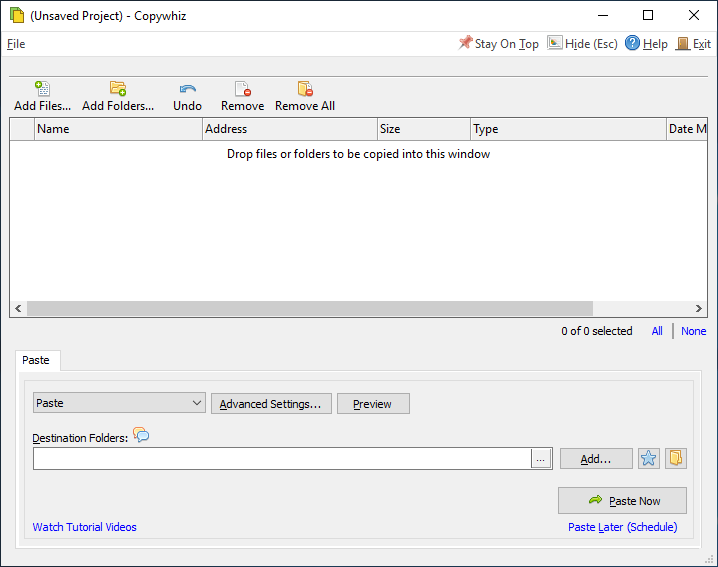 To access the main window, you would just "Run Copywhiz" from the context menu or choose the "Show items" option from the context menu.
This is a temporary workaround you can use until we fix this in our future updates.
Learn more about Copywhiz. Download the free trial from here.
For short tutorial videos, Check out this page.
Subscribe to our YouTube channel for interesting videos.
Check out our other cool products.
Have a good day!
Thanks :)