We love using apps in dark mode. Apps like Twitter, Instagram and even YouTube have rolled out dark modes.
I think we all can agree that there is something really soothing and visually appealing about the dark mode. It also gives relief to our eyes that might get strained looking at the bright light of our PC and mobile screens. Another good thing is that dark mode reduces battery usage of devices and therefore ensures longer battery life.
Joining this trend is RecentX. After requests from users, we have finally introduced a dark mode option in RecentX.
What is RecentX?
RecentX is a smart launcher for Windows designed to make your computing life joyful. Here are some of the many cool things you can do with RecentX:
Effortlessly access any file, folder or program on Windows in less than 5 seconds!
Assign tags to frequently used files/folders. Makes things even faster.
Integrates with Windows File open/save window so that you don't have to navigate any folder when opening or saving a document.
It has a clipboard manager too that remembers all the text & pictures copied to a clipboard so that you can quickly pick & paste them again.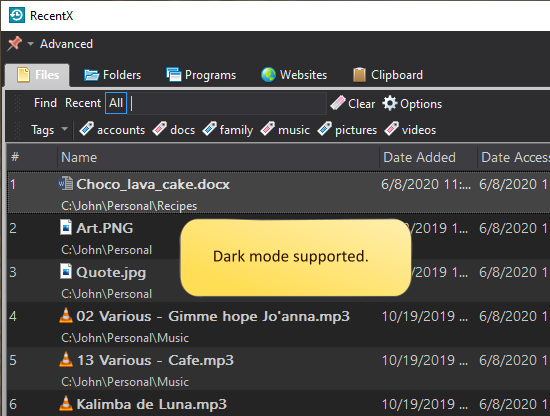 How to activate dark mode?
Open the RecentX Window and go to the 'Advanced' tab on the top.
Select the 'Preferences' option and you will find the setting there.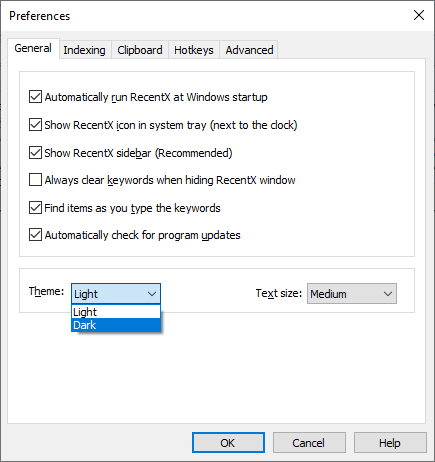 You can switch back to the normal light mode anytime.
Hope you enjoy using RecentX even more after this update.
Download RecentX for free, from here.
For tutorial videos, check out this page.
Check out our YouTube channel.
Have a good day.
Thanks for your time :)