Moving one sticky note at a time to organize them on Windows desktop can be time consuming. But now, in Notezilla, you can multi-select sticky notes and move them around on your desktop and within a memoboard.
Notezilla lets you move multiple sticky notes at once and helps you keep the Windows desktop clutter free. You can do the same inside a memoboard (folder) also in Notezilla.
What is Notezilla?
Notezilla is a professional, elegant & highly rated sticky notes app for Windows & Phones (Android, iOS, iPhone, iPad, etc.). It can help you organize all the notes, tasks & reminders that you may need when-ever and where-ever you are.
Here are some features of Notezilla:
Sticky notes with reminders
Attach sticky notes to websites, documents & folders
Pin sticky notes on top of other apps
Sync sticky notes between Windows, Android, iPhone, iPad
Organize sticky notes inside memoboards (folders)
Add pictures to sticky notes
Checklist sticky notes
Lock sticky notes (password protect)
Markdown support
Send notes over local network or across the globe
Tag sticky notes
Dark mode support
What is a Memoboard?
A memoboard is a folder in which sticky notes can be placed. They are like containers for sticky notes. The stickies are neatly arranged in each memoboard, just like a storyboard.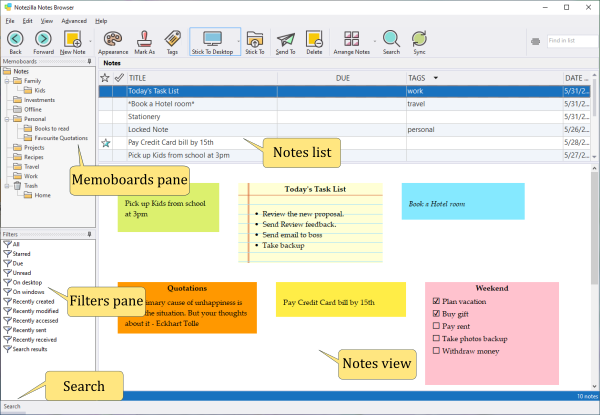 Multi select sticky notes and move them around to organize them on desktop and memoboard
Here is a short video perfectly depicting this feature:
Video Transcription
Press Ctrl key and click on the title of each sticky note to multi select the notes.
Then start dragging them to move them together.
Right click on the Notezilla icon in the Windows taskbar (next to the clock), choose Notes Browser.
Select any memoboard as per your requirement, here we will select the Personal memoboard.
Follow the same steps as #1 and #2 inside a memoboard.
Conclusion
Notezilla thus takes care of your every need in detail.
It also has free apps for iPhone, iPad & Android to let you access your sticky notes anytime and anywhere! Install it on your phone from App Store or Google Play Store & sync all your sticky notes with the Windows version of Notezilla.
Learn more about Notezilla. Download the free trial from here.
For more tutorial videos, check out this page.
Subscribe to our YouTube channel for interesting videos.
Check out our other cool products.
Have a good day!
Thanks for visiting our blog :)