We will show you how to enable dark mode in the new version of the leading sticky notes app – Notezilla for Windows.
What is Notezilla?
Notezilla is a professional, elegant & highly rated sticky notes app for Windows & Phones (Android, iOS, iPhone, iPad, Windows Phone, etc.). It can help you organize your life by keeping all the notes, tasks & reminders that you may need when-ever and where-ever you are.
With sticky notes, you hardly have to put effort to take notes, set reminders, etc. Just jot down & move on with your task at hand. Notezilla allows you to create attractive and realistic sticky notes to make the desktop look more colorful and beautiful.
It works smoothly on both phones & tablets.
Here are some features of Notezilla:
Sticky notes with reminders
Attach sticky notes to websites, documents & folders
Pin sticky notes on top of other apps
Sync sticky notes between Windows, Android, iPhone, iPad
Add pictures inside sticky notes
Organize sticky notes inside memoboards (folders)
Checklist sticky notes
Lock sticky notes (password protect)
Markdown support
Send notes over local network or across the globe
Tag sticky notes
Dark mode support
Advantages of Dark Mode
While the dark text on a white background is the best in terms of readability, dark mode (which has light text on a dark background) is better for reducing eye strain in low light conditions.
With the majority of the screen dark, the screen glare is reduced, thereby minimizing flickering and blue light.
Dark mode just looks super amazing. While most products are going for that similar bland white look, the dark mode does offer something different that feels mysterious and new.
Dark mode decreases blue light exposure, in varying degrees depending on the screen technology. In the case of OLED technology, black color emits no light, and can therefore, decrease battery consumption. OLED technology is not yet widely adopted by the industry but phone makers are including it in more devices, possibly future-proofing some of dark mode's benefits.
Sticky notes in dark mode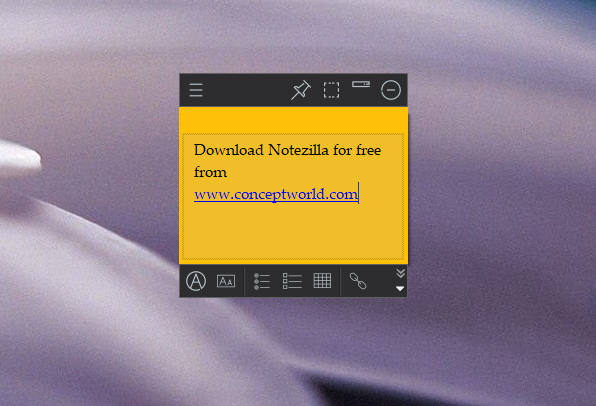 Notes Browser in dark mode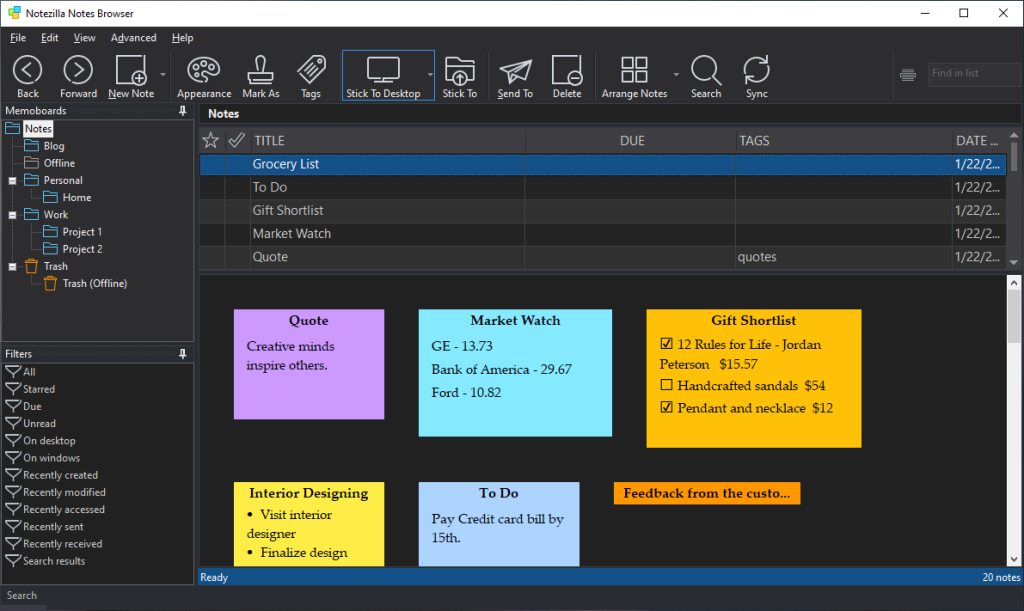 Here is a short video that demonstrates how to enable dark mode in Notezilla on Windows.
For more tutorial videos, check out this page.
Video Transcription
Right click on the Notezilla icon in the Windows taskbar (next to the clock), choose Preferences from the menu.
In the General tab, select the Dark mode option and click OK.
The dark mode feature is enabled.
Subscribe to our YouTube channel for interesting videos.
Check out our other cool products.
Thanks for your time :)