You may be aware of the Windows Sticky Notes app, which provides basic sticky notes features.
This article will introduce you to an advanced sticky notes software, Notezilla which is a great alternative to the above.
Let us look at one crucial feature offered by Notezilla that Windows sticky notes do not: Marking a sticky note as completed/starred. This is an important feature when working on multiple projects and for task management.
What is Notezilla?
Notezilla is a professional, elegant & highly rated sticky notes app for Windows & Phones (Android, iOS, iPhone, iPad, Windows Phone, etc.). It can help you organize your life by keeping all the notes, tasks & reminders that you may need when-ever and where-ever you are.
With sticky notes, you hardly have to put effort to take notes, set reminders, etc. Just jot down & move on with your task at hand. Notezilla allows you to create attractive and realistic sticky notes to make the desktop look more colorful and beautiful.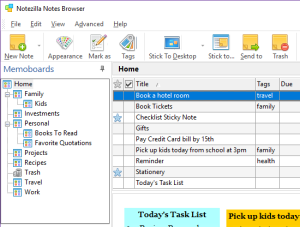 An image showing one of the features of Notezilla.
Check out the other cool features of Notezilla.
Mark sticky notes in Notezilla
In Notezilla, you can mark the most important notes with a 'Star'. Also, you can mark a note as 'Completed.' This way, you can treat each note as a task.
You can also mark multiple notes at the same time. Select all the notes you want, from the Notes List in the Notes Browser, and click on the "Mark As" button in the Notes Browser toolbar to star a note or mark it as completed.
Conclusion
Notezilla thus ensures high work productivity by letting you stay organised and stress free.
It also has free apps for iPhone, iPad & Android to let you access your sticky notes anytime and anywhere! Install it on your phone from App Store or Google Play Store & sync all your sticky notes with the Windows version of Notezilla.
Learn more about Notezilla. Download the free trial from here.
For tutorial videos, check out this page.
Subscribe to our YouTube channel for interesting videos.
Check out our other cool products.
Have a wonderful day!
Thanks :)