As you know, Copywhiz gives you more control over file copying operations in Windows. You can selectively copy only the files that you want, such as copying only new or modified/changed files, copying files from several folders except for certain files, copying files by type, date, size etc.
Here a new feature that we discovered today in Copywhiz. Thanks to our customer Garrett Goyette :).
Copying just the folder tree structure without the files inside those folders in 3 simple steps.
Here are the simple steps to achieve this.
STEP 1:
Using Copywhiz, select the folders that you want to copy. To do this, right click on one or more folders in Windows explorer and choose Copywhiz->Copy option.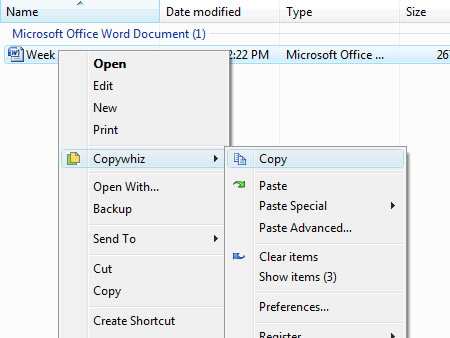 STEP 2:
Go to the destination folder, right click inside the folder and choose Copywhiz->Paste Special->Paste only files of specific type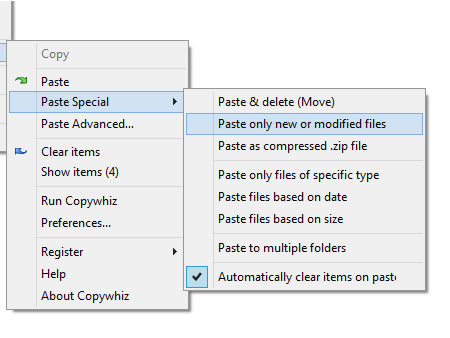 STEP 3:
Type a name of the file (under the option 'Include only files of following type:') that you are sure does not exist inside the selected folders. Example: 'some-file-name-that-does-not-exist.txt'. Then press OK.
Copywhiz will now successfully create the complete directory tree structure without any files inside them.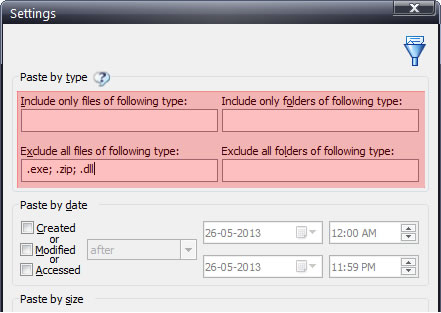 FREE DOWNLOAD: Download & try Copywhiz for free from our website.
Thanks :). If you found this post useful, please like it by clicking on one of the social media buttons (facebook, twitter, google+) on top/left of this post.