With Notezilla 8, you know that the sticky notes can be synced between your Windows desktop & the Notezilla.Net cloud. You can then access your notes from any phone (Android, iPhone, iPad, Windows etc) using the Notezilla.Net web app. Moreover, sticky notes can be synced between your computers too.
On sync, new notes created from phone are brought back to your desktop version of Notezilla. By default, they are created inside the Home memoboard.
What's newly added now is that when creating a sticky note from the phone, you can ensure that it sticks to your Windows desktop also (not just the Home memoboard) during the next sync. So basically when you get back to your PC, you will see the new notes (created from phone) right on your Windows desktop. This will help in reminding you of your stuff.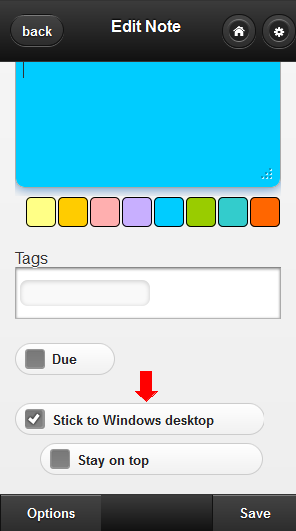 If you haven't synced your sticky notes yet from Notezilla 8, create a Notezilla.Net account today by right clicking on Notezilla icon on your PC. To know how to access them from your phone after sync, click here.
If you are still using older version of Notezilla, download Notezilla 8 today & see your notes on your phone. New version will automatically migrate your notes. There is upgrade discount too.
If you found this post useful, please like it by clicking on one of the social media buttons (facebook, twitter, google+) on top/left of this post.
Thanks :)