Every time I try to use Windows 8/8.1, my heart screeches, "Give me my start menu back!!!". I then convince myself that I would get used to the new metro-style tile-based programs screen. But this one is tough. Microsoft has brought back the start button in Windows 8.1. But most of us were expecting the classic start menu too with the start button, as in Windows 7. Clicking on the start button in Windows 8.1 instead shows the tile-based start screen. What's worse is that it covers the whole screen. Only to launch a program?
We never realized that this was an opportunity for us until last week our customer Carl Lum wrote:
Since moving to a Windows 8 machine, I find I rely on RecentX even more, as it no longer has the same application finder as Win 7 (and using the Win 8 Metro interface on a desktop is extremely annoying)
Wow! RecentX would be so much more useful in Windows 8/8.1 OS. It would completely avoid the tile-based start screen and let you find and launch an app faster because it provides the programs list similar to Windows 7. See the picture below: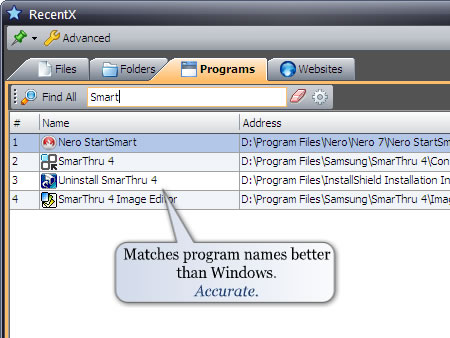 RecentX is not just an app launcher. It helps you find & launch files, folders & bookmarks too. There are some really cool advantages of RecentX. I strongly recommend that you read more about it on RecentX's home page. You can even try it for free to see how it saves loads of manual tedious tasks, time & money.
Thanks :)