Hi guys!
Today we have a video that will show you how to change sticky notes text (font, color, size), add bullets, numbers and format text in Notezilla sticky notes.
Since many digital sticky note apps like Windows Sticky Notes don't offer these simple text and sticky note formatting options, this post is the answer to people searching for one app that does provide these features.
For more tutorial videos, check out this page.
What is Notezilla?
Notezilla is a professional, elegant & highly rated sticky notes app for Windows & Phones (Android, iOS, iPhone, iPad, Windows Phone, etc.). It can help you organize your life by keeping all the notes, tasks & reminders that you may need when-ever and where-ever you are.
With sticky notes, you hardly have to put effort to take notes, set reminders, etc. Just jot down & move on with your task at hand. Notezilla allows you to create attractive and realistic sticky notes to make the desktop look more colorful and beautiful.
It works smoothly on both phones & tablets.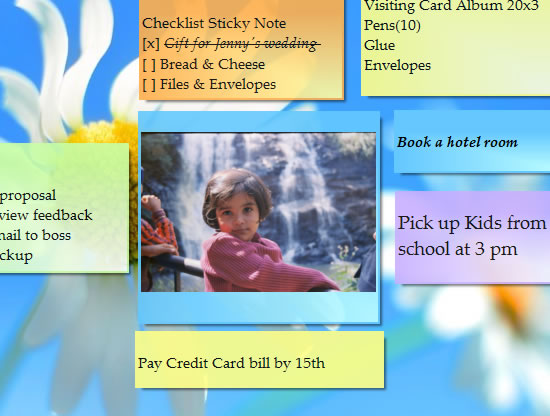 We understand the importance of having formatting options for your sticky notes. Every one of us wants to customize our sticky notes experience, and such formatting features are the most basic we expect from any digital sticky notes app.
Notezilla supports lots of text formatting features like change font style (font, size & color), add bullets & numbering, outlining (multi-level bullets & numbering), count words, characters, insert current date & time inside a sticky note, paste as plain unformatted text, automatic spell-check.
Video Transcription:
Choose 'New Note' from the Notezilla icon in the taskbar and write your note.
When you open a sticky note, you will see the Note Toolbar sliding up with multiple options: Stay On Top, Hide Note, Roll Up/Down note, and Trash Note.
Check out Notezilla's homepage.
Stay On Top is the pin on the right-side of the Note toolbar of the sticky note.It keeps the sticky note always on top of all other programs which is very, very useful when collecting notes or referring to existing notes while working with another app.
Hide Note hides the sticky note from the desktop which you can bring it up again from the Notes Browser or by using the 'Show All Notes' option from Notezilla menu.
Roll Up/Down Note saves desktop space and makes it cleaner by showing only the title of the note and not the entire content. Also lets you hide some sensitive information from onlookers passing by.
Trash Note deletes the sticky note and sends it to the Trash memoboard, so that you can retrieve it back anytime.
Notezilla Sticky Notes can be made more attractive according to one's personal choice.To change the color, skin, and transparency of the sticky note, click on the top-left button of the sticky note and select the appropriate option from the menu.

Skins can be downloaded from our website, check out Notezilla's homepage.

To arrange desktop sticky notes, right-click on the Notezilla icon, choose Desktop Notes –> Arrange Notes. Select the desired Layout and Sort options and click OK.
To insert date and time inside a sticky note, Right-click inside the sticky note to show the formatting menu and choose More–> Short date & time or Long date & time.
Right-click inside the sticky note to show the formatting menu wherein you can change the font, font size, font color, and font style according to your preferences.
You can also add bullets and numbering inside the sticky notes from the formatting menu. To directly add bullets inside the notes press Ctrl+Shift+L.
Checklist option when selected from the formatting menu adds a check box in front of each lined item which can be ticked off based on the completion of the task.
To find a text inside a single sticky note, select Find from the formatting menu.Alternatively, press Ctrl+F inside a single sticky note.
Automatic spell check can be enabled on the sticky notes . Right-click on the Notezilla icon and choose Preferences and enable the Spell check option.Once enabled, all the misspelled words are highlighted in red. Moreover, it also suggests various options based on the spelling.
To have the character count, word count etc , select Statistics from the formatting menu.
That's it in this video.
So how about giving it a try today.
The best part of Notezilla is that it can sync notes between your mobile and PC or laptop! Therefore, you have the exact notes at both places! Try the sync feature today! You will surely love it.
Learn more about Notezilla.
Subscribe to our YouTube channel for interesting videos.
Check out our other cool products.
Have a good day!
Thanks for your time :)