Hello!
This video will guide you to attach sticky notes to websites, documents, apps, folders using Notezilla.
For more tutorial videos, check out this page.
The shortest way to pin a sticky note to any window (website, doc, folder, program, etc.) is to press Ctrl+Shift+W from within the sticky note. The note will stick immediately to the active window.
What is Notezilla?
Notezilla is a professional, elegant & highly rated sticky notes app for Windows & Phones (Android, iOS, iPhone, iPad, Windows Phone, etc.). It can help you organize your life by keeping all the notes, tasks & reminders that you may need when-ever and where-ever you are.
With sticky notes, you hardly have to put effort to take notes, set reminders, etc. Just jot down & move on with your task at hand. Notezilla allows you to create attractive and realistic sticky notes to make the desktop look more colorful and beautiful.
It works smoothly on both phones & tablets.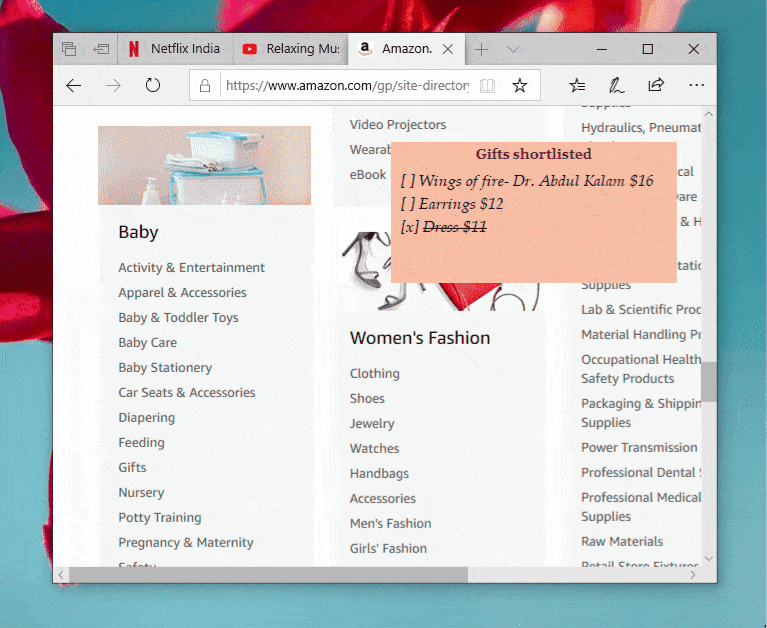 A visual depicting one of the features of Notezilla.
Check out Notezilla's homepage.
Just imagine if you could have the right information at the right time automatically, without any effort from your side. With Notezilla, you can attach sticky notes to a particular document, web page, folder, program, etc., so that they will pop up automatically whenever you are working on them.
Video Transcription:
To stick a note to a website (the same steps apply when sticking notes to documents, folders, programs, or any other window).
Open a website.
Choose 'New Note' by clicking on the Notezilla icon in the taskbar and write your note.
Click on the top-left button (Note Menu button) of the sticky note and choose 'Stick To Window' from the note menu list. A dialog box appears with the list of all the programs running on your system.
Choose the website where you want to stick the note to.
The 'Hide note otherwise' option will hide the note automatically if you are not on that particular website.
Now press OK.
The sticky notes are always shown based on the title of the website. However, if you opt to stick a note on all the pages of the particular website, use an asterisk(*) along with the title.
That's it in this video.
Subscribe to our YouTube channel for interesting videos.
Check out our other cool products.
Thanks for staying till the end :)