We all understand the importance of passwords. They help protect our personal information from potential threats and intruders.
When we write important and sometimes sensitive information in our sticky notes, we need to ensure they are safe too. Password protecting your sticky notes is therefore the solution.
This post will guide you to lock and encrypt sticky notes in Windows with a master password using Notezilla.
What is Notezilla?
Notezilla is a professional, elegant & highly rated sticky notes app for Windows & Phones (Android, iOS, iPhone, iPad, Windows Phone, etc.). It can help you organize your life by keeping all the notes, tasks & reminders that you may need when-ever and where-ever you are.
With sticky notes, you hardly have to put effort to take notes, set reminders, etc. Just jot down & move on with your task at hand. Notezilla allows you to create attractive and realistic sticky notes to make the desktop look more colorful and beautiful.
It works smoothly on both phones & tablets.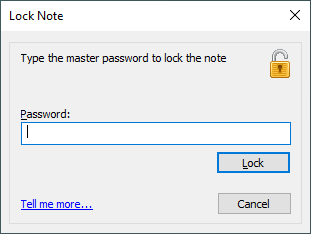 An image depicting one of the features of Notezilla.
Check out Notezilla's homepage.
Often, users would like to lock sticky notes so that the content is not visible or edited by others. The note has to be encrypted so that it cannot be read from the database too. Notezilla allows to lock a sticky note as well as encrypt it.
Watch this short video for more clarity:
To lock a sticky note, Right-click on the note's title bar or toolbar and select 'Lock' from the Note Menu.
Type the master password to lock the sticky note and press OK. However, if you are locking notes for the first time, then you will be requested to create a new master password. The sticky note will be locked and rolled up so that the contents are not visible to anyone else.
To unlock a locked sticky note, click on the lock icon placed on the right-top corner of the note. A new dialog box will appear wherein you have to type the master password to unlock the note. Unlock it if you wish to edit the note or remove the lock permanently.
Make sure you always remember the master password. Once you forget the master password, you will never be able to unlock the notes.
That's it in this video.
So how about giving it a try today.
The best part of Notezilla is that it can sync notes between your mobile and PC or laptop! Therefore, you have the exact notes at both places! Try the sync feature today! You will surely love it.
Learn more about Notezilla.
Subscribe to our YouTube channel for interesting videos.
Check out our other cool products.
Have a good day!
Thanks for your time :)