Let us learn how to print digital sticky notes.
While Windows sticky notes app has not yet offered such a feature, you can use an alternative software, Notezilla that lets you print your stick notes of any texture, color or size!
What is Notezilla?
Notezilla is a professional, elegant & highly rated sticky notes app for Windows & Phones (Android, iOS, iPhone, iPad, Windows Phone, etc.). It can help you organize your life by keeping all the notes, tasks & reminders that you may need when-ever and where-ever you are.
With sticky notes, you hardly have to put effort to take notes, set reminders, etc. Just jot down & move on with your task at hand. Notezilla allows you to create attractive and realistic sticky notes to make the desktop look more colorful and beautiful.
It works smoothly on both phones & tablets.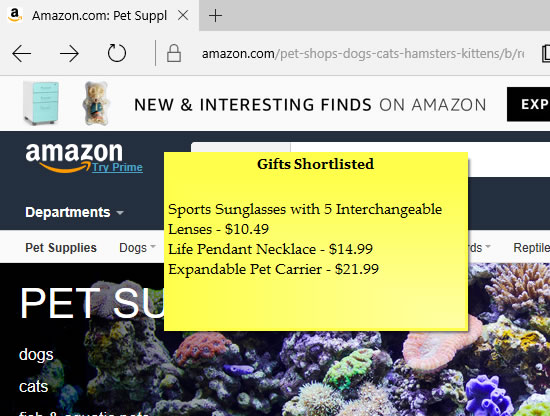 An image showing one of the features of Notezilla.
Check out the other cool features of Notezilla.
Printing Notezilla sticky notes
Printing a single sticky note
To print a single sticky note, right-click on the note title or note toolbar and choose 'Send To->Printer (Ctrl+P)' from the menu in Notezilla's notes browser.
Printing multiple sticky notes
Select one or more notes from the Notes List of the Notes Browser and choose the 'Send To->Printer (Ctrl+P)' option from the Notes Browser toolbar.
Printing sticky notes with large content
Sticky notes in Notezilla are not only meant for writing short notes. You can use them as an alternative to Notepad. Notezilla allows you to work on sticky notes that are as wide as your display monitor. This way, you can also use sticky notes to store large content such as reference material, web snippets, scripts, drafts, etc. You don't have to worry about saving your collected data to separate files. And what more? Print them anytime.
Why Notezilla?
This was just one example of how Notezilla helps you make the most of anything yo do.
And what more? Notezilla also has free apps for iPhone, iPad & Android to let you access your sticky notes anytime and anywhere! Install it on your phone from App Store or Google Play Store & sync all your sticky notes with the Windows version of Notezilla.
Learn more about Notezilla. Download the free trial from here.
For tutorial videos, check out this page.
Subscribe to our YouTube channel for interesting videos.
Check out our other cool products.
Have a good day!
Thanks for visiting our blog :)