Too many sticky notes on Windows desktop can be cluttery. That's why many users avoid using a sticky notes app. But you can keep your desktop clean if you are using Notezilla sticky notes app for Windows.
Notezilla lets you to keep only selected sticky notes on the desktop and place the others (that you don't need all the time) in separate folders called Memoboards.
What is a Memoboard?
A memo board is a folder inside which sticky notes can be placed. They are like containers for sticky notes. The stickies are neatly arranged in each memo board, just like a storyboard.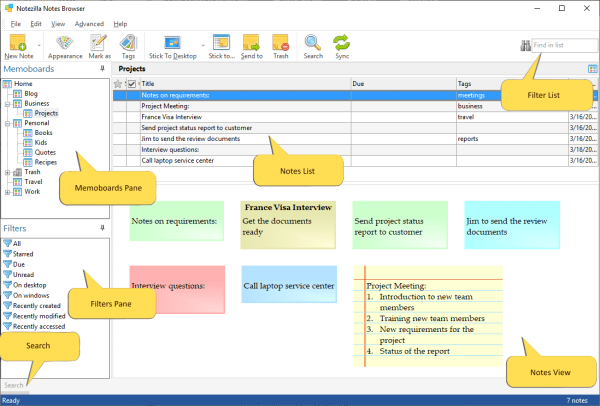 Why use Memo Boards?
You can simultaneously view the contents of multiple sticky notes. Memo boards appear within the Notes Browser, a feature that lets you view, sort, and filter all of your notes at once. The Notes Browser enables you to keep virtually unlimited sticky notes inside memo boards.
Memo Boards can help you do a lot more.
Watch this short video for more clarity:
For more tutorial videos, check out this page
You can arrange notes into memo boards, which in turn can be organized in a hierarchical tree structure. In Notezilla, you can choose to automatically arrange notes whenever the memo board loads for the first time. It even lets you change the background color of the memo board.
Notezilla lets you organize sticky notes simply by dragging & dropping them between memo boards.
Access your most used memo boards easily either by marking it as favorite or by activating it using a unique key combination (hotkey). Once you set a hotkey for a memo board, you can easily activate that particular memo board from any program.
The best part of Notezilla is that it can sync sticky notes between your mobile and PC or laptop! Therefore, you have the exact notes at both places! Try the sync feature today! You will surely love it.
Learn more about Notezilla.
Subscribe to our YouTube channel for interesting videos.
Check out our other cool products.
Have a good day!
Thanks for staying till the end :)