We all like speed. But it gets annoying when simple tasks like searching for a file or folder on our system take a lot of time and effort out of our important tasks.
This article will tell you how to search for files and folders faster in Windows using RecentX and how it can be used as an alternative to Everything by Voidtools.
What is RecentX?
RecentX is a smart launcher for Windows designed to make your computing life joyful. Here are some of the many cool things you can do with RecentX:
Effortlessly access any file, folder or program on Windows in less than 5 seconds!
Assign tags to frequently used files/folders. Makes things even faster.
Integrates with Windows File open/save window so that you don't have to navigate any folder when opening or saving a document.
It has a clipboard manager too that remembers all the text & pictures copied to a clipboard so that you can quickly pick & paste them again.
Searching using RecentX compared to Everything (Voidtools)
Searching for files: RecentX separates items on the basis of Files, Folders, Programs, Websites and clipboard. This way, the items are not mixed up with each other. This also narrows down the result list since you no longer have to search among unrelated items for the item you want.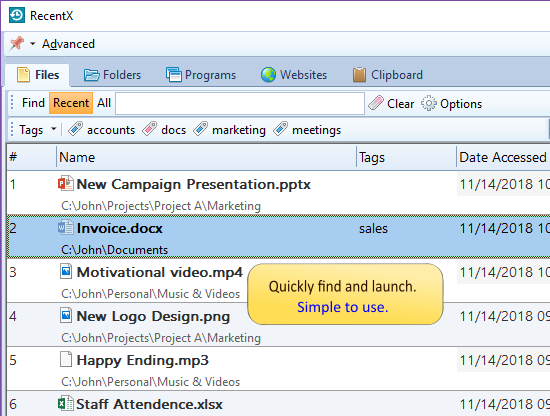 Everything, on the other hand, does not separate files and folders and lists down every object in your system initially. There is a filter to only show objects of a particular type, which you can choose to separate these items.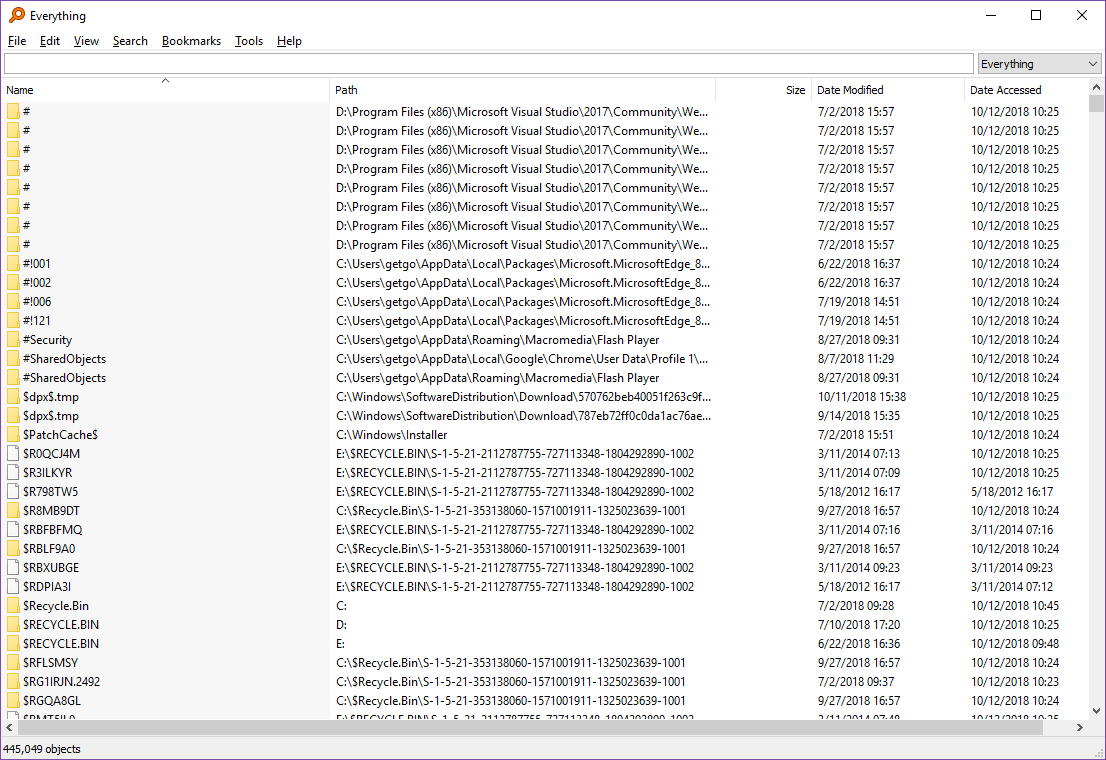 Searching for folders:
Watch a short video on this feature of RecentX:
RecentX helps you avoid full folder structure navigation to access subfolders. As mentioned earlier, it separates files and folders. So now, when you want to search for a particular folder, go to the "Folders" Tab of RecentX and type in your search keyword in the text box given below. It will find an item in less than 3 seconds, no matter how deep they are located in your system. Double-click on the desired folder to open it immediately.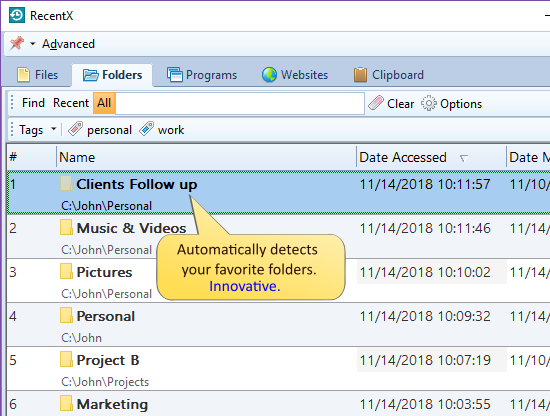 Everything has a folder filter. Using this filter, every folder on your system is listed down, and you then have to type the folder you are searching for. The indexing and search offered by Everything is speedy.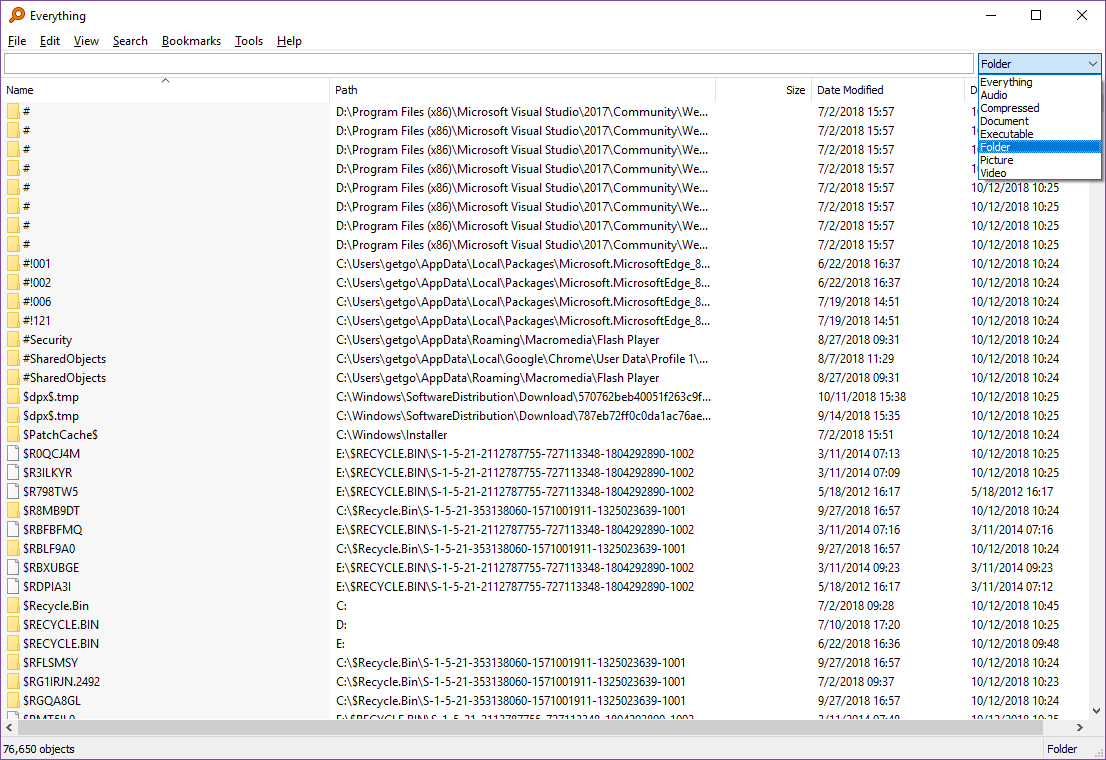 Note: With RecentX, you can even add tags to your files and folders for easy access later on. Learn more about this tagging feature from here :
Search in Recent items first
Since we open the same set of files repeatedly, finding only in recently accessed files and folders is more sensible compared to going through the complete hard drive. RecentX does precisely that for you. Items that are recently and frequently accessed are shown before other trivial items, thus making launch easier.
This is possible since RecentX automatically remembers your recently accessed files and folders. So you do not have to spend time configuring it with your favorite items as it is quite hard to keep updating a program with favorite files & folders.
Note: You can also search in all your items instead of just the recent ones.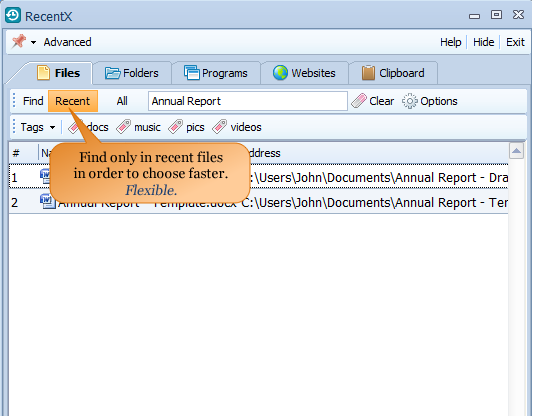 Everything, on the other hand, has the option to sort items based on Dated Accessed, modified, etc. But sorting the items based on it is really slow, and the long list of items still remains, only that they are now in a different order which doesn't make much of a difference.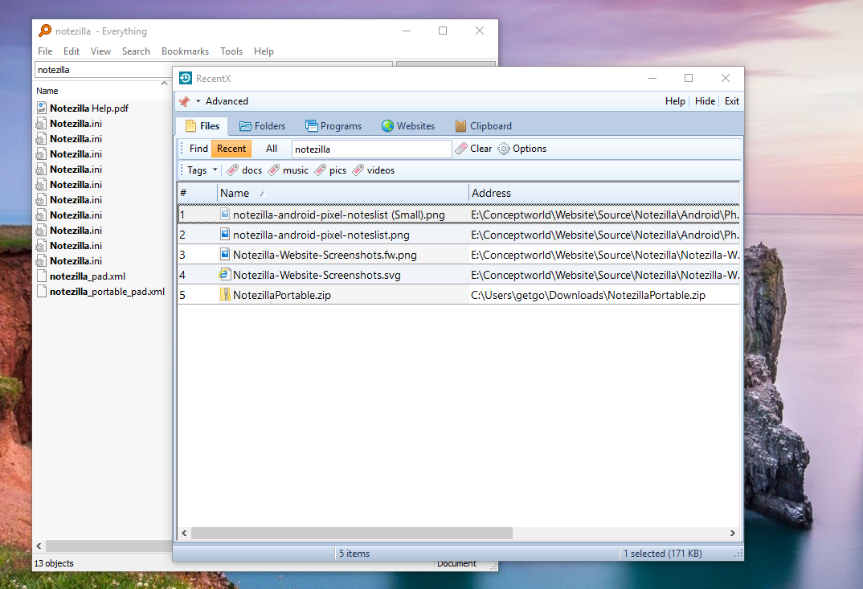 As you can see from the above picture, the search results in RecentX have been narrowed down compared to Everything since we searched only in recent items in RecentX.
RecentX therefore proves an efficient alternative to Everything. The plus point is that there is nothing to learn. It is effortless and also works out of the box. Just install and see it working.
Learn more about RecentX from here.
Have a good day!
Thanks for reading till the end :)