Sometimes, you may want to keep the desktop clean, without any sticky notes on it.
In such cases, you can configure Notezilla to create new notes always inside a specific memoboard inside of the Windows desktop.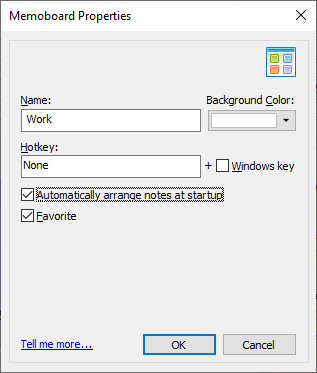 Go to Notezilla's Notes Browser
Right click on a memoboard item in the tree view on the left pane and choose
'Properties'
You will see the 'Memoboard Properties' window as shown above
Check the item 'Set as default memoboard' and press OK
We have set this memoboard as the default memoboard. Meaning, all new sticky notes will be created in this memoboard instead of the Windows desktop.
Learn more about Notezilla. Download the free trial from here.
For short tutorial videos, check out this page.
Subscribe to our YouTube channel for interesting videos.
Check out our other cool products.
Have a good day!
Thanks for your time :)