We are thrilled to launch the new version of Piky Basket called 'Copywhiz'. After receiving several feedback on the name 'Piky Basket', we have finally renamed Piky Basket to Copywhiz.
Piky Basket was part of a suite of products called PikySuite – a suite of 3 products: PikyBasket, PikyFolders & PikyTools. Out of all the three products, we have discontinued PikyFolders & PikyTools due to redundant features in Windows Vista & Windows 7. While PikyBasket has been retained as Copywhiz.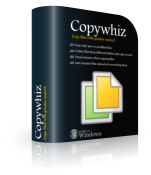 Copywhiz has many cool enhancements. Plus, it has been made simple & intuitive. The new version is very easy to understand and use.
Please do have a look at the benefits & features at the product website: https://www.conceptworld.com/Copywhiz
Thank you.