After reading articles related to Notezilla Android and iPhone apps, many users who do not use either of these two must be wondering about how they can use Notezilla and create sticky notes on their device. We are talking about people who use Windows Phone, Blackberry, Mac, Linux, etc.
Do not worry since we have a fix for you too, the Notezilla web app!
That's right! Along with Android & iPhone/iPad apps, we also have a web-app for Notezilla, so that you can access your sticky notes from Non-Android and Non-Apple devices, that has an Internet Browser. From any device, just open the Internet Browser, go to Notezilla.net website to access your notes.
Notezilla.Net is the name of our cloud service. Notezilla will sync your sticky notes automatically using this cloud service. You can, therefore, access the same notes on your PC or laptop that you earlier created on the web app using your phone. Also, it enables you to send notes to any of your contacts across the globe!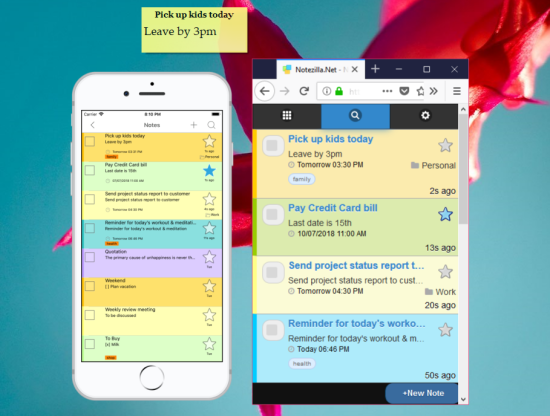 Supported Environments
It can be accessed from all modern browsers such as Google Chrome, Mozilla Firefox, Microsoft Edge, Safari, Opera, and Internet Explorer from any touch-based device.
Tip: For faster access, bookmark this website and save your password in the browser, so you do not have to type it each time.
Data security
Notezilla.Net uses the robust Windows Azure cloud platform for all its cloud services. Notezilla.Net automatically encrypts your confidential information in transit from your computer to ours using the Secure Sockets Layer protocol (SSL) with an encryption key length of 128-bits (the highest level commercially available).
Getting started
From the internet browser of your mobile phone, open the notezilla.net website.
Sign in to your sync account using your email id and password, which you used when creating the sync account earlier, and you are all set.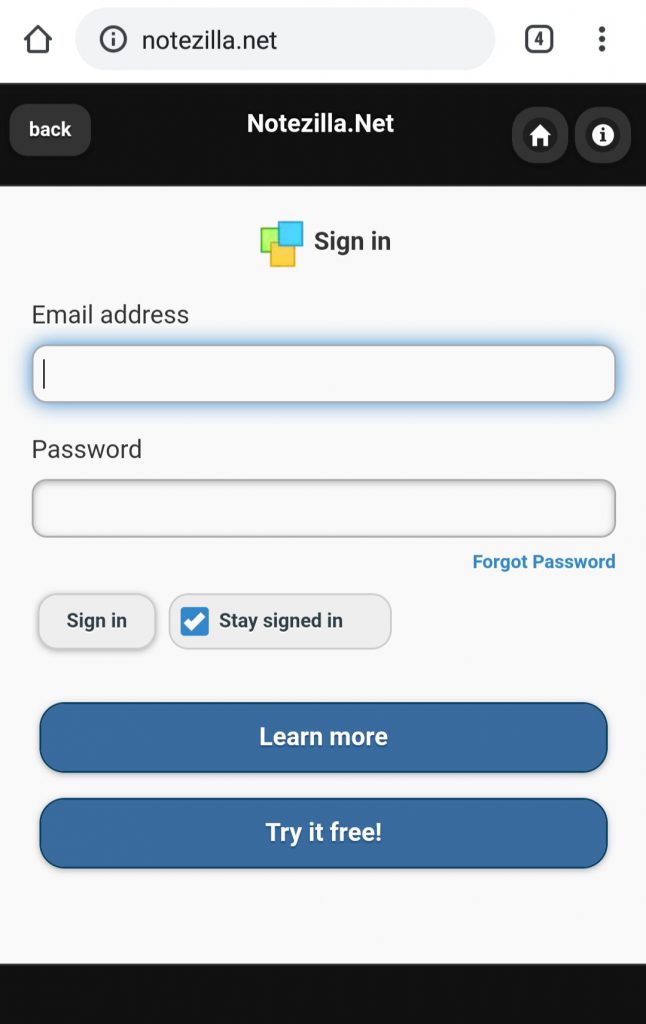 Features
All the features of this web app are the same as the Android and iPhone/iOS apps, just that they are in a website form. These include:
Quickly jot down your thoughts & to-do lists on colorful sticky notes. It is an enjoyable experience.
Search & pick the right note when it is needed the most. Helps you in your daily busy schedule.
Set reminder alarms to notify you automatically about your tasks. Complete important stuff on time.
Easily set tags on your notes to group them & locate them faster. Gets you organized with least effort.
Star notes that are most important at the moment. Keeps you focused on your current task.
Protect sensitive notes with a master password. Secure your notes.
Have your notes appear on your Windows desktop as colorful sticky notes using Notezilla app for Windows.
Sync & access your notes from any device (Windows PC, Android, iPhone, iPad, Windows Phone, Mac etc)
Backup your notes to our secured cloud so that you can restore your notes back when you switch to another phone.
Send notes & reminders to other Notezilla users, right to their phone or Windows desktop.
Conclusion
The web-app gives the convenience of having access to all your desktop sticky notes (that you created using the Windows version of Notezilla) from anywhere. The reminders that you create on Windows PC will appear in your mailbox. Sticky notes created using the web-app will automatically sync with your Windows PC.
Check it out today!
Learn more about Notezilla.
Subscribe to our YouTube channel for interesting videos.
Check out our other cool products.
Have a good day!
Thanks for your time :)