Do you ever make goals and then have a hard time trying to fulfill them? Well, this is because you don't pen them down. A written goal or dream always brings a passion for fulfilling it.
Personal kanban can be an excellent source for you to do this.
What is Personal Kanban?
Despite our best intentions, life has a way of becoming complicated. People, tasks, responsibilities, deadlines, and even recreation all compete for our attention. The human brain, however, does not respond well to the stress of juggling multiple priorities.
That's where Personal Kanban can help. Adaptable to all ages and situations, and accessible to all learning styles, personal kanban allows us to visualize the amount of work we have, and the way the work carries out. It is useful for everyone, whether you are a homemaker or an employee or a business owner or even a student.
The only key is to visualize. It gives you a sense of responsibility once you envision and jot it down.
What better way than using Notezilla sticky notes.
What is Notezilla?
Notezilla is a professional, elegant & highly rated sticky notes app for Windows & Phones (Android, iOS, iPhone, iPad, Windows Phone, etc.).
It can help you organize your life by keeping all the notes, tasks & reminders that you may need when-ever and where-ever you are.
Check out Notezilla's homepage.
There are three important heads to your kanban board:
To do- Your list of dreams and goals
Doing- Things you are currently doing to achieve them.
Done- Things done to ensure success.
To begin with, Create a folder(memo board) for each head in Notezilla.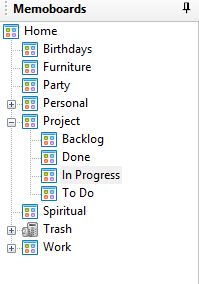 If you work in a team, you could even add a "backlog" column wherein the initial "to-do" is jotted down before assigning it to each member of the team. You could write the name of the member as a title or below the note too.
This makes it more organized and ensures that everyone knows what they need to do, and tasks don't overlap.
Ex: The task assigned to Member A and Member B can be put up in separate sticky notes having their name as the title. You can send the note to that member on his system, provided you both use Notezilla.
Also, your memo board will now have an additional column of "backlog," which has the notes having tasks delegated.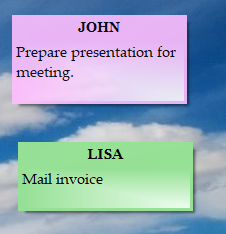 To-do.
Everything you need to do, start writing it down onto sticky notes. Things you plan on doing or goals you want to achieve, go under this head. They may be personal or professional, depending on your nature of use. Big tasks, small tasks, get them all down. Be true to yourself when you write them down. You would initially be surprised at how long the list goes.
For example, your goals would be to present a proposal for the upcoming meeting and also to renovate your house. Also, you want to achieve both within a month. They both will go under your "To do" memo board of Notezilla.
Since they both are goals of different natures, you can separate them by adding tags to them like "office" and "home." You can also add an extra tag like "this month" so that they don't get mixed up among your other goals in the memo board. It would be easy to find them too. You need to search for the tag "this month," and all the notes that have the tag will be displayed together. This way both personal and professional goals can be achieved using Notezilla sticky notes.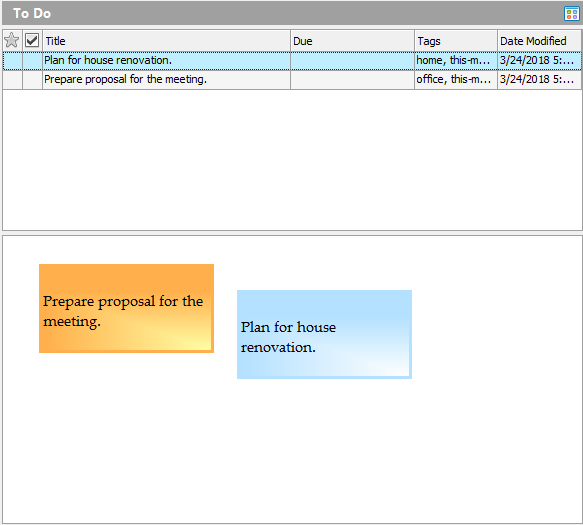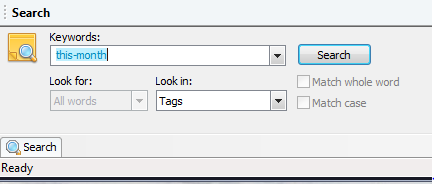 Doing.
The tasks and projects you are currently working on go under this head. They were previously in the "to-do" list before you started working on the job and moved it to the "doing" board.
Ex: Visit interior designer, create a rough draft of the proposal.
You can turn your Notezilla sticky notes into checklists or numbered lists so that you can tick them off as and when you do the task. It is not enough to merely add notes to the board. You also need to ensure that you do not leave the task midway and keep track of the long pile of other tasks at hand. This is why you should add a reminder to your sticky notes that will remind you to work on the task consistently.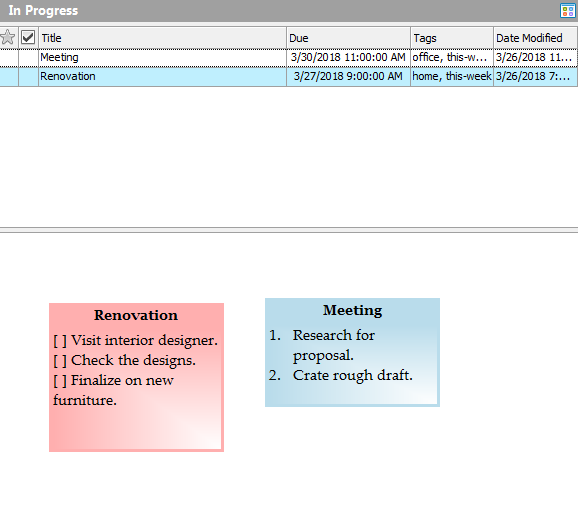 Done
What next? You need to keep working on your goals to achieve them. When you do that, your Notezilla notes move on to the "done" column.
You must be wondering that once the task is completed, you can forget it and move on. Why create a separate column for this? Because you can look at your success anytime and find out mistakes on the process and work on them for your future goals.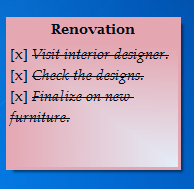 You can trash those notes after some time, say a week. Why? To make space for your next success.
You can trash the sticky notes every weekend, and don't worry if you require them again in the future. The notes will still be stored in the Notezilla trash folder unless you permanently delete them from there. Tailor your settings accordingly so that you get intimidated whenever you trash a note. This option ensures that you don't trash the important ones if you have clicked one by mistake.
The same process follows for every goal. Once you start practicing, it will automatically become a habit.
Want to know more about this concept? Visit the official website of PK.
And using Notezilla you will instantly feel the change in your productivity and efficiency levels. Don't just read this, but put it to practice. So, go on and give it a try.
For more tutorial videos, check out this page.
Download Notezilla today for free from the link provided below:
https://www.conceptworld.com/Notezilla/Download
Thank you for reading and keep following us for more such articles.