You may have created a lot of sticky notes on your desktop. If you want to look for something in one of the sticky notes or edit the sticky note, you cannot click on each sticky note with the cursor to search for your sticky note. It will consume a lot of time and effort. Also, the sticky notes might all be cluttered and overlapped on each other. Using your keyboard to navigate between notes is thus the best option.
This post will tell you how you can easily navigate from one Notezilla sticky note to another in Windows using the keyboard.
What is Notezilla?
Notezilla is a professional, elegant & highly rated sticky notes app for Windows & Phones (Android, iOS, iPhone, iPad, Windows Phone, etc.). It can help you organize your life by keeping all the notes, tasks & reminders that you may need when-ever and where-ever you are.
With sticky notes, you hardly have to put effort to take notes, set reminders, etc. Just jot down & move on with your task at hand. Notezilla allows you to create attractive and realistic sticky notes to make the desktop look more colorful and beautiful.
It works smoothly on both phones & tablets.
Navigating between multiple sticky notes
Press the "Ctrl+Tab" key and the sticky note will be selected. Keep pressing it, and the bar will keep moving to the next sticky note. This way, you can quickly jump from one sticky note to another until you find your required sticky note. You can do the same in your Notes Browser too.
TIP: Since the notes might all be cluttered, you can first arrange the notes and then navigate. Right-click on the Notezilla icon. Select "Desktop notes -> Arrange notes…" .
The notes are instantly arranged in an orderly manner.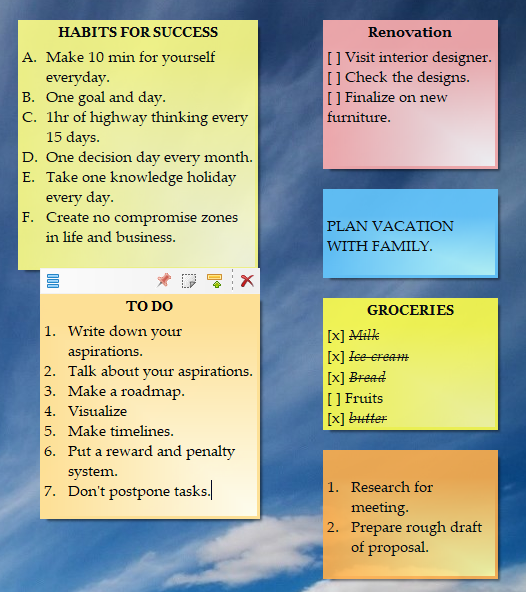 For more tutorial videos, check out this page.
Download Notezilla today for free.
Subscribe to our YouTube channel for interesting videos.
Check out our other cool products.
Thank you for reading.