After you run the sticky notes app – Notezilla, you will find that it creates an icon inside the notification area. Windows, by default hides this icon inside an expandable panel. If you click on the small triangle in the notification area (also called system tray), you will see the Notezilla icon. See picture below: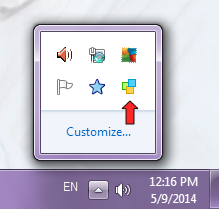 Since the only way to access Notezilla features is through this icon (except for the hotkeys), it would be more convenient to tell Windows always to show this icon so that you don't have to use the expandable panel each time.
Here is how you would do this.
Step 1: Click on Customize link shown in the expandable panel (see picture above).
Once you choose 'Customize,' you will see the below window allowing you to configure how each tray icon should behave. Click on the below picture to see the full view.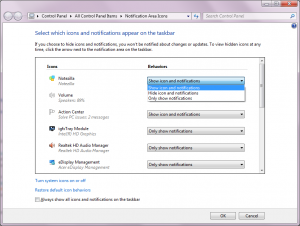 Step 2: Find Notezilla in the list, select 'Show icon and notifications' option for Notezilla & press OK.
You will now notice that the Notezilla icon always shows up in the notification area.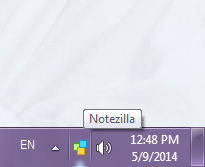 Making this small change will ease your access to Notezilla's features.