---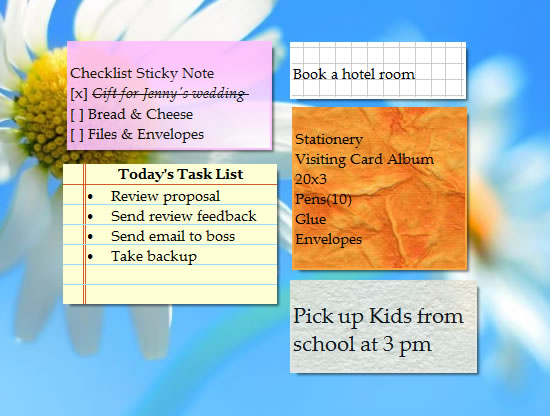 Sticky Notes with Skins
Sticky notes in Notezilla can wear attractive & realistic skins. This makes the desktop look colorful & lively.
Some of the skins are 'Ruled Paper', 'Antique Paper' & 'Handmade Paper'. The skins are free. You can browse & download all the skins from here.
Configure Notezilla to create sticky notes with random colors & skins so that you don't have to put any effort to make the desktop attractive. It's fun.
Also notice the shadow behind the sticky notes & transparent sticky notes. All this together makes Notezilla a rich & elegant sticky notes software.
Always on top sticky notes: When working with sticky notes, it is important to have the ability to always keep them on top of all other programs for ease of access. Notezilla lets the sticky notes to stay on top of other programs.