---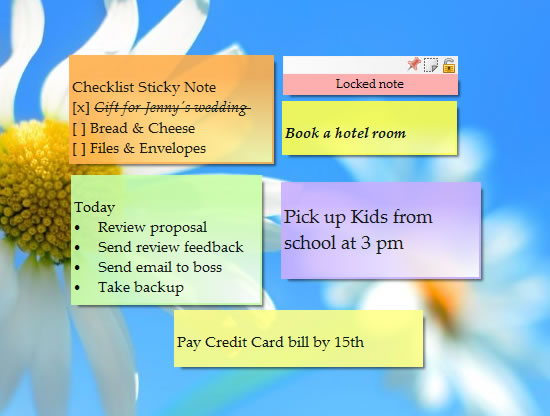 Sticky Notes on Windows Desktop
Notezilla lets you quickly create sticky notes on Windows desktop. They look like 3M's Post-It® Notes. The advantage of sticky notes is that you hardly have to put effort to take notes, reminders, tasks etc. Just jot down & move on with your task at hand.
Desktop sticky notes: Sticky notes on desktop give faster access to the required information. Plus, it is easy to take notes on a sticky note when working with other programs. You can also move sticky notes to folders if you prefer to keep the desktop cleaner with less number of sticky notes.
Checklist sticky notes: This feature is pretty cool. You can see a checklist sticky note in the screenshot on the right. It lets to create a checklist for your pending tasks so that you can tick them off when you complete those tasks.
Locked sticky notes: Encrypt confidential sticky notes using a password.