---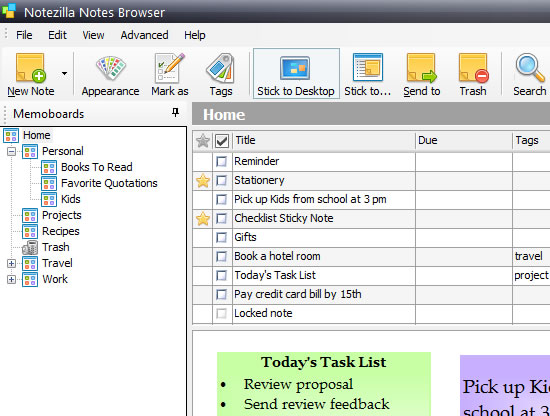 Organize Sticky Notes
Too many sticky notes on our desktop may look untidy and also cause confusion. For this reason, Notezilla lets you keep only selected sticky notes on the desktop & place others in separate folders called Memoboards.
The Notes Browser (in picture) shows all the memoboards and sticky notes inside each memoboard. You can work with multiple sticky notes inside the Notes Browser. Organize sticky notes simply by dragging & dropping them between memoboards.
The sticky notes are neatly arranged in each memoboard just like a story board. You can simultaneously view contents of multiple sticky notes.
With this design, you can use Notezilla for all your note-taking needs. It is more than a simple desktop sticky notes app. Store your tasks, reminders, appointments, reference, research notes, instructions, tips etc in one place.