This post will tell you how to pause file copying process and resume it back in Windows. This is currently not possible with Windows Robocopy tool. However, you can use Copywhiz.
With Copywhiz, if you wish to hold the file copying process, you can pause file copying and then resume it again.
Why would we want to pause file copying task? There can be many scenarios. When we wish to modify certain files before the files are copied, we may want to pause. To improve system performance we may want to pause the file copy operation. Or when some files are in use or when the destination drive is temporarily in disconnected state. And the list goes on.
Enhance your file-copy experience with Copywhiz as it let's you to have more flexibility & more control over the file-copying process. Here is how Copywhiz makes file copying a breeze:
Copy only new or modified files
Easily pick files by name, extension, folder etc from bunch of folders
Copy files to multiple folders/computers
Copy files from multiple folders and paste them at once
Pick files from multiple folders and compress in single .zip file
Schedule file backups
Several more hidden nuggets designed to make your file-copy task easier.
Using Copywhiz:
Copywhiz lets you to pause and resume file copy in Windows. It lets your system to automatically shutdown/hibernate/sleep after a file copy. It even silently copies files without prompts & error messages. A Log file is generated too. You can even change the file copy speed to improve performance and view the progress of each file being copied.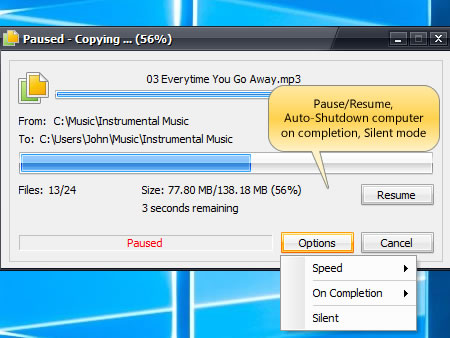 For more tutorial videos, check out this page.
Learn more about Copywhiz. Download the free trial from here.
Have a good day !
Thanks :)
If you found this post useful, please like it by clicking on the social media buttons (Facebook, twitter, google+) on top/left of this post.